Nikos Christodoulides was officially sworn in on Tuesday as the eighth president of the Republic in a short ceremony held at the House of Representatives.
Arriving at parliament shortly after 11am, his first task was a private meeting with House President Annita Demetriou, who said the institution she represents will be by his side in the interest of Cyprus and of its citizens.
Present at the ceremony were Chirstodoulides' family including his wife Philippa Karsera, outgoing ministers, as well as members of the cabinet who had served during the presidency of Nicos Anastasiades, the Attorney-general, the president of the Supreme Court as well as Archbishop Georgios.
On his part, Christodoulides vowed to work together with parliament and MPs "for the good of the country".
Later, Christodoulides said his "respect for the constitution and the laws made thereunder and the preservation of the independence and the territorial integrity of the Republic of Cyprus" were among his priorities.
"I will work to make the lives of everyone in Cyprus better," Christodoulides said during his speech at the investiture ceremony.
In the House plenum and surrounded by MPs of all parties plus outgoing president Anastasiades, Christodoulides said he wants "to make our people happier and prouder, not only because they deserve it but also because it will strengthen our statehood, as well as all of our great country's claims. People will be at the centre of all our priorities".
He stressed he is ready to take over the governance of the country, expressing full awareness of the need for his absolute commitment to the state, to its institutions and to the wider public interest, based on the provisions of the constitution and of the laws in force.
"I fully understand the heavy historical responsibility which I am proudly taking on with awe and determination," he added.
"As I said, the Cypriot people will be at the centre of all our policies. I already envision the country that I want to shape and I am aware of the work that awaits me so that I can leave a successful legacy once my term will end.
"The modernisation of laws and services as well as the fight against corruption and favouritism will be key points of my administration."
Christodoulides then assured that the role of parliament will be fully respected, adding that he is looking forward to a fruitful cooperation with all parties and their MPs.
"I do not have the magic wand for immediate solutions. But I do have a sincere political will to work alongside everyone.
"I am also aware that when the citizens of a state are not happy, they cannot envision a better future. The only way to be relevant and innovative in an ever-changing world is to evolve faster and more effectively," he concluded.
Christodoulides' speech was well received by MPs, who stood up at the end of it and clapped at length.
He left parliament smiling alongside Demetriou, before stopping to answer to journalists gathered outside the building.
"Today our work starts, and I am looking forward to it," he told them.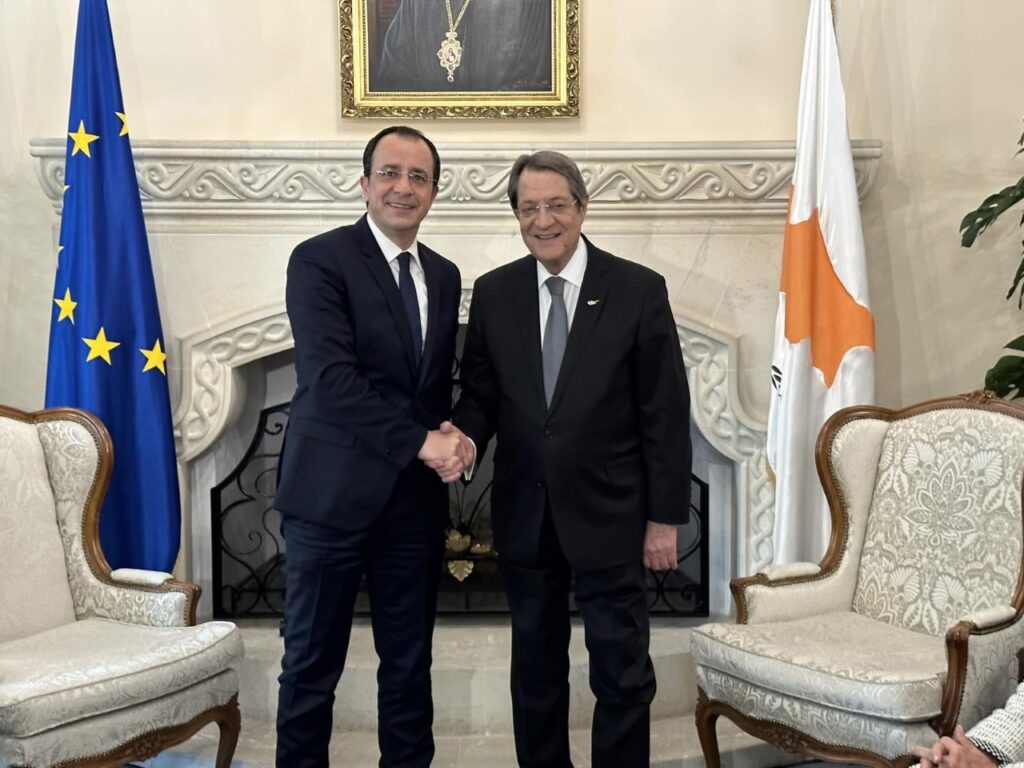 Answering a question regarding the number of women in his cabinet after he previously stressed they would make up 50 per cent of it but that failed to be made true, Christodoulides said that there have never been more women appointed as ministers or deputy ministers before.
In total the ministers and deputy ministers added up to 11 men and six women, while out of the total list of published appointees – 25 – which included palace posts, undersecretaries and press staff, there were 14 men appointed and 11 women.
Anastasiades thanked the House president for her cooperation and wished the new president a successful term.
"I also want to thank all MPs. Without their support while I was serving as president for ten years, we would not have been able to achieve all our goals," Anastasiades said.
"I will continue to serve my country and cooperate with the new president in order to build a better Cyprus.
"What people need right now is hope and hope only comes with mutual understanding and cooperation," he said.
After Christodoulides' investiture ceremony ended, Anastasiades said the new president will have to show "patience, understanding and spirit of cooperation".
"I have not yet committed to an advisory role, but these will be very important traits for him while in office."
Anastasiades said he intends to spend some time in his native Limassol before returning to the capital in some political capacity.
He added, however, that he will always be active in politics, "not to intervene, but to provide wisdom that I gained after ten years in office."
After the investiture at the House, Anastasiades and Christodoulides arrived together at the Presidential Palace accompanied by their families for the formal conclusion of the ceremony.
Passing the baton to the newly-elected president in his office, Anastasiades urged Christodoulides to continue his work "with the same dedication and zeal shown throughout his years as foreign minister and during his electoral campaign.
"I am extremely confident that you will succeed in your new duties," he said.
"I am happy to see you in your new role because it confirms that I made the right choice when I picked you as a partner in my administration.
"Your priority must be finding a solution to the Cyprus problem, which, however, does not depend only on us. Knowing you, I am fully aware that you will do everything in your power to steer the talks in the right direction."
Replying to Anastasiades, Christodoulides thanked him for handing him a better Cyprus than he had himself inherited.
"We will build on the many successes achieved by your administration.
"Mistakes were also made, but the only way to avoid making mistakes is by doing nothing," Chistodoulides said before also thanking Andri Anastasiades for the warmth shown to the new president and his family for nine years.
Departing the palace for the final time, Anastasiades was irked by a journalist's question.
Asked about the allegations of corruption within his cabinet, particularly regarding the failed citizenship-by-investment scheme, and about the spy van affair, visibly irritated he said that "people will eventually realise how much was achieved for Cyprus during his ten-year tenure.
"I cannot be held responsible for what others have the authority to monitor.
"I will let the people judge. I do not have anything else to say, other than the fact that these allegations, based on exaggerations, contributed to a toxic climate. Time will eventually tell who was right and who was wrong.
"I am not interested in commenting on these matters any further," he said.
Asked if he would write a memoir about his presidential tenure, he said "let me rest first and then I will decide."
Addressing the media after Anastasiades, Christodoulides defended choosing former health minister Constantinos Ioannou and former finance minister under Tassos Papadopoulos Makis Keravnos as the new ministers of interior and finance after he vowed not to appoint people who previously held office.
"These are two very important ministers for our country," he said. "Therefore, experience had to be the crucial key trait when choosing who will be at the helm.
"I am extremely confident that all members of the new cabinet will carry out their duties with passion and determination," Christodoulides concluded.