Scraps online portal for making appointments after reports of shady agents selling slots for €200
The civil registry and migration department's online appointment system was scrapped this week after allegations of rampant exploitation and abuse of the programme.
For almost two years thousands of tax paying citizens faced immense stress as they tried booking appointments, unaware that the slots were being mass booked by shady "agents" instead.
When a person went to the department's webpage they would see no slots available for about three months ahead. A slot would 'magically' appear for just a day or two ahead when they paid an "agent" between €100 to €200 to book an appointment under the online system.
A government spokesperson confirmed to the Cyprus Mail that abuse of the system by "certain interests" means that most appointments from March 20 and May 19, depending on your category, onwards are no longer valid from the previous booking portal.
The Cyprus Mail was contacted by three concerned members of the public who said that they eventually caved in and had to pay "agents".
"It's completely wrong to have to pay the government to see the government, I had to pay [a fixer] €200 to get an appointment," Walker Rowe, a US national living in Cyprus for almost four years, told us.
"This causes real problems for real people. Because suddenly after following the rules, when you can't get an appointment, you wonder if you can travel out of the country. Your paper is expired. Will they then let you back in? Maybe you can't go to a wedding or funeral? This is a genuine problem," he explained.
Those concerns were confirmed by another long-time Cyprus resident, an Australian living for 30 years on the island, who found himself unwillingly classified as illegal.
Repeated attempts to renew his documents were blocked by the misuse of the system.
"I was concerned that I was about to become illegal and the potential implications of that," he explained.
"For example, if I have to fly to Australia for any reason, they wouldn't let me depart again without proof of residency in Cyprus as my return destination. They will not be convinced by an email confirming an appointment with the immigration service, two months after it expired. I can't really risk flying anywhere and feel that I am imprisoned here until my now overdue application can be accepted," he said.
A third person, a man in his 50s who has lived and worked in Cyprus for 21 years, contacted the Cyprus Mail and backed up the claims.
"Unfortunately I had to pay, and the very next day I had an appointment – I went in and everything was solved," he said.
He explained that had he gone the official route it would have taken at least three months.
"I don't want to use this word but it looks like it's corrupt, it's abused – somehow – by different parties, and the only loser is the poor people out there waiting in line," he explained.
"There are so many poor people being shouted at from the entrance, they are being treated very badly," he said.
"Let's say a third-country national working as a housekeeper, her salary is what €400? She's having to pay €150 just to get an appointment at a government office, along with the bad treatment outside the office where they have been waiting for days," he emphasised.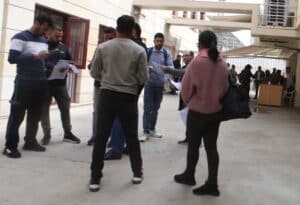 The online appointment system was launched in June 2021 and was supposed to streamline the process – reducing the number of people randomly turning up to be seen, turning the migration department offices into a rugby scrum.
But what emerged instead was a shady network of "agents" that would seemingly mass book the appointments. They would then wait to sell these appointments, whereby they cancelled them and quickly rebooked them in the customer's name.
A government spokesperson confirmed to the Cyprus Mail that the online booking system was scrapped this week due to abuse and misuse by "certain interests".
The interior ministry source reasoned that the booking system had worked and continues to do so at other state services, but admitted that the migration department's appointments were abused.
Questions remain, however.
We were told that "we will evaluate the new system and whether it achieves our goals, if not we'll have to see what else we can do – if we do use another online booking system then we'll have to greatly increase the safeguards."
The 50-year-old who has lived and worked in Cyprus for over 20 years explained the stress he faced when simply trying to book a slot – and then the moral conflict when he did pay a fixer to get the appointment.
His wife was due to give birth in a few months' time and therefore he wanted to get the paperwork sorted for his mother to be able to come over, see and help with the baby.
"Eventually I just paid, I hated that I became part of what was wrong with the system but I just had to," he told me.
Both he and his wife have Cypriot IDs, but the mother is a third-country national.
He said that incomplete or unclear instructions on the website meant that he had to wait three months to find out in-person what papers he needed. He was fearful that he may be told during his eventual appointment that the lack of a certain piece of paper – or stamp, and such – may have led to another three-month delay.
He explained that he began the process in December and that had he done everything along the official route then an appointment would not have been available by the time I met him, in early March.
He said that he was told three different versions of how the racket worked. The first being that all the appointments are booked up by "agents" who then hand them out for commission.
Others said that they knew "insider" officials who could fix the appointments, while others claimed that they simply knew the odd times at which appointments slots became available for booking – early in the morning or late at night – and therefore charged for the booking process.
But the experience at the migration department was not equal for everyone, it appears.
A Cypriot woman in her late 20s explained how she would get seen without appointments.
"Like with other offices in Cyprus I just went there and made a fuss until they let me in, I'd say: 'I came all this way and now you're going to turn me away and make me come back in three months with an appointment?' and they would then let me in," she said.
That seems to be along the lines as to how the system worked prior to the online booking programme, launched after the covid pandemic.
Those who contacted the Cyprus Mail bemoaned the chaotic scenes in years past, with dozens of people bundling into the offices; waiting to be seen.
But, they said, at least they would be seen on that day; eventually.
"If you were lucky you could get an appointment in an hour, perhaps during your lunchbreak from work, if you were unlucky maybe three or four hours, but the job could be done on that day," the 50-year-old told me.
After the interior ministry scrapped the booking portal this week, the new system appears to be a stopgap. Depending on your category you can either phone, email or – in a return to the past – just show up.
It was not immediately clear to how long the notification period takes where the appointment is booked by email. And whether anyone will answer the phone remains to be seen.  Good luck!
The new system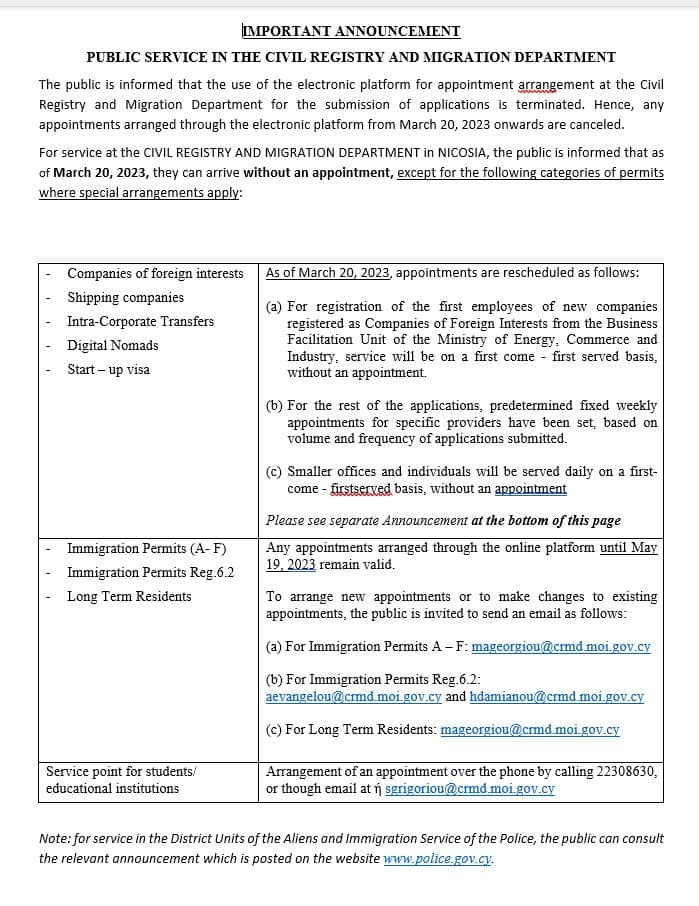 Alternatively, click here