Eurobank Cyprus on Monday announced that it has been voted as the best bank for international private banking in Cyprus for 2023, an award bestowed upon the bank by Euromoney magazine during its annual Global Private Banking Awards.
"This important distinction, from the internationally prestigious magazine Euromoney, is an honour and a reward for the high-quality specialised services provided by the bank in the field of private banking in the Cypriot market," the bank said in a statement.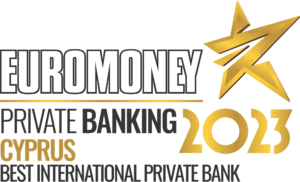 In total, the bank has been awarded twelve times for its private banking services in Cyprus by various internationally recognised bodies, including Euromoney.
"For Eurobank Cyprus, this award is a recognition of the new upgraded strategy implemented in recent years in the group's private banking sector, providing integrated, aligned services and products, through a dynamic and unified pan-European network, with an on-site presence in Cyprus, Greece, Luxembourg and the United Kingdom," the bank explained.
Moreover, the bank said that its pursuit in the field of private banking is to create a modern, technologically advanced unified platform, through which to provide personalised services to customers through the open architecture approach that it has adopted.
This, the bank added, will enable customers to access a wide array of high-quality banking services, credit and investment solutions, leveraging the entire infrastructure of the group, regardless of the country of jurisdiction, so that clients can choose the country in which they wish to keep their funds.
"The customer-centric nature of the services offered by the bank, as well as the clear orientation of the service towards the optimal satisfaction of the financial needs of the customers, are the bank's primary objective," Eurobank Cyprus stated.
"The high training of the specialised staff and executives of the bank, their dedication, and deep knowledge in the fields of wealth management and global markets, are a guarantee for the quality of the services provided in the field of private banking," it added.
Furthermore, the bank said that the group also received the award for best private banking institution for 2022 in Greece as well.
The Euromoney magazine awards were officially announced on March 29, 2023, at a special Euromoney Global Private Banking Awards event that was held in London.