The good, the bad and the ugly of travel. But mostly the picturesque. As Cyprus welcomes tourists from around the world ELENI PHILIPPOU meets some of those going in the opposite direction, and dedicating social media accounts to their journeys
Island Escapers
Quitting the 9 to 5 to make travel your full-time job sounds like the dream and for Panos and Stefanie, the couple behind the Insta-famous Island Escapers account, it is reality. Their involvement in sports had them travelling from a young age but once in adulthood, their jobs didn't spark quite the same emotions.
"Travelling started as a way for us to escape our reality and our 9-5 jobs in Cyprus (hence the name Island Escapers)," they said. "Soon though we realised that travelling was not just a hobby. We did some research, saved some money to buy our first gear and started our journey to becoming the first full-time travellers in Cyprus. We are happy to say that after working hard for around three years, we managed to make our dream a reality and travel the world as our full-time job."
Now they travel every month, most recently in Bali and Singapore for projects and collaborations, with future plans to visit Jordan, multiple Greek Islands, Iceland, Costa Rica, and Mexico. Their jaunts have allowed Panos and Stefanie to meet people of all cultures, swim with whale sharks and reflect on the values of life.
"Travel is actually one of life's greatest teachers. It pulls you out of your comfort zone and plunges you into the unknown. One of the greatest lessons we've learned through travel is that we need very little to be happy."
Instagram @island_escapers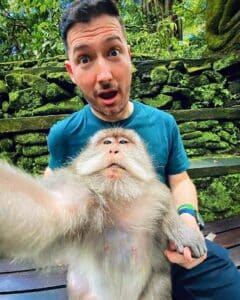 The Islander Stories
As an Instagrammer and blogger, Andreas Constantinou (a.k.a. The Islander Stories) shares tips and advice from his travels with readers and takes stunning colourful pictures of his adventures. Every one or two months, Andreas packs his suitcase and hits the road and has made a promise to himself to wake up in a different country on his birthday each year.
"I don't know if the urge to travel is something you are born with or something you can be taught. I think it must be the former. Ever since I was a child, I wanted to discover something new, and meet new people, cultures and languages. [I remember] the first book I ever bought was about the world's greatest explorers and seafarers. A book I still have."
But it is not just distant destinations that fascinate Andreas. "I would advise people to travel, not only overseas, but also in their own cities and country. It's amazing how many things we actually don't know about the places we live in," he says.
Instagram @TheIslanderStories. www.theislanderstories.com
GS.Travel
Travel-gramming is not just for millennials though. Primary school teachers George and Melina travel often and far with their two children (or sometimes solo). Their colourful photos and detailed descriptions packed with experiences and tips, have gained them 26.5K followers on Instagram, even if they have full-time jobs and travel mostly during school holidays.
"Both our parents organised one-month-long road trips around Europe. Their love for travel passed on to us," the couple says. And now, they pass it on to their children too. George and Melina take their kids abroad often and get creative on social media with funky reels and trends. Their most recent family trip was during Easter break to South Korea, a trip that was cancelled in 2020 due to the pandemic.
Their representation of an ordinary working couple sets an inspiring standard in the travel world. By dedicating time to this passion of theirs, George and Melina have had treasured experiences around the world, from swimming with sting rays in the Cayman Islands in the Caribbean to getting married (again) in Las Vegas with Elvis as a priest and enjoying a boat ride in an iceberg lagoon in Iceland.
Instagram @gs.travel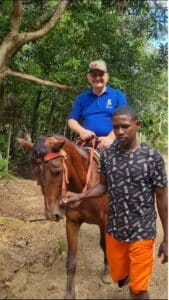 George Economides
A seasoned and experienced traveller – he's been awarded for travelling to some 100 countries – George Economides has turned work into play and play into work. A licensed tourist guide in Cyprus for decades, George has met people from all around the world and then set off to see theirs.
"Through my studies (languages and linguistics) I travelled abroad to practice the languages I have learned," he explains. "Then I became a licensed tourist guide and I wanted to visit the countries from where the tourists in Cyprus were coming. Travelling is my life."
Five to six times a year, multi-lingual George travels the corners of the earth. So far, his experiences include getting up close to giraffes and zebras in Kenya, attending the carnival parade in Peru and even getting his passport stolen by a monkey in front of a Hindu temple in Sri Lanka.
Instagram @georgeconomides_traveller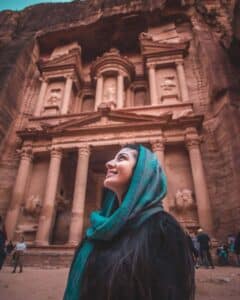 Diary Wings
Katerina Vasou, known as Diary Wings, could be considered the OG of travel content creators. She started out as a travel blogger almost a decade ago sharing all sorts of helpful must-knows and must-visit places before migrating to Instagram and TikTok. Katerina is honest and approachable, often sharing the good, bad and the ugly that come with travelling.
Besides simply showing her travels on social media, she invites her followers to travel with her. Three to four times a year, Katerina organises group trips for like-minded travel-loving Cypriots. She launched the Diary Wings Squad and so far has taken followers – who often become friends – to Iceland, Jordan, the Philippines, the Azores and more.
"By the time you will be reading this article I will be in Sri Lanka," she said, about to board a plane to Asia with her group. Her remote work as a social media manager, a content creator and an event business owner allows her to travel often and when possible, share the thrill of it with others. "Spending money on travelling is money well spent," she says.
Instagram @DiaryWings. www.diarywings.com