According to the agriculture ministry, Cyprus has the highest water poverty of any country in the EU. Climate change accounts for much of the damage. But spare a thought for Eritrea – the nation with the worst water poverty rates in the entire world…
In this north-eastern African nation, arid climate, outdated infrastructure, increasing population, and soaring poverty mean that many of the country's six million residents have no access to safe water.
It's a complex issue, exacerbated by the country's history of political instability and conflict. Ruled by the Ottoman Empire, Portugal, Italy, and finally Ethiopia, Eritrea only gained independence in 1993. It's a colonial mess that's left very large problems. And one (very small) positive legacy: a delightful mix of cuisines…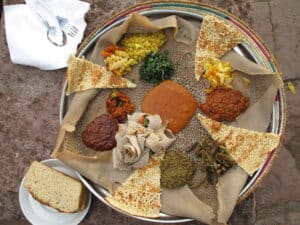 Blending the nation's African roots and Italian occupation, we get injera, Eritrea's staple fare. Although this flatbread (made from teff flour) is centuries old, the more recent injera is said to have been partly influenced by Italian sourdough bread. Today, this iconic fare accompanies many of the country's dishes; it's perfect for mopping up stews, soups and sauces.
Originating in the Middle East, we get fūl medames, a popular breakfast dish across the entire region. A stew of cooked fava beans that's traditionally cooked in a large metal jug, the local version of this healthy meal usually includes garlic, onions and tomatoes, and comes laced with olive oil, lemon juice and a sprinkling of chili pepper.
From nearby Ethiopia there's zigni, a favourite in the Horn of Africa. Typically made from seasoned beef, lamb or goat meat (and occasionally from chicken or veggies) cooked slowly in a spicy tomato sauce, zigni can trace its roots back to 100AD and the ancient Kingdom of Axum. Over time, this centuries' old dish has become a local staple, although the best iterations are still said to rely on the age-old spice blend of berbere (a fiery red pepper blend), garlic, ginger and cumin.
While meat and veggie dishes are the order of the day on the high central plateau, on the coast grilled or fried fish are ever-popular, with tuna and red snapper often marinated in an exotic blend of spices. And to drink? Well, you're probably safer buying a bottle of sowa (a bitter fermented barley) or mies (a fermented honey beverage) than drinking plain water from a tap. If you can find one, that is.