A man's trip to an Ayia Napa beach took an unexpected turn as it became a rescue mission as an unusual finned and sharp-toothed visitor became trapped, photos showed on Friday.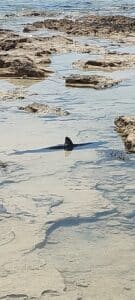 The man recorded his adventure on social media with a distinctly shark-like fish – sporting its iconic above water fin and razor teeth.
The man posted photos of the fish skulking amongst rockpools and after he picked it up.
Queried by concerned social media commentators, he explained that he picked up the fish and took it to safety after it became trapped among the rocks in shallow waters.
Other interested commentators offered that the fish may be a juvenile shortfin mako shark (Isurus oxyrinchus).
The mako shark – listed as endangered by the international union for the conservation of nature (IUCN) – is understood to reach a size of up to four metres in length with a weight of 570kg.
Studies have shown that males can reach a maximum age of 29 and females and age of 32.