A few hours on board one of the world's leading cruise ships was all it took for NIKOLAOS PRAKAS to be planning where the waves will take him next
Holidays are generally hectic to organize given all the planning that goes into them, from hotels, to cars (if necessary), to finding authentic experiences, to selecting places for entertainment.
However, if several days on the high seas appeals, there are no more worries with the newly launched cruise.com.cy giving access to hundreds of amazing experiences on cruise ships that are great for travellers of all ages.
We got a taste for what is available during a tour of Royal Caribbean's Odyssey of the Seas, which departs from Rome, docking in Limassol on some of its routes, during which we were treated to the luxury and convenience of cruising, surprisingly for all age groups.
Entering the ship, we are greeted by friendly staff ahead of stepping into the main hall, full of cafés, shops, bars providing a variety of atmospheres, and dining options for all tastes. We also passed to the pool decks, where again there were options for younger travellers, families, and even people seeking just a simple sense of calm, which we were assured there is plenty of at the times the ship is sailing between ports.
The areas on the deck were brimming with well-kept pools, and sun-loungers for people looking to catch some rays, and even more secluded loungers, ideal for travellers looking to soak up the sun, but also to sit back and read their books in a covered space.
To say the boat is large is something of an understatement; it towered above us as we waited to board in Limassol port. It has 14 floors and the capacity to hold 5,000 passengers served by over 1,000 staff.
Our guides said that cruising has changed over the course of recent decades. Once thought to be a holiday for elderly people, it is now an experience that is being widely-sought out by millennials and younger travellers, looking to have all their whims met.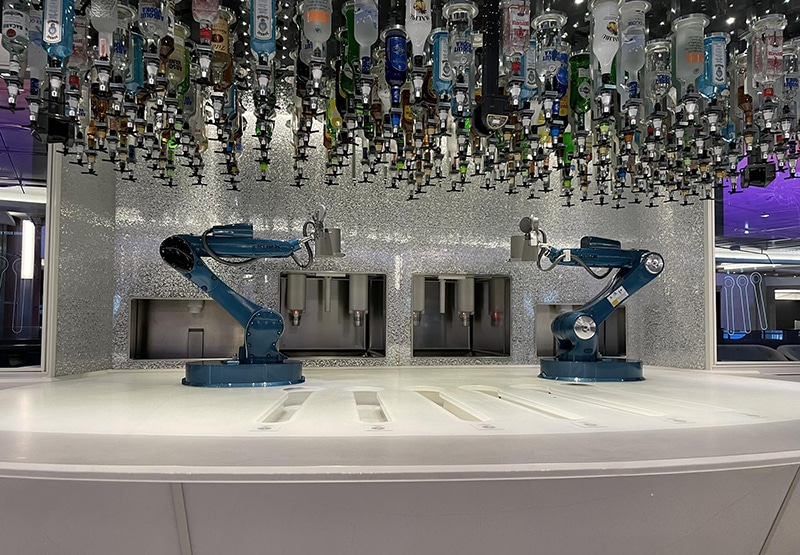 One of the bars had a tasteful speakeasy vibe, which provides a variety of shows, has room to dance, and even a few tables to just chill with friends. But perhaps the highlight for me was the amazing robotic bar, where cruisers are able to scan their passes, select their drink, and watch the mechanical arms mix up their cocktail. What better way to enjoy your drink, without the hassle of queuing up and flagging down a bar tender to make your favourite tipple, be it a gin and tonic or a margarita?
Walking along the decks, we were able to feel the excitement of pulling into a new port as the days of a holiday go by, which you can explore or not depending on your mood. If you choose to just relax on the boat, you can spend your day poolside, or curling up in your favourite spot inside, although there are a host of other activities to enjoy.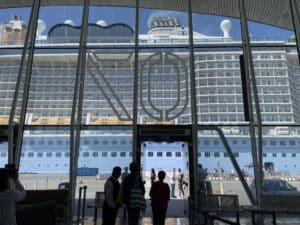 These include a surf simulator, laser tag, top deck bumper cars, the North Star that raises you above the ship and offers 360 views of the world around you, a rock climbing wall, and even movie nights on deck. Adults can enjoy casinos and evening shows, including live bands, pianos bars, and even karaoke nights.
Cruising is really a holiday that meets the needs of all travellers. It is great for families, as the children can hang out in designated kid's or teen clubs, while the adults can enjoy some time in a private adult only area, or spend time with their children in family-friendly parts of the decks.
Cypriot travellers can book all this in an instant on cruise.com.cy, a platform dedicated to finding these amazing experiences and making it convenient to reserve your spot.
Cruise.com.cy caters to the enthusiasm and diversity of millennial travellers, who consider travel experiences to be an important part of their identity, giving access to online searches for over 25,000 cruises all around the world, with all the leading cruise lines.
Those who prefer the guidance of a knowledgeable travel agent can of course book one of these experiences through Century Travel in Cyprus (Tel: 8000 4242).
Having spent a few hours onboard, I would recommend cruising as an exceptional holiday choice. Our experience onboard made us keen to take a few days out at sea, enjoying the amenities and not having to be in a rush or plan every single second of a trip.