It will take great courage to break the impasse on the Cyprus problem negotiations, German chancellor Olaf Scholz said on Thursday, questioning whether all sides have enough willpower to do so.
Speaking after a meeting with President Nikos Christodoulides in Berlin, where he is visiting for the first time in his capacity as president, Scholz said "I hope to see negotiations gain new momentum, given the impasse."
He added Germany fully supports a solution to the Cyprus problem that creates a bizonal federation, where each community will be represented in the country's leadership.
"This however requires political courage from all parties involved and I do not know if there is enough will from all sides.
"We discussed this, and we want to help. Germany is ready to contribute so that everyone gains more trust with each other."
The chancellor added that issues in the eastern Mediterranean can be resolved through dialogue based on international law. "Relations between Cyprus and Turkey matter for all of Europe."
The two leaders also agreed to strengthen their cooperation on energy and defence, while also discussing Ukraine and the sanctions against Russia.
In his own statements, Christodoulides welcomed the talks, describing Germany "as one of the most important EU states that can contribute" to efforts that can restart talks where they left off in Crans Montana.
This is now the time for diplomacy to work, and Germany has a significant role to play on this, he added.
Christodoulides thanked Germany for helping Cyprus deal with the immigration problem, noting that Germany is one of the few EU countries that understands the issue.
The talks in Berlin covered bilateral relations, immigration, and the eastern Mediterranean.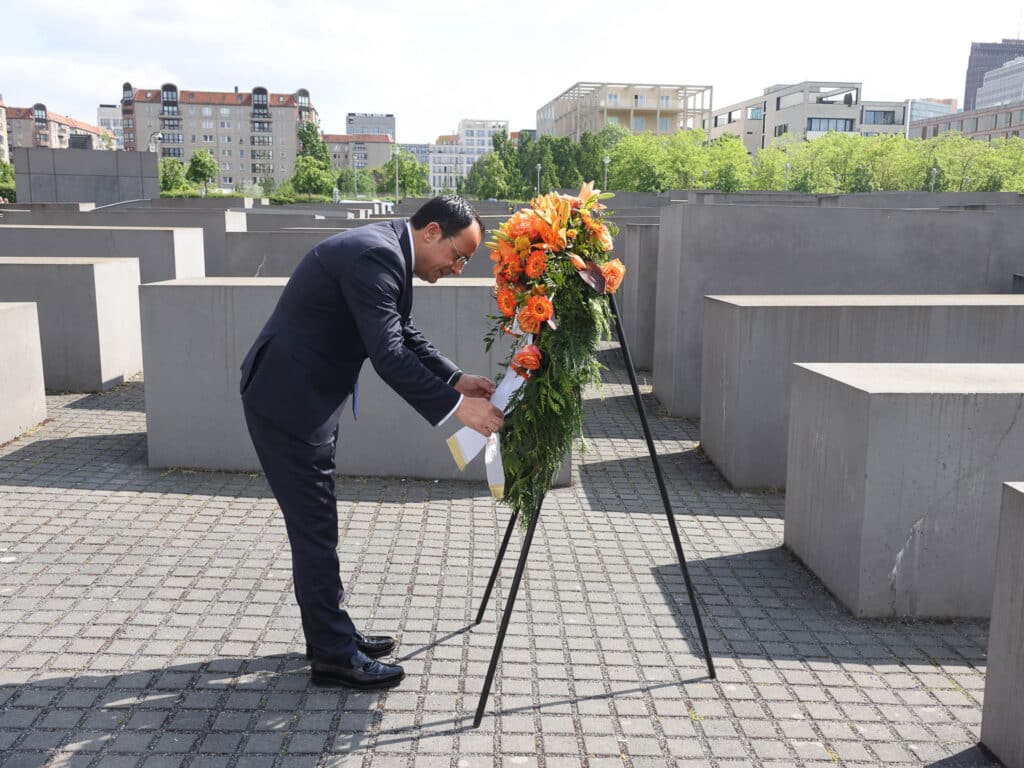 On the second of his two-day working visit to Germany, Christodoulides visited the Holocaust Memorial in Berlin where he laid a wreath.
Signing the visitors' logbook at the memorial, he wrote: "It is our duty to remember, although paying tribute does not concern only the past, but the present and the future as well. 'Never Again' has to do with our collective historical responsibility to Humanity."
Accompanying Christodoulides on his trip are the foreign minister, the government spokesman and the head of the president's diplomatic office.
Meanwhile in an interview with Deutsche Welle (DW), Christodoulides mentioned for the first time in public that Chancellor Angela Merkel was among those considered for the mooted position of EU envoy on Cyprus.
Merkel's name had been dropped in speculative media reports earlier. Asked about this by DW, Christodoulides said he has discussed names with the leaders of France and the Netherlands.
On Merkel, he said "naturally she is a personality who could play a part, but whether she herself wants to, or whether she would be the choice of the European Union, that remains to be seen."
Whoever the EU envoy is, added Christodoulides, it should be a political personality who can talk directly with Turkey's president, as this was key.
Christodouluides has floated a proposal for an EU special envoy or mediator for Cyprus, to help break the deadlock, but with the talks remaining under UN auspices. But it's unclear whether his proposal is feasible, as the bloc has no mandate to appoint envoys for conflict resolution.