Under the slogan 'Together we Thrive', the Cyprus Pride Parade was underway in Nicosia on Saturday evening as part of the Cyprus Pride Festival 2023 organised by Accept-LGBTI Cyprus.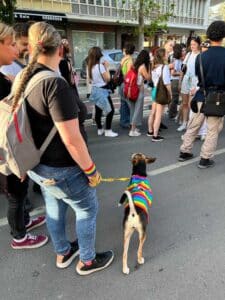 The parade started at 5.30pm from the Municipal Garden "Eirini," located behind the parliament. The Cyprus Pride Festival is held under the auspices of the President of the Republic and the Mayor of Nicosia. Hundreds of people took part.
Accept-LGBTI Cyprus said that it welcomed the involvement, for the first time, of a strategic partner, Cyta, in the Cyprus Pride Festival, which is already supported by host of other local businesses
As part of its support, Cyta's Electra House was illuminated in the colours of the rainbow. Accept's President, Nicholas Trifon, expressed the organisation's satisfaction with the involvement of business partners in the Cyprus Pride Parade.
The involvement of businesses, particularly a major organisation like Cyta, not only provides economic support to the LGBTI community but also demonstrates the business world's commitment to promoting respect and equality in Cyprus, he said.
"At Cyta, we acknowledge that creating an inclusive work environment is vital to the well-being, productivity and personal development of our people," Cyta CEO Andreas Neocleous said.
"Our collaboration with Accept-LOATI Cyprus reflects Cyta's commitment to issues of respect and equal treatment, which are integrated into all the organisation's functions and contacts with its staff, suppliers and customers", he added.
The Pride March is also supported by PwC Cyprus, Grant Thornton Cyprus, Antis Triantafyllides & Sons, Bottega Amaro, Flying Tiger, Super FM, C. Savva & Associates, as well as the European Union through the Delegation of the European Commission and the European Parliament in Cyprus, the High Commission of the United Kingdom, the High Commission of Australia and the Embassies of Sweden and the Netherlands.