Self-taught jewellery designer tells NIKI CHARALAMBOUS about her classic and modern style, creating timeless works of wearable art
Although jewellery designer Christiana Kafa was born in Nicosia, Cyprus, she has spent most of her life in Greece, where her passion for jewellery has become a full-time business. And the success of that business, Kafa puts down to social media for connecting her with clients both locally and globally.
For almost a decade, Kafa's elegance has wowed audiences with her unpretentious minimalist high-end jewellery that aspires to accentuate the most feminine part of every woman.
As a long-time collaborator with fashion magazine Madame Figaro Cyprus, designing and creating their annual bracelets in support of breast cancer, Kafa won first prize in the Precious Eternities category at the prestigious A Jewel Made in Greece Awards in 2019. "Winning first place was a fantastic achievement and a huge honour for me, for which I will be eternally grateful," Kafa said.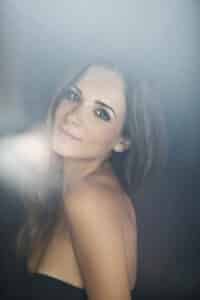 She was only 15 days old when her parents chose to leave Cyprus and relocate to Greece due to work commitments there. She recalls how she enjoyed painting and engaging in arts and crafts as a child. "I loved decorating my surroundings, such as our home and my room, as well as the rooms of my friends," she told the Cyprus Mail. "Sadly, we lost my father when I was 12 years old, and it has been my mother and myself since then, but I am happy that our relationship is very close."
Despite her artistic nature, Kafa took a degree in Marketing and Communication at the Athens University of Business and Economics (AUBE), thereafter working for several multinational companies in Athens. However, she remained creative, embellishing sandals with Swarovski crystals and ribbons, as well as decorating traditional easter candles, which became increasingly popular with her clients.
"It was only when I was 30 years old, that I decided I finally wanted to pursue a full time career in jewellery design and establish the Christiana Kafa Jewellery label," she said.
After setting up her website and promoting it on social media, she began to receive orders from several shops in Athens, as well as from other countries including Cyprus, Kuwait and Lebanon. "I was so grateful for the incredible response and admiration for my work and designs that I just wanted to keep evolving by exploring and developing," she added.
In 2017, Christiana got her break in Cyprus after a jewellery shop owner, with whom she was collaborating, recommended her to Madame Figaro Cyprus "as they were looking for a jewellery designer to create their bracelets for breast cancer.
"I designed and produced over 3,000 bracelets for the organisation every year for the next six years, which was an incredible experience and a very special cause to be a part of," Christiana said.
She begins her meticulous creative process to generate a finished product by designing a prototype on paper, which her team then transforms into an online version. "The next step is to choose the appropriate metals, and then to add the essential stones," she explained. "I am a self-taught jewellery designer with a classic and modern style, creating timeless works of wearable art."
As she develops luxury bracelets, rings, necklaces and earrings, Kafa insists her career would have taken longer to launch if it had not been for social media. "There are many benefits to using social media, including increased brand awareness and product sales.
"Social media has introduced me to a whole new world of opportunities and has allowed me to enrich my knowledge in terms of discovering new ideas and trends, connecting with existing as well as new clients on a deeper lever, directing more attention and traffic to my work, while enhancing my brand's presence at the same time."
However, although she emphasises the advantages of using social media as an online marketing tool, particularly in the fashion industry "there are a few disadvantages that one needs to consider."
She said one of the most serious is that it impairs creativity and the ability to distinguish between good and bad. "Quality work is frequently lost among a pool of unqualified work, making it more difficult for new, quality designers to distinguish themselves from the competition."
Although Kafa recognises that her website's online shopping provides convenience and a wider selection of products, she hopes to take a more traditional approach by opening a shop where she can provide personal customer service while showcasing her expertise in the jewellery industry. "Both methods of shopping have their own advantages, and it is up to the consumer to decide which one best suits their needs, but in-store shopping allows customers to physically inspect and try on my products before they buy, while also making them feel special and valued."