Meeting customers' needs, Hellenic Bank rises to the challenge by modernising banking services
Thanks to user-friendly Online Banking, customers get free and instant access and can manage accounts – hassle-free, securely, anytime and anywhere
Responding as it does to customers' contemporary needs, Hellenic Bank leads the way by focusing on the 'phygital' model – combining the physical with the digital – by investing in its own people and in new infrastructures to deliver cutting-edge solutions. The Bank aims to constantly upgrade its products and services, delivering fast and efficient customer service.
That was the concept behind the City Centre Branch in Nicosia, which offers modern banking services within a multi-purpose space. Inside the branch is a specially configured self-service area for day-to-day bank transactions, supported by Hellenic Bank's Meeter-Greeters and in-lobby ATMs. It also features a 24/7 special self-service space where individuals, using their debit or credit card can access the ATM, while corporate customers can make their deposits in the Coins & Cash 360 machines.
This is happening against the backdrop of a marked shift by customers to alternative banking channels. In April 2023, 46 per cent of transactions were carried out with Online Banking, 44 per cent with ATMs, and just 10 per cent in bank stores. Meanwhile, 98 per cent of funds transfers happen with Online Banking. And 81 per cent of deposits are carried out using ATMs, far surpassing the traditional mode of cash deposits at the counter – which now account for just 22.3 per cent. Also, 96 per cent of cash withdrawals are done via ATMs. Over the last two years, the number of Online Banking users has gone up by 51 per cent, and Hellenic Bank Mobile App users by 117 per cent, while transactions with Contact Pay shot up 103 per cent in a year.
It's all online
Without needing to visit a branch, Hellenic Bank customers can quickly and easily access Online Banking to carry out basic banking transactions. They can create virtual cards for more secure online transactions, wire funds up to €1,000 to European countries for free (SEPA), and swiftly manage their accounts and cards – view and receive interest certificates and IBANs, recover their PIN or temporarily freeze their card, and even order a cheque book. Thanks to the partnership with JCC Smart, they can pay 17 different categories of organisations and more than 1,200 different types of bills.
In addition, customers can use the 'Book a Meeting' option on Hellenic Bank's website to book an appointment with a bank officer, for services such as loans, opening an account, data updates, insurance policies, investment options, and more.
With Hellenic Bank's revamped website, you get an improved service experience, with extra search filters for easy comparison of products and services, seamless navigation, as well as upgraded Online Banking – which now offers the same user experience as the Hellenic Bank Mobile App.
Thanks to user-friendly Online Banking, customers get free and instant access and can manage accounts – hassle-free, securely, anytime and anywhere – from a personal or professional account, without having to visit a physical bank branch.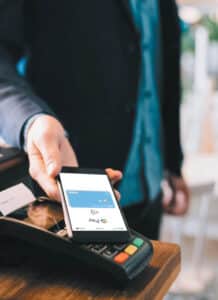 Contact Pay and Digital Wallets in an instant
With the upgraded Hellenic Bank Mobile App, day-to-day transactions using your mobile phone are as simple as sending a text message. Using Contact Pay, users can carry out real-time, unlimited, free funds transfers as well as receive funds, to and from the contacts who are Hellenic Bank customers and are stored on their phone.
Users connect to their account using biometric technology, without entering any passwords or codes, with fingerprint scanning or facial recognition. Identity verification is now easier and faster than ever; no SMS, no OTP, no time-consuming processes. Moreover, users can freeze their cards at any time in the event of loss or theft.
Please note that Visa and Mastercard holders can carry out contactless payments on Apple Pay, Google Pay, Huawei Pay, Garmin Pay and Hellenic Bank Wallet.
Go 'smart' at the ATM
The nationwide network of new-generation ATMs gives customers 24/7 service with cash withdrawals and deposits, multiple cheque deposits, account balance viewing, IBAN printing etc. Using a debit card connected to a savings account or a Basic Account with Hellenic Bank, customers can also make free cash withdrawals in euro from the ATM of any bank in Cyprus or overseas.
Hellenic Bank has thirteen Cash360 coin machines and five Cash360 notes machines, available at selected stores across the country allowing customers to deposit large volumes of coins and banknotes by using a special code.
Upgrading and streamlining
Drawing on its customer-driven approach, Hellenic Bank is modernising the entire spectrum of its services. It is streamlining and automating processes and is introducing useful tools such as the digital signature, the Customer Credit Assessment Model for faster, more rational, and fairer decision-making when it comes to financing, as well as the Customer 360 tool – generating a full customer visualisation and thus a smarter way to anticipate a customer's needs.
Hellenic Bank aims to continuously improve its customer service, automating processes and modernising operations across all services and products on offer.