The only Cypriot to have been offered a position with a BBC orchestra tells PHILIPPA TRACY about standing out and blending in, bringing people together through music and the creation of the Cyprus Chamber Orchestra
Nihat Agdac is the only Cypriot to take up a full-time position with the BBC Symphony Orchestra.
When we meet, he has just returned from a 'bonding' tour to Spain with the rest of the orchestra, before formally taking up his position in the second violin section in August, midway through the BBC Proms. As excited as he is about playing the Proms, this will not be his first time. He has come full circle from his first trip to London to play at the Proms in 2006, as part of the European Union Youth Orchestra. That time round he remembers playing Shostakovich Symphony no 4 and Alfred Schnittke (K)ein Sommernachtstraum, with Vladimir Ashkenazy conducting. There, he met people studying at the Royal Academy of Music and the Guildhall, coming to the realisation he too wanted to study in London.
"Music has shaped my life. It is my passport," says Nihat. It has taken him all over the world. Growing up, there was always music in the house. On his own, he started playing the piano at age four. He later switched to violin, and studied with a number of teachers. He wanted to mention them individually, "as tutors who have influenced and shaped me as a musician: Mr Pastırmacıoğlu, Mr Tilki, then professors Cenaz, Kariolou, Marinkovic and Chilingirian." His father, who is fluent in Greek, was another influence and exposed him to Greek music. Nihat's musical tastes are varied, and include 1980s pop music, Turkish pop, Latin, Rembetiko, and early jazz. He enjoys playing Mahler, as much as Turkish composer Ulvi Cemal Erkin.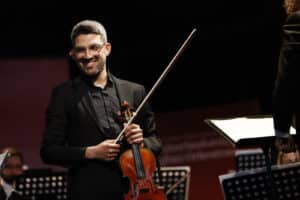 A huge fan of soundtracks, including Star Trek, he tells me, "I am a Trekkie. Live Long and Prosper!" He has music playing in his head all the time and often has to force himself to sleep at night. "You cannot switch it off sometimes." Philip Glass is his comfort music; the repetitive mood in some of his pieces makes him feel stable. As a violinist, he is a traditionalist, who believes that the priority on stage is the enjoyment of the audience. It is not about the musician; "the music is the performance."
Nihat's parents were always supportive of his musical ambition. "They were relentless about taking me to my private lessons." His father also used to buy him chocolate and tell him it was from a Greek Cypriot friend that he had yet to meet. Nihat met his first Greek Cypriot friend, Victoria Mavromoustakis, through the violin. In 1999, his second year of violin studies in Cyprus, before the checkpoints had opened, the Apple Hill Chamber Players chose two violinists, Nihat and Victoria, to play in the USA Playing for Peace concerts. Playing for Peace was founded in 1988 to assemble musicians from areas in political conflict to play chamber music together.
For Nihat this was a life-changing experience; at the time, he had never left Cyprus. As a 12-year-old, it was like "flying from here to the moon". For a month, he was the only Turkish speaker and had to quickly learn English and how to play chamber music. He is still in touch with Victoria, who now lives in London. And they played a concert together in London 13 years later at the Hellenic Centre in Marylebone.
At 13, he went to Turkey after gaining a scholarship to the State Conservatory in Ankara and stayed there for the next seven years. The music training was supported by a rich curriculum including art history, music history and philosophy and psychology. He recognises how hard it must have been for his parents to send him to Turkey at such a young age. In the first year, he, by contrast, was engrossed in practising his violin for seven to eight hours a day to catch up. Having started the violin late, at the age of 11, he needed to practise hard. In the second year, he started to miss his family and friends. It was the hardest year. After the third year, "I didn't want to come back". He has not looked back since.
Soon after Cyprus became an EU member in 2004, he took the opportunity to audition for the European Union Youth Orchestra, and became a full member in 2006. For three years after graduating from the Conservatory, Nihat was a member of the Presidential Symphony Orchestra in Turkey. He then first auditioned for the Royal Academy of Music in 2007. He was self-motivated, but did not get a place, which was a blow to his confidence. He went back to the USA with Apple Hill in 2008 and his confidence was boosted by offers of masters in Boston and Linz, Austria. But he did not give up on his dream of getting to London. On the second attempt at the Royal Academy, he was offered a scholarship.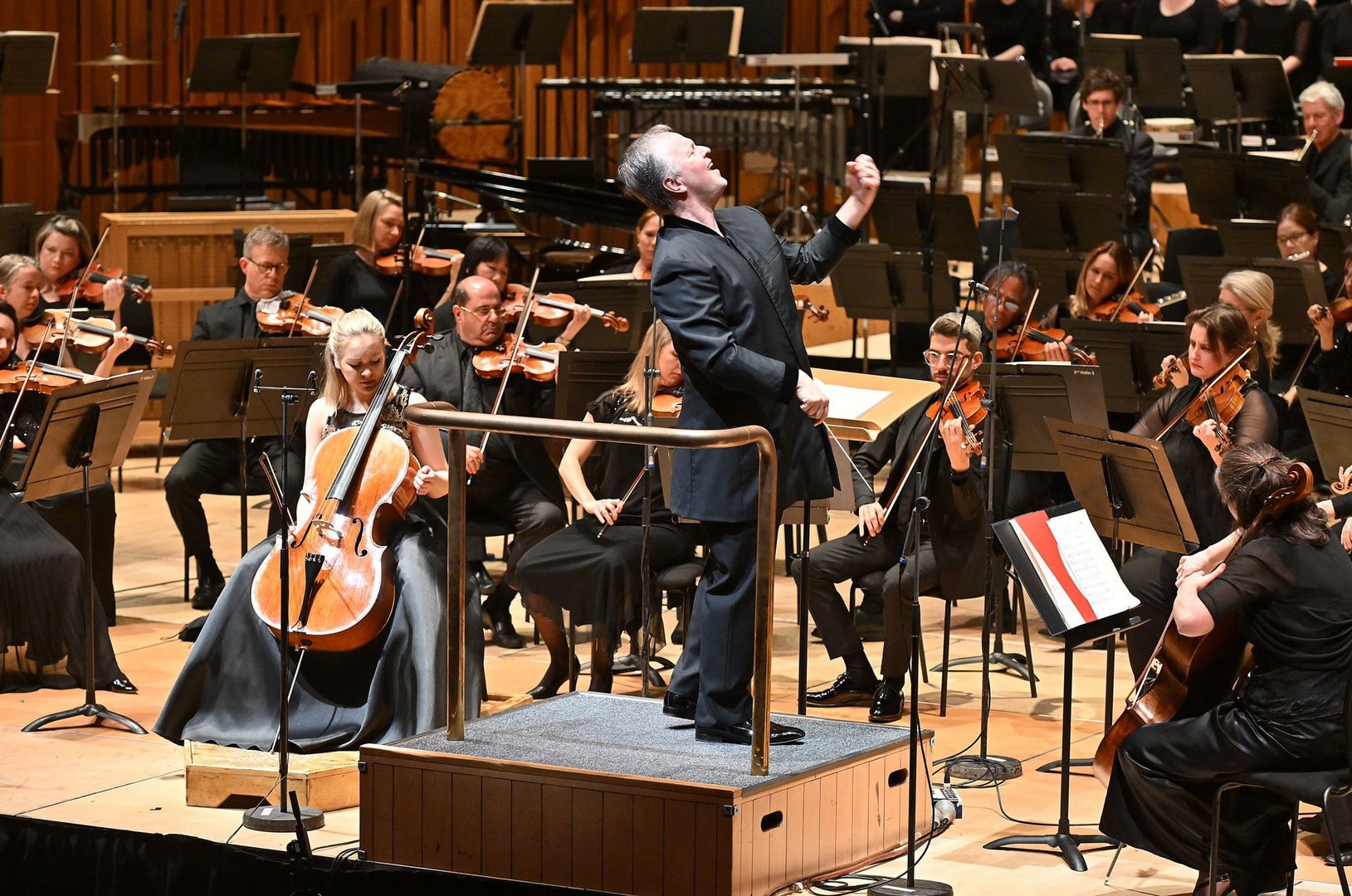 Nihat's determination is admirable, "I know my limits" and "if I thought that I wouldn't be able to do it, I wouldn't be resilient," he says. His parents were supportive but there was nobody to guide him about how to get there. He is also philosophical about his first audition. "Not winning that day, didn't mean failure; it just meant that it is not your day. It is someone else's day. It's about not giving up."
He's been busy in Cyprus too, while carrying on a freelance career in the UK. He has been leading the 'TRNC Presidential' Symphony Orchestra, formed from scratch eight years ago. Nihat was on a mission, symphonic and polyphonic music "has to be part of our daily lives to give us a more diverse cultural scene; a chance to interact with different artists from the rest of the world." The orchestra staged its their first concert in 2015.
In the meantime, Nihat and Greek Cypriot oboe player Natalie Neophytou formed the Cyprus Chamber Orchestra, the first bi-communal classical music orchestra on the island. Before Covid, they played regularly together, and collaborated with the Berlin Philharmonic Orchestra during its visit to Cyprus. "The different orchestras on the island were feeding each other artistically and broadening opportunities to play in different settings." Nihat believes this provides a great example to politicians to show what opportunities the arts can bring for people to come together. He hopes that the Cyprus Chamber Orchestra will be able to perform this summer.
But it can be an uphill struggle as, according to Nihat, the political climate in the region is not really supportive of bicommunal interactions. Any time there is an election, and there have been many in recent years, "the Cyprus issue is always a hostage of these events". And "the international community loses interest, because we often forget as Cypriots, that we are not the centre of the world."
And it is an issue that also impacts the music scene. This was particularly true during the pandemic: "It gave an excuse to politicians to shut" the crossing point."
He wonders whether musicians and others were resistant enough? In May 2020 during Covid, the EU asked the Cyprus Chamber Orchestra to do a broadcast concert. "I remember going every day asking for permission from the 'health ministry' to cross into the buffer zone." He does feel privileged that eventually both sides got permission, musicians meeting at the Goethe Institute for three days and recording the broadcast. He also managed to cross to get his violin repaired by the person who made it. He is thankful to the authorities for this.
It was then not until November 2020 that he was able to take part in a public concert in Bellapais. It must have been emotional to see finally see an audience again. "Often we are lonely when we are practising but it is different when you are performing." He says musicians sorely miss the interaction from the audience, even when they don't speak. Music is about emotions and you surely feel that in a community of people.
And the next community he will be part of is the BBC. Unlike European orchestras that often offer one person a full-time trial for a year, the BBC offers something more flexible to a number of trialists, who play mutually agreed slots over a period of time. This means they do not need to give up other work.
For Nihat this process took nearly four years. Apparently, it was one of the longest trials ever in the BBC's history, made longer by Covid lockdowns. He auditioned in late 2019 and started a trial with them immediately. However, because of Covid, the trial was suspended. It was not until February this year, that he was offered the position. He will play in the second violin section, one of 13 violins. Nihat feels very lucky and proud of the fact that of the many violinists on trial, he was the one appointed, and with a unanimous vote.
It must have been a nerve-racking process, not knowing when the panel would decide to evaluate the triallists and with no way of knowing what they were thinking at any time? "You were treated as a member of the orchestra but you were not a member." While technical skills were tested at audition, Nihat believes it is as much about matching your personality as it is about your playing.
"You need to find the balance between standing out and blending in." I can see from our meeting that Nihat is a very sociable person who likes to make connections with people; this must impact how he plays. He was told that his positive manner brought a very different energy to the section and the orchestra, and I can see that when talking to him. He tells me that some orchestras are liberating, allowing you to show your individuality within the group, which makes the section shine all together, rather than just trying to adjust. Nihat says, "this is how it feels for me" in the BBC.
Nihat believes that the BBC orchestras are a great example of the cultural responsibility that national broadcasters have to showcase new and diverse music. "They provide a platform for many different, new and unrepresented works." The first piece he ever played with this orchestra was a stage opera, co-commissioned by the New York Philharmonic and the BBC Symphony. The world premiere of Prisoner of the State by David Lang, an American, was in New York, while the European premiere was at the Barbican. One of many premieres there. Nihat says, "it was marvellous with a full house."
He still has to practise four or five hours a day. "It's good to keep up with your instrument, otherwise it won't keep up with you." Although, sometimes it's good to have a bit of time off. "I enjoy that, at this stage in my career, I no longer need to practise audition repertoires every day." But it never gets easy. Now he is just practising his parts and preparing for recitals. Later this year Nihat will return to Apple Hill to teach as a guest in July, which is why he will not be joining the BBC until August.
This will be "like going back home, to where everything started." Soon after, he will be in residency at the Barbican in London with the rest of the BBC Symphony Orchestra. This has been his target, and the achievement of it is something that he admits slightly scares him. But it is not the end of the road. His dream now is to get the Orchestra to perform in Cyprus one day.