Turkish Cypriot farmers in Karpasia are demanding a solution to the problem of free-roaming donkeys, which they say have spread far beyond their designated area and have become a crop-chomping nuisance.
The two main breeds of wild donkey on the peninsula – one a large dark-coloured type with a pale belly probably of European origin, and the other, a small grey African type – have been promoted as a tourist attraction in the north for years. The donkeys were left to roam wild after the Turkish invasion.
But the Karpasia 'environmental protection and social activity association' said the problem has become ever more acute especially at the start of the harvest season.
Media in the north report the association saying the issue has existed for over 40 years without a solution, and that residents are suffering economic consequences due to the failure to implement a permanent plan.
Spokesman for the association, Firat Borak, reportedly called on the 'ministry of tourism and the environment' to discuss the matter with all stakeholders, including the possibility of the domestic and international adoption of the donkeys.
Previously, wild donkeys which had been freely roaming around the peninsula were rounded up and taken to the national park in the far northeast of the Karpas peninsula. However, over time, they have migrated back towards populated areas and have once again begun to interfere with agriculture and traffic in the area.
The mukhtar of Galinoporni Mustafa Sah explained to local media that the donkeys can be hazardous for tourists who come to the area by car as they often walk onto roads with no warning. He added that buyers abroad were willing to spend as much as "two to three thousand liras" (between €78 and €117) per donkey and that the plan was to sell half of the donkeys and keep the rest.
However, he said that this idea was objected to by politicians in northern Nicosia who told him that such a move would "destroy the symbol of Karpasia".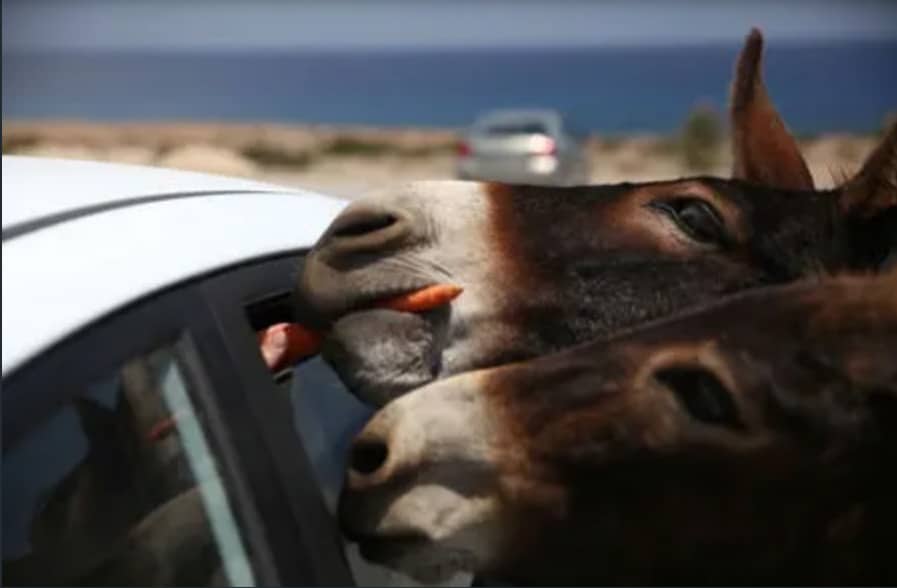 Rezvan Inlen, the mukhtar of Agios Simeon, went as far as to say the donkeys are "the reason many people are dying on the roads" and explained that they are continuing to migrate and have been spotted as far west as Koma Gialou and Platanissos.
"If action is not taken, they will be walking through Trikomo town centre before long," he said.
Other local mukhtars held the same sentiments.
"Whatever we plant, they eat," said Vasili mukhtar Ahmet Talay, while Lithrangomi mukhtar Turgay Aslan said the donkeys are exacerbating an already deep cost of living crisis.
Despite the concerns of locals, Karpasia's donkeys are popular among tourists. The north's official tourism website describes them as a 'must-see' and even encourages visitors to 'feed them carob and carrots'.