Is free access to popular beaches being squeezed out?
Complaints over a battle for beachfront bliss and accusations of shady business practices cloud Cyprus' beaches every season, but an official tasked with monitoring the situation says it's all under control.
Sunseekers complained to the Cyprus Mail that the authorities are not adequately monitoring – or enforcing – the 50/50 rule: that half the area of organised beaches must be made available for people to set up their own umbrellas and towels – without being forced to rent them out.
"Where [are the complaints centred on]? Well at Fig Tree bay just the other day inspections were carried out," head of the beaches committee Loizos Loizou told the Cyprus Mail.
He also reassured the public that price gouging for sunbeds and umbrellas is swiftly stamped out.
Asked to comment on the complaints – that those managing coveted coastlines, rented out from the municipality, are taking too much space – Loizou insisted that inspections are swift and effective.
"There's actually far more demand than there is supply of sunbeds and umbrellas to rent out, so in fact it's the opposite, but in any case, the 50/50 rule is adhered to," he added.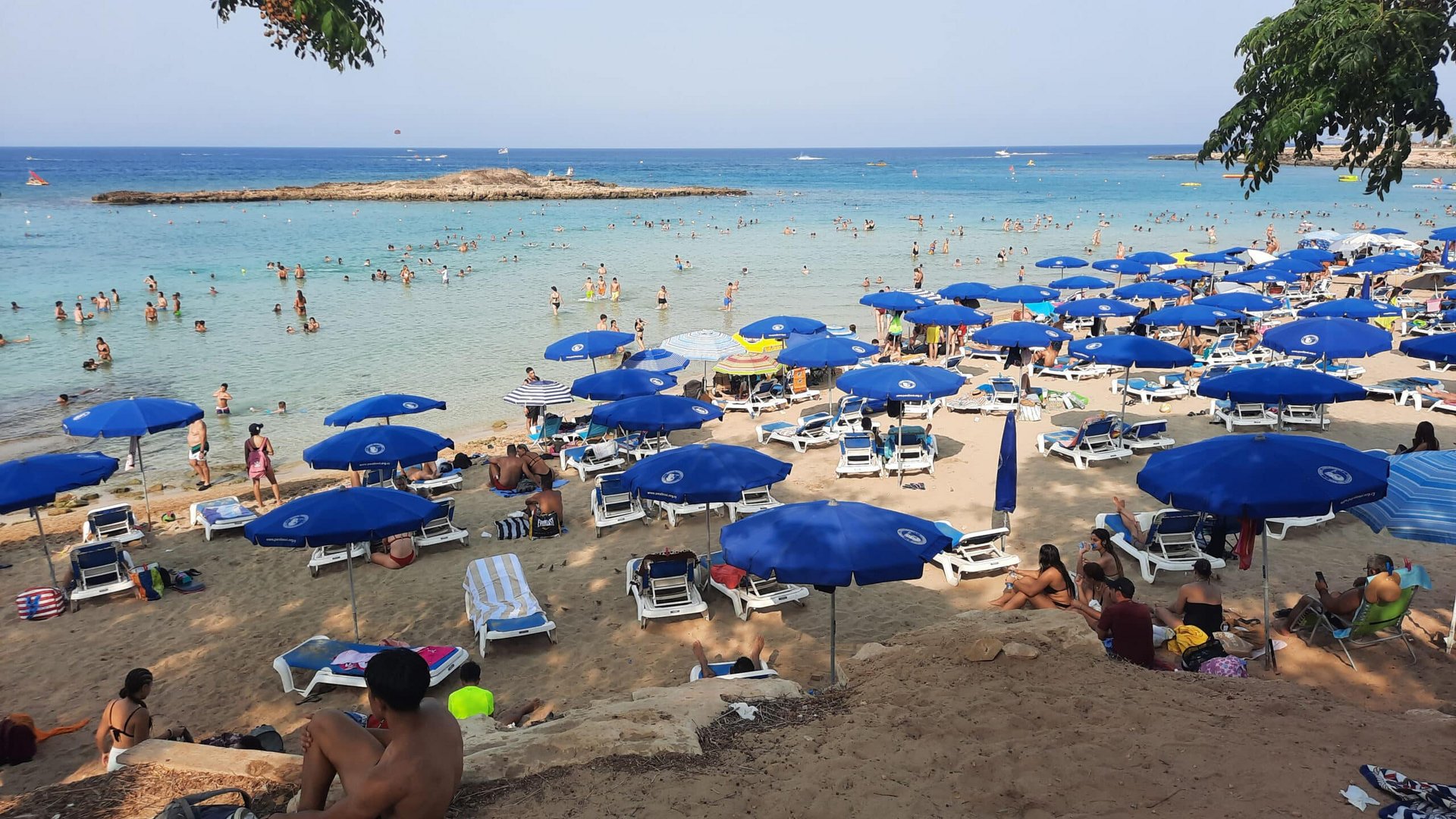 But a beachgoer reached out to the Cyprus Mail to complain that at Fig Tree bay in Protaras "they had only left a strip on the front along the main wide bit of the beach" for those wanting to set up for free. The concern is also that the rented umbrellas and sunbeds are much too close to the water.
"Then where the beach gets narrower, the beds took up the whole beach. They used to have a good enough sized corridor down the middle of the beds that was wide enough for people to put their own stuff down but that's gone," the reader told us, providing photos.
"I walked to see what the rest of the strip was like. It varied – there were some good bits of space for people to have their own set-ups, but then also areas that were totally overrun by beds," she added.
Asked to comment on other complaints that some of those managing the beaches are illegally exceeding the €2.50 limit per sunbed, Loizou immediately rejected the claim.
"There was a serious case at the beginning of summer, in June, that some people had been asked to pay €15 but this was swiftly dealt with – this is not widespread in the Republic [of Cyprus]," Loizou told us.
Complaints of price gouging typically follow a similar pattern: that an unsuspecting beachgoer rents out the bed for a relatively low amount but is offered extras – such as water or fruit. Those are then charged at exorbitant prices, as much as €15 or €20.
But Loizou insisted that there has only been one serious case in the Republic this summer, saying that there are reports of this being an issue at Lady's Mile – which is not under the control of the Republic, instead being within the British bases.
Loizou's reassurances explain, in part, why Cyprus is unlikely to see a 'reclaim the beaches' movement any time soon – as is ongoing in Greece.
Paros and Naxos, two of Greece's most popular islands are in the headlines for charging up to €100 a day for sunbeds.
As in Cyprus, beaches are public in Greece but an increasing number of businesses have received licences to rent out sun beds and umbrellas which they set up along a stretch of beach.
And in a move that does echo Cyprus, in many cases businesses expand well beyond the agreed area of beach, leaving little room for those who want to lay a towel and sunbathe for free.
"The beaches were so full of this furniture … that many people who didn't want to sit on a bed or in a chair, had no other space to sit anymore," said Eleni Andrianopoulou who took part in a protest in Naxos.