Limassol bus company Emel will from Tuesday begin offering circular electric bus services after three years of planning, offering greater connectivity centred around Ypsonas municipality.
Transport Minister Alexis Vafeades said on Monday that the service – called 'Circular Green' – is primarily intended to help students travel to their afternoon activities and tutoring centres.
He acknowledged that Limassol has the worst traffic in Cyprus.
It was explained that those aged 18 and under are to be charged €10 per month, which can be further reduced with better deals available with three, six and twelve-month cards.
Children who already have a card for school transport can use it for the new service at no additional cost.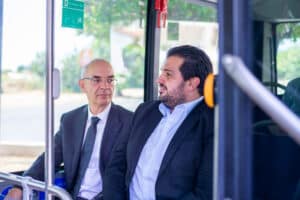 For pensioners and other students, the cost is €20, while for the general public the cost of a single trip is set at €1.50 – with a monthly ticket at €40.
Monthly and three-month cards for students can be purchased directly from the bus, as well as single trip tickets. Other cards can be bought from the Emel office, by the old hospital. The cards can be later topped up through the 'Motion' app, at the Emel offices, or at the JCC website.
The minister said the development is a step in the right direction towards reducing traffic congestion, pollution and inconvenience.
The new service was presented at the municipality's office where it was stated that residents will now have the option of easier transportation with small electric buses on offer.
"I hope that this effort will be embraced by Ypsonas and nearby residents," the minister said, adding that if the project succeeds it can be implemented in other areas, too.
"I believe that we will see a significant reduction in congestion and pollution in the streets, saving the public time when commuting," he added.
Vafeades emphasised that to decongest the roads and reduce pollution "the only tool we have is the bus – public transport – which we must combine with other means, such as bicycles and scooters".
He said that Limassol is experiencing significant economic development but that has led to a major traffic problem arising, meaning that new alternatives are needed.
"We aim to implement Park & Ride as soon as possible," he concluded.
For his part, Ypsonas mayor Pantelis Georgiou said that the circular route will be available every 25 minutes but emphasised that depending on uptake this could be upgraded to every 15 minutes.
The service includes 65 stops which will eventually be covered with sheltered waiting areas where possible, some of which have already begun being installed.
The first of ten such sheltered bus stops will be installed within the next week and by the end of the year another 12 will be placed, according to the mayor.
He also said that the bus stops will have charging points available for electric devices as well as for e-bikes and scooters.