'Gunboat diplomacy and strong-arm tactics belong to the past'
President Nikos Christodoulides on Wednesday called on his Turkish counterpart Tayyip Erdogan to work together to send a message of peace for both Cyprus and Turkey.
Addressing the UN General Assembly in New York, he said: "Mr Erdogan, let us work together, guided by a vision of peace. Let us build a brighter future for our countries, through dialogue, and respect of international legality."
Commenting on the aggressions that Cyprus has witnessed over the years, including the opening of Varosha, the consistent taunting of maritime vessels in the exclusive economic zone (EEZ), and most recently the attack on UN peacekeepers in the buffer zone near Pyla, Christodoulides reiterated his call for negotiations to begin on the Cyprus problem.
"That is why the resumption of negotiations, firmly anchored on the agreed framework, is my absolute priority. The current status quo cannot be the future of Cyprus. It cannot be the future for Cypriots," he said.
"Working towards peace in Cyprus is my absolute priority, and I want to take this opportunity to also send a personal message to President Erdogan," Christodoulides said.
"There is not, and there will never be another basis for settlement of the Cyprus question other than that dictated by the United Nations Security Council resolutions. Illegality stemming from invasion, aggression and use of force cannot be recognised."
He added that as president he believes in peaceful coexistence, despite growing up in a divided country, because as he said he also grew up in a country filled with hope of reunification, with stories of all Cypriots living together in peace.
"Cyprus and Turkey are neighbours, bound by geography. Peace in Cyprus will not only send a resounding message of peace in a region and a world that desperately needs it. It will also change the geopolitical map of our neighbourhood, with a ripple effect in Europe, the wider Eastern Mediterranean, and throughout EU-Turkey relations. Gunboat diplomacy and strong-arm tactics belong to the past. They are not the tools of visionary leaders. This is our time to bring the UN Charter to life, a Charter for peace between and among us."
Christodoulides also sent a message to younger Cypriots.
"The new generation of Cypriots is also eager for peace. And this gives me hope and courage. Ahead of my journey to New York, I received a plethora of messages from my Turkish Cypriot compatriots, particularly from the younger generation, calling me to exert every effort to reunify Cyprus," he said.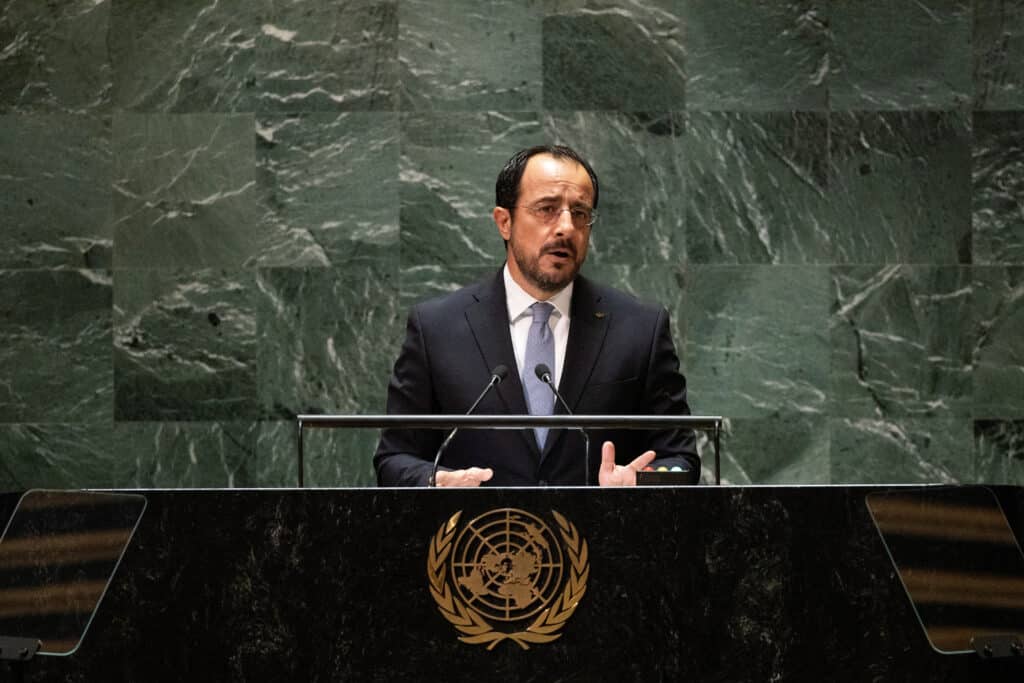 He added that his message to the Turkish Cypriots is that he hears their call for peace, understands their concerns, and assures them that he will spare no effort to make the dream of reunification and peace in Cyprus a reality.
"And I want to be able to tell them that the world, the United Nations, the living words of the UN Charter, also hear their call for peace.
"I stand before the General Assembly for the first time, fully aware of the responsibility that has been bestowed upon me, to do my utmost to safeguard the future of the Cypriot people – Greek Cypriots and Turkish Cypriots alike – who want to end the division of their country, to co-exist and to co-create," he said.
In his speech a day ago, Erdogan said that "the transformation of the Eastern Mediterranean into an area where peace, prosperity and stability will prevail is possible only with respect for rights and laws by all parties".
He went on to claim that in the past 60 years, "the Turkish Cypriot side has always made sincere efforts to find a fair, permanent and sustainable solution," asserting that a federation-based solution is no longer viable.
"We call on the international community to accept this and to recognise the independence of the 'TRNC' and to establish diplomatic, political and economic ties with this country," he said.
As for the UN, the Turkish president said the recent incidents in Pyla were a manifestation of the void in institutional structure [of the UN] that did not inspire justice and trust.
Erdogan also said Turkey expects Unficyp "to comply with the neutrality it is obliged to demonstrate.
"We do not want this force, whose reputation has already been damaged, to face a new loss of reputation in Cyprus," he said.
On Wednesday, Christodoulides said that he is determined to foster peace.
"I am here today with clarity of purpose and determination: the sole effective medium to address this risk of instability generated by the absence of a peace path is to pave one, to foster dialogue, through which positions and concerns of all sides can be addressed and discussed in good faith."
He added that he is committed to negotiating a settlement that will safeguard the fundamental freedoms and human rights of all Cypriots (Greek Cypriots, Turkish Cypriots, Maronites, Armenians, and Latins).
"A comprehensive settlement that will allow them to prosper in coexistence and peace, free of anachronistic dependencies and system of guarantees that have no place in a European country," he said.
The president said that these are the reasons why resumption of peace negotiations based on the agreed framework, preserving, the acquis of the previous round of negotiations is essential.
Christodoulides also sent a message to the UN calling for an envoy on the Cyprus problem to be appointed.
"As the Security Council has resolved, it is high time for the UN to become a driving force of dialogue, by appointing, as a first step, an envoy on the Cyprus problem, to explore and prepare the ground for the resumption of negotiations," he said.
He added that the UN and its secretary-general have the responsibility, prescribed in the UN Charter, to act as catalysts for peace in Cyprus.
"In doing so, it can be facilitated by the European Union, which also has the tools necessary and which has expressed its commitment to deliver, so as to reunify its last divided member state," he said.
Just like the United Nations, the European Union is also a project of peace, he said. The Union can and must act decisively, with all means at its disposal to drive reunification of its last divided member state, and in doing so contribute to peace in Europe, the wider Middle East, and indeed the world.