As autumn and winter travel plans start taking shape, Emirates makes the perfect seasonal getaway more accessible than ever. With a wide range of destinations to cater to all tastes, Emirates is the ideal choice to fly to the places you have longed to visit. From the moment you embark on your journey, the airline ensures that you arrive at your destination in the most enjoyable way, with the ultimate customer experience and acclaimed services.
Emirates offers a curated list of must-visit destinations to explore this winter.
Dubai
As a bustling cosmopolitan hub, Dubai has become one of the most desirable year-round vacation spots. Home to the world's tallest building, Burj Khalifa, Dubai boasts one of the most iconic skylines in the world, dotted with amazing cutting-edge designs.
A wide array of entertainment options and attractions, including theme parks, nightlife, cultural events, and world-class entertainment shows, make Dubai the ideal destination for all kinds of travellers, whether on solo trips or in the company of friends or family.
While dining in Dubai comes with the possibility of enjoying an impressive variety of dishes and delicacies from different cultures, shopping in Dubai is an equally unique experience, with shopping malls that offer a blend of luxury, an impressive selection of international brands and retailers, and unique incentives like tax-free shopping.
Emirates currently operates seven weekly flights from Larnaca to Dubai. The airline serves Cyprus with a wide-body aircraft Boeing 777-300ER aircraft all year round, with a capacity greater than 20,000 seats per month.
Malta
An abundance of historic sites, luxury hotels, exceptional restaurants and the surrounding pristine waters, make Malta perfect for those looking to be charmed.
Many of this rocky island's biggest attractions are actually under the sea. The abundance of wrecks and reefs has led to a thriving diving industry. If you'd rather stay above the waves, consider an island-hopping tour – the sister islands of Comino and Gozo provide unique attractions of their own.
Once you're done exploring Malta's cultural sites, it's time to unwind. There are plenty of beautiful beaches where you can bask in the sunshine. Għajn Tuffieħa and Golden Bay are particularly special in the north-west of the island, while rockier beaches tend to dominate the east, where many of the resorts are based.
The route is served by the airline's modern and wide body Boeing 777-300ER aircraft – the largest passenger plane to operate in the market. With eight suites in the First Class, 42 seats in Business and 310 in Economy class, customers travelling from Larnaca to Malta can look forward to enjoying Emirates' world-class service and industry-leading products.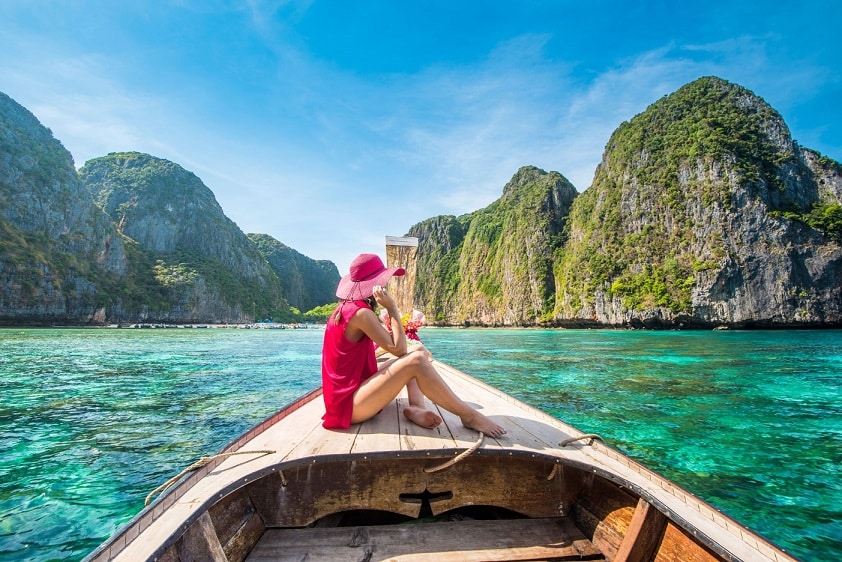 Thailand
When it comes to destinations in South East Asia, you could say that Thailand is the gateway to them all. With epic tropical beauty, ancient temples, amazing food scene and vibrant nightlife, Thailand truly has a chaotic charm to it that attracts people from across the globe.
A good place to start is Bangkok, which is an incredible city that offers a unique blend of rich culture, delicious street food, affordable living, vibrant night markets, and a wide range of activities suitable for all budgets and preferences. With its captivating characteristics and status as one of the most popular destinations globally, Bangkok guarantees a memorable and rewarding travel experience.
Phuket is also one of Thailand's popular destinations, meaning there's plenty to see and do – especially if you are willing to venture past the main strips.
The island has its own unique cultural attractions and character that ensures visitors keep returning year after year. When it comes to natural beauty, Phuket also delivers. You can see the incredible limestone karsts in the south – awe-inspiring rock formations that tower out of the water – or, if you're feeling bold, you can venture into the jungle in the north for beautiful scenery and wonderful wildlife.
With 28 weekly flights to Bangkok and 14 weekly flights to Phuket, Emirates offers travellers flexible and enhanced connections between Thailand and Dubai, as well as onwards to 140 destinations across six continents.
Travelling with Emirates
From spacious seating to regionally-inspired cuisine, traveling with Emirates offers a luxurious and comfortable experience like no other. On selected long-haul flights, Emirates offers complimentary sustainable amenity kits that are filled with essentials to help passengers arrive feeling fresh.
Passengers in all cabins can sit back and relax with onboard Wi-Fi, and up to 6,500 channels of carefully-curated global entertainment content featuring movies, TV shows, music, podcasts, games, audiobooks and more with ice, Emirates' award-winning inflight entertainment system.
Emirates is continuing to expand its network globally, currently serving more than 140 destinations across six continents.
For more information, visit https://www.emirates.com/cy/greek/. Tickets can be purchased at emirates.com, the Emirates Sales Office, via travel agents or through online travel agents.
Emirates Skywards, the award-winning loyalty programme of Emirates and flydubai, offers members a chance to earn Skywards Miles with partners ranging from airlines, hotels and car rentals, to financial, leisure and lifestyle brands. Skywards Miles can be redeemed for an extensive range of rewards, including flight tickets on partner airlines, flight upgrades, hotel stays, tickets, hospitality at sporting and cultural events, tours and money-can't-buy experiences.
Learn more about Emirates Skywards here: https://www.emirates.com/cy/greek/skywards/