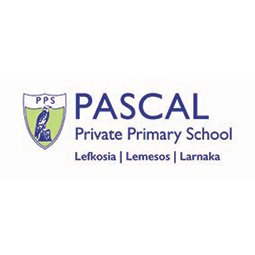 CONTACT INFO
2 Polytechniou Street, 7110 Aradippou,
Larnaka Tel: +357 22 509270
www.pascal.ac.cy
[email protected]
Established: 2017
Language: English
Type: Kindergarten and Primary School
Age range: 5 to 12 years
Pupils: 230
Cypriot/Foreigner ratio: 1:3
Head of School: Denise Michael
Governance: Board of directors
 ADMISSIONS
Admissions policy: Assessment for admission to all years, from Reception Year to Primary Year Six, is done individually for each prospective pupil
Scholarships: N/A
Mid-term entry: Yes
Applying from abroad: Applications are considered throughout the year
Tuition fees: €4,850–€5,850
 CURRICULUM
PASCAL Primary School Larnaka is proud to be part of the prestigious international community of schools; Cambridge International Schools. Cambridge Primary curriculum is offered by more than 1,800 primary schools in over 95 countries worldwide.
As a Cambridge Primary school, PASCAL Primary School Larnaka starts learners on an exciting educational journey, setting out what they should be able to do at each stage of their primary education. The curriculum sets clear learning objectives and focuses on developing knowledge and skills in all subjects, providing excellent foundations for the next stage of education.
The school delivers a broad and balanced curriculum that suits their context, culture and ethos. The PASCAL Primary School Larnaka programme offers a broad curriculum with subjects such as English, Mathematics, Science, Digital Literacy, Environmental Studies, History, Art & Design, Music and PE. PASCAL Primary School also offers Cambridge Global Perspectives, an exciting programme that develops the skills of research, analysis, evaluation, reflection, collaboration and communication while it strengthens the links across mathematics, science and ICT. The Greek language programme offered follows the Cyprus Ministry of Education curriculum.
The Reception Year follows a programme developed based on the British Early Years Foundation Stage with revisions to reflect Cypriot geographical and historical identity. The curriculum is broad and balanced in content and wide ranging in approach, helping to ensure future progress and success. The school creates a learning environment that is motivating, exciting and caring in order to contribute to the children's positive self-esteem and to inculcate a love of learning.
The Kindergarten and Primary School curricula are consistently enriched with real-life and concrete experiences which are creatively planned, vibrant and exciting. Children with little or no English are given additional support through intensive English language lessons with the aim of enabling them to access the curriculum as soon as possible.
 EXTENDED DAY
The Extended Day Programme is provided on an optional basis after school. However, attendance is recommended for all pupils from Year 1 to 6, as the purpose of homework support is to help pupils develop their study skills, become independent learners and to give an additional opportunity for them to resolve any queries about the material taught during the school day.
Activities after homework support run through the academic year to give pupils the opportunity to develop their skills and talents outside academia. Activities are designed to support the physical and social development for all Years.
 FACILITIES
The premises include a Computer Lab, Music Room, Art Room, Library, canteen, cafeteria.
Sports facilities: Futsal, Basketball, Volleyball, Handball, Tennis courts and outdoor heated Swimming pool
Bus service: Yes
 POLICIES
School hours: 7:35–13:15
(Extended Day 16:00)
Uniform: Yes
Parents Guardians' Association: Yes
Student support: The school provides a caring environment where individuality is celebrated and everyone is respected. With its caring approach, the school ensures that pupils feel positive and confident about themselves, their abilities, achievements and their power of decision making.
 HISTORY
PASCAL Primary School Larnaka is an English-medium primary school. It was founded in 2017 and is fully recognised by the Cyprus Ministry of Education and Culture. The school belongs to PASCAL Education, the largest and one of the most reputable educational organisations in Cyprus, which comprises three English-medium kindergartens, three English-medium primary schools, three English-medium secondary schools and two Greek-medium schools secondary island wide.