Refugees of Cyprus' leading resort pre-1974 face an impossible decision about their future, feeling the weight of the Cyprus problem on their shoulders
By Evie Andreou
Despair, anger and confusion are the words that best describe what I have witnessed over the past 12 months as the developments in Varosha rapidly evolved, leaving refugees on their own to decide what to do.
The materialisation of Turkey's and some Turkish Cypriots' threats to open the fenced part of Famagusta, which had remained closed since 1974 until October, was a shock, forcing us to realise that Varosha, thought by many to be safe due to its status, could be lost.
As politicians carry on with their slogans about Turkey's "provocative actions and faits accomplis" without coming up with practical solutions, refugees are being called on to take very important decisions about their properties in Varosha. The state, aside from urging them not to strike an agreement with Turkey's Immovable Properties Commission (IPC) in the north, has not provided any well-documented legal advice, leaving each to fend for themselves.
The decision on how to move forward is a massive burden as the government says they shouldn't turn to the IPC because this would "help speed up Turkish plans for Varosha and would be the last nail in the coffin of the Cyprus problem."
When former 'foreign minister' Kudret Ozersay said last year that Varosha would be opened many questioned whether such a move could actually take place. At the time, it was dismissed as a publicity stunt.
Then 'suddenly' last February Turkish and Turkish Cypriot officials held a round-table discussion, in Varosha of all places, to discuss potentially re-opening the fenced-off area after 46 years.
Within the same month, Varosha refugees owning properties along the coastal strip of Varosha were urged by lawyer Achilleas Demetriades to file claims immediately with the IPC for their right to return as a way of forging a line of defence against Turkey.
It was not until July that the government, through spokesman Kyriacos Koushos, citing legal advice from the attorney-general but also experts from abroad warned against mass applications to the IPC, arguing this would be to the detriment of the Cyprus problem. He did not elaborate, however, arguing that it was up to the experts to analyse these positions in due time.
In October, a few days prior to the first round of elections in the north, then 'prime minister' Ersin Tatar announced after a meeting with Turkish President Recep Tayyip Erdogan in Ankara that part of the Varosha beach area would open to visitors in a few days. Erdogan announced he would like to visit the area for a picnic.
On October 8 part of Varosha became accessible to the wider public for the first time in 46 years. The move was met with widespread condemnation leaving the government to declare once more it would rather weakly report the matter to the EU, UN and other international fora.
One common denominator of all my discussions with refugees from Varosha since then is that they are all shattered by the fact that their beloved town is now an attraction for visitors, and this is also the only thing they can do: visit, take photos and reminisce about their life there.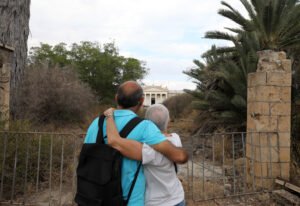 Refugees from Varosha say they are devastated, concerned about their town, the people who were born, raised and lived there now break down to tears at the thought that their town might be lost to them.
The much hyped picnic day arrived on November 15, the day the north celebrated the 37th anniversary of its unilateral declaration of independence. Erdogan, though he did not get his picnic due to inclement weather, sent out the message he wanted: Turkey was done with talking, there was no turning back, Varosha would open and refugees were welcome to return.
But on what terms?
After Tatar's election as the new Turkish Cypriot leader the developments on Varosha led more and more refugees to start talking about going to the IPC, claiming their properties and their right to return fearing that if they didn't the Turkish side might take decisions to their detriment. They are so undecided because seeking a return of the properties through the IPC could bring with it negative developments in the Cyprus problem, which is what they have been repeatedly told.
Others feel that they should do nothing, trusting the government to handle the situation.
Famagusta mayor Simos Ioannou said the municipality's position is the same as that of the government: it is wrong to return without a proper solution to the Cyprus problem.
The mayor last month called on the government to explain to those willing to return under Turkish Cypriot administration the ramifications of their decision and the fact that they will first need to file to the IPC.
He called on the president to arrange a meeting with the attorney-general to discuss the Varosha properties issue because there is division among the refugees – between those who are for filing to the IPC and those who are against.
This has not happened.
In the meantime, EU officials and member state leaders called on Turkey to reverse moves on Varosha, recalling that Ankara was being closely monitored ahead of discussion at the European Council of its relations with the bloc and possible sanctions.
Fast forward to December 11, the EU leaders opted to add more names to the list of people and companies subject to restrictive measures in view of Turkey's unauthorised drilling activities in the Cypriot EEZ and postpone any harsher steps until March after member states disagreed on how to handle Ankara. President Nicos Anastasiades, however, expressed his "absolute satisfaction". Rumour has it that adding more names to those lists was just to throw Nicosia a bone and help it save face at home.
But where does that leave refugees?