Now, more than ever, it makes sense to attach value to the sound system in your car. With music streaming services like Spotify providing access to over 50 million songs right at your fingertips, it has never been easier to enjoy music on the go.
What's more, unless you are Elon Musk and can think of/fund a plan to drill tunnels under cities, I would argue that a good playlist coupled with a fancy sound system is the best way to go about making traffic more bearable.
Cars are both great and terrible environments to be listening to music in. On the one hand, tyre, engine and general road noise create a series of sound pollutants that, if not mitigated properly, can seriously detract from the listening experience. On the other hand, sound engineers benefit from knowing the exact size and shape of the space that they have to fill – a luxury that designers of even the highest end home Hi-Fi systems don't have.
To capitalise on this, recent years have seen a large number of collaborations between audio companies and car manufacturers to offer high-end in-car sound systems – albeit for a premium.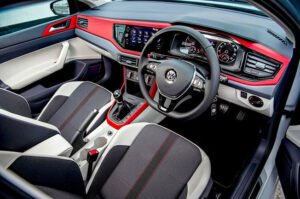 Volkswagen took a quirky approach to the uprated sound system offered on their small hatchback, the Polo. Recognising the generally young demographic that make up vehicle's customer base, they collaborated with 'Beats' (famous for their headphones) to offer the 'Polo Beats', a quasi-special edition of the standard car that boasted funky interior colours, 'Beats' branding throughout and, of course, a 300-Watt sound system by Beats.
300 Watts, as you'll shortly see, is not that much in the domain of premium car audio, but 'beats' paid attention to make the system extra bassy so RnB and hip-hop sound great. The risk is that the system becomes a bit of a one-trick pony, but I somewhat doubt today's youths are blasting much Beethoven, so I suppose that risk was calculated. For a €700 premium, it's a no-brainer.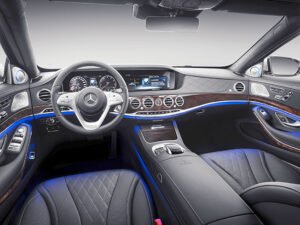 Mercedes set audiophile pulses racing when they teamed up with Burmester to offer a premium system for the S class. The flagship 'high-end 3D' system offers 24 speakers (4 of which are in the roof lining) and 1540 watts. While the system provided outstanding sound –it ought to for €8,000, what was perhaps most innovative was the way Burmester made the system so aesthetically interesting. The speaker grills are finished in brushed stainless steel and ambiently-lit tweeters found in the A pillars rotate spectacularly 360° towards the occupants when the system is switched on.
Burmester and Mercedes showed the world that a premium system's advantages need not be limited to upgraded sound. Multiple other manufacturers have since followed suit. In the newest S class, the flagship system offers 4D sound, the extra D coming from a set of transducers in the seats that vibrate to offer quite literally bone-shaking bass for the lowest frequencies in the music.
So, what's the best system you can buy? It's hard to tell without hearing them all, and of course even then it'll be subjective. If we're to let numbers triumph then the new Cadillac Escalade's 36 speaker system is in a league of its own.
But numbers aren't everything. Take the €290,000 Bentley Continental GTC I reviewed recently. I was really excited to have the car, because I knew that the 1500-Watt Bang & Olufsen stereo would be the most powerful (on paper) I've ever heard. In reality, it was disappointing – lacking the volume and clarity I expected.
The new Rolls Royce Phantom's sound system is so good that Skepta, the popular London rapper, actually recorded and produced a song while sitting in the back of one. Contributing significantly to the overall result is 130kg of sound deadening material – placed strategically around the car (including in the tyres) to help provide the 18 speaker 'Bespoke Audio' speakers with an almost silent background to work against, even at speed.
People who've tested it say this might be the best system currently out there, but I feel it's a little harsh to charge €15,000 for it on top of the car's €470,000 starting price. The Bugatti Chiron's Accuton system employs tiny diamonds in the tweeters for ultimate clarity to produce what Bugatti refer to as 'the fastest concert hall in the world.' What's more, bargain-hunters will rejoice over the fact that it comes standard with the car, at €2.6m.
As cars become progressively more capable at driving themselves, music will surely become even more important. How else are we to fill our time? Elon Musk has even suggested that when his Teslas are level 5 autonomy capable and, crucially, the relevant legislation is passed allowing them to autonomously operate, in-car gaming will become a huge industry.
In Cyprus, we're a fair way off this. Why play Mario Kart when real-life road conduct is only marginally more civilised? Substitute banana peels for cigarette buts and you're just about there. For now, tick the box for the upgraded stereo, queue up a good playlist and you'll have the closest thing science can offer to a traffic-warping time machine.