Do you suddenly realize that you want a picture back that you deleted years ago? While there's no guarantee to recover your data, there are some methods that let you recover data that has been deleted from your devices years ago.
The reason it is tricky to recover such old files is that usually these files are overwritten by the new data that you have added to your devices. However, you can still give a try to some of the methods to recover your files, and see if you can bring your old and deleted photos back.
The following are the methods you can use on your devices.
Method 1. Recycle Bin Photo Recovery
One of the ways to recover your photos, or any other file type for that matter, is to use the Recycle Bin. Your device's Recycle Bin is where the files are moved after you have deleted them. You can use this utility to view your deleted files as well as restore those files back to your computer.
You must meet the following requirements to use this method, though:
Your file size must be smaller than what the Recycle Bin can hold for you. Most large-sized files are gone forever as the Recycle Bin cannot store them.
You should not have ticked the option that deletes the files without first moving to the Recycle Bin.
You should never have emptied your Recycle Bin.
If any one of the above is true, you cannot use this method to get your long-term deleted pictures back to your device. However, if you fulfill the above requirements, use the following steps to get your photos back.
Step 1. Double-click the "Recycle Bin" icon on your desktop to view all your deleted items.
Step 2. Look for the photos that you want to restore and select them in File Explorer.
Step 3. Right-click one of the selected photos and choose "Restore".
---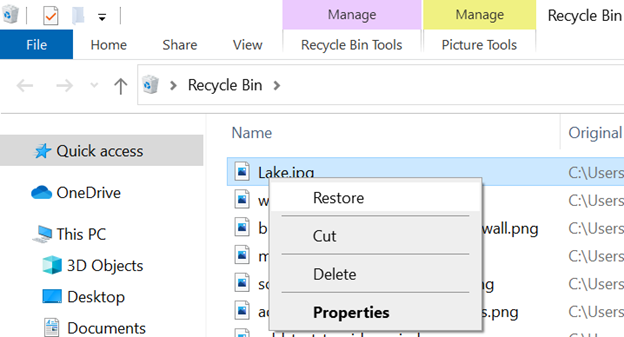 ---
Your pictures will be restored to your device.
If you are on an iOS or Android device, your device also has a feature similar to the Recycle Bin. This is normally called the "Deleted Items" album which you will find in your gallery app. You can see if this album still has your deleted photos. It is likely your photos are gone from this album as well but there is no harm in checking it out.
Method 2. Use File Recovery Software to Recover Long-Term Deleted Pictures
A major issue with trying to recover years-old pictures is that your backups will likely not have your lost photos in them. This is because most users prefer to keep the backups of only their recent files and not something that was on their computer years ago.
If you have found yourself in this situation, like many other users, you actually do have something to try before you give up. There is a free recovery software called EaseUS Data Recovery Wizard that you can use to try to recover your lost pictures.
The main difference between this program and the other methods is that you do not need a backup of your pictures. The program actually works without a backup and lets you restore as many files (including pictures) as it can possibly find on your computer.
If you want to use this method, the following steps should help you out.
Step 1. Scan the Drive with Your Pictures
Launch the program once it is installed and you will be asked what drive to scan. Here, you need to choose the drive where your pictures were stored before they got removed.
Step 2. Wait for the Scan to Finish
Once you select a drive, the program starts scanning the drive to find all recoverable files. You can let the scan run in the background and use other features of the program. This includes filtering your files using the "Filter" menu, or even recovering the files that the program has been able to find so far.
Step 3. Recover Years Old Pictures
Find your pictures that were deleted years ago in the scan results, select them, and click "Recover" to restore your pictures back to your device.

Also you can use this software for SD card recovery.
Method 3. Recover Photos Deleted Many Years Ago from Backups
If you were careful about your data and you made a backup for your pictures, you can actually restore all your years-old pictures on your device. There is a built-in backup utility on Windows computers and you can use this to find and restore files from your backups.
To use this method, follow the following steps.
Step 1. Open "Control Panel", click "Backup and Restore (Windows 7)", and click the "Restore my files" button.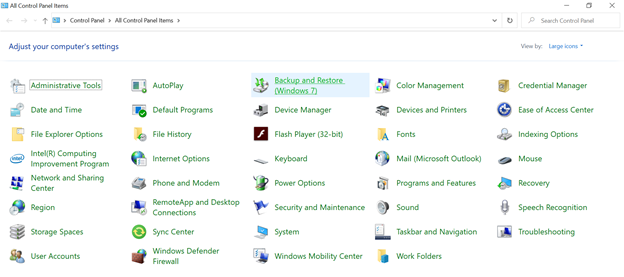 Step 2. You can select your backup by clicking either "Browse for files" or "Browse for folders" on the right.
Step 3. Go through the on-screen instructions to restore your pictures from your backup. If a prompt appears with a file conflict issue, click "Copy and Replace" to restore files replacing your current files.
Step 4. You should be able to track the progress of the restore process using the indicator given on your screen. This gives you an idea as to when you can expect the restoration to finish.
Once that is done, you will find your pictures that were deleted years ago in your chosen folders.
If you use an iOS device such as an iPhone or iPad, you can restore your iCloud or iTunes backup to gain access to your lost photos.
If you use an Android device, you can use your Google Drive or Google Photos backup to restore your years-old pictures.
The Bottom Line
Initially, it might seem impossible to recover the pictures that were deleted years ago on your devices. However, with a bit of digging, you should be able to recover at least some, if not all, pictures from your various devices.