Cyprus has dropped nine places to 42nd in Transparency International's 180 global corruption index (CPI), it was reported on Thursday, hours before President Nicos Anastasiades is scheduled to announce measures to fight corruption at a time when his government is accused of graft in relation to the country's controversial citizenship to investment programme.
According to Transparency International's annual report on business leaders' perceptions of corruption, since 2012, one year before Anastasiades was elected in office, Cyprus has dropped nine places to 42nd.
The 2020 edition of the CPI ranks 180 countries and territories by their perceived levels of public sector corruption, drawing on 13 expert assessments and surveys of business executives. It uses a scale of zero (highly corrupt) to 100 (very clean)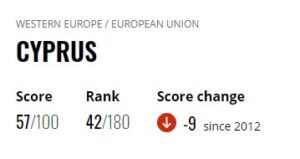 Cyprus had a score of 57. This puts it below Cape Verde and Saint Vincent.
Worldwide, Transparency International quoted "serious departures" from democratic norms as a core factor in driving the United States to its lowest in eight years on a global corruption index in 2020.
The group's annual report on business leaders' perceptions of corruption – which gave the United States a score of 67 out of 100, down from 69 in 2019 – also cited weak oversight of the country's $1 trillion Covid-19 relief package.
That put the United States behind Bhutan and Uruguay in 25th place, down from 23rd in 2019.
Referring to alleged conflicts of interest and abuse of office at the highest level, it described what it called the US president's attempts to pressure election officials and incite violence in order to change certified vote counts as "among the most serious departures from ethical democratic practice".
Denmark and New Zealand continued to top the Corruption Perceptions Index (CPI), both with 88 points, while Syria, Somalia and South Sudan are still at the bottom.
The Anastasiades administration has been plagued by damning reports regarding its investment programme, which it was forced to terminate following an undercover video filmed by Al Jazeera.
In the one-hour video, which aired in October, former House president Demetris Syllouris and former Akel MP Christakis Giovanis were seen offering help, in return for cash, to a Chinese businessman with a criminal record to secure citizenship.
Both politicians have since resigned while the EU launched legal proceedings against Cyprus.
A four-member panel was also appointed in September to investigate the programme since its introduction in 2007. The probe is ongoing.