By Sarah Coyne
We all have that go-to takeaway that we rush to when the urge to cook is not there! And with all restaurants closed we find ourselves frequenting the Riganato Greek Grill House. And, as owner Demetris Ioannou says on his website, "when life gives you lemons, squeeze them on your souvlaki".
Since opening in 2017 near the court, this restaurant's main aim has always been to take traditional Greek and Cypriot dishes and serve them with a modern twist. And they do so very well.
They have taken Covid-19 precautions seriously at Riganato and introduced a contactless delivery or pick-up service. Their website has been redesigned to pay online and arrange a drop off, with no contact at all with the customer. All the delivery drivers (five bikes and one car) work exclusively for Riganato, which means they have full control of these precautions, such as drivers' hand washing and sanitising between each delivery.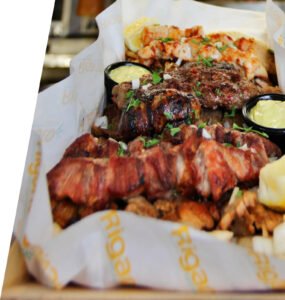 On their website, the menu is clearly displayed with brief descriptions of each dish. There is an excellent choice, including a wide range of Salads (for those of us on a January health kick), Side orders, Greek and Cyprus Pittas, Upgraded meals, Burgers and Sandwiches. However, we never look at the menu as a Riganato takeaway has always meant a sharing box for two! There are various sharing platters which differ in size and ingredients. We normally choose the Standard Riganato Sharing Platter, which is very reasonably priced €21.95. While it is designed for two, it could undoubtedly feed another one or two people with the generously sized portions.
Riganato, it has always been consistently excellent. Plus, the Sharing Platter's attraction is that you get a little bit of everything, cooked to perfection. Included in the platter are two of each: skewers of pork souvlaki, skewers of chicken, beef kebab, sheftalias, selection of chicken gyros, beefs gyros, pork gyros, French fries and sauces. These are served with Greek pitta bread and lemon wedges.
The whole selection is presented in a box. For our recent lockdown takeaway, the food was, as usual, piping hot. The meat quality is excellent and nowhere is this more reflected than in the sheftalias which are full of non-fatty meat. Indeed, all the meat used on the grill is fat-free.
The restaurant's name, Riganato, comes from the Greek word for oregano. The Riganato kitchen is certainly a big fan of this herb, used in their pitta breads, and their signature honey and mustard sauce. This sauce certainly deserves a mention. It is one of the best dipping sauces we have had and works exceptionally well with all the ingredients in the box. Other sauce options are available.
All the food at Riganato is GMO-free, with meat, vegetables, and bread delivered by local suppliers daily. One other dish we would highly recommend is their beefburger. The Angus beef burger comes in a bun with cheese, tomatoes, lettuce, onion, gherkin, sauce and fries, for just €7.50. For those with a larger appetite, the Sides Selection is very extensive and includes cheese bites and breaded shrimps.
If the days of lockdown are dragging for you, you feel chained to your kitchen, and you fancy a treat, you should undoubtedly consider Riganato for your next takeaway. Delivery is available within the main Paphos areas, or you can drive and collect. Once all the restaurants are allowed to reopen, it is also worth remembering that Riganato has both inside and outside eating areas for dining.
VITAL STATISTICS
SPECIALTY Grilled meats
WHERE Riganato Greek Grill House, Athinodorou Business Centre, Paphos
WHEN Sunday to Thursday 12-10.30pm. Friday and Saturday 12-11pm
CONTACT 7777 7872, www.riganatogrill.com
HOW MUCH Dishes from €3.75