There's lots of dudes with signs that have become something of an Instagram phenomenon but, here in Cyprus, it's all about @cypriotwithsign: the young man who's gaining Insta fame with his pithy notices and poignant message of reunification and acceptance.
Born to a family from Varosha, 22-year-old Chris Rotsakis has always "loved my parents' hometown as if it were my own; even if I've never lived there. Unfortunately," he adds, "there's the obstacle of the Green Line, which prevents me from moving freely and comfortably to any part of Cyprus I want."
In an effort to help reunite his own country, Chris has taken to posting stirring photos of himself all over the island – especially in places that relate to the division, such as Pyla and Ledra Street. In each, he holds up a piece of cardboard, on which he has written a simple message: 'Peace Is Possible', 'Don't Feel Hatred For People You Don't Know', and 'No Borders, No Nations'.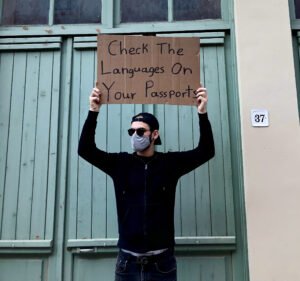 The heartfelt messages have garnered Chris a dedicated following on Instagram in the three months since launch, which is rising constantly. "I'm pleasantly surprised," he admits, "that I've successfully influenced so many people within just three months." But while the approbation of like-minded individuals has made Chris very happy, his belief in his message long predated the account.
"I've always followed various social media bicommunal accounts I admired," he says. "And I wanted to be an important link in this online campaign. Ever since elementary school, when I was not able to understand many things because of my age, the issue of 'borders' in Cyprus has been something that aroused my curiosity. From my house, every day I saw the flag of shame on the Pentadaktylos mountain. I used to ask my parents 'why is this flag on the mountain and what is this flag?' And when my family and I would go for a walk in Nicosia every Sunday, it seemed strange to me that people referred to Ledra Street as the 'centre' of the capital. 'How can it be the centre of the city when I can't continue to walk freely along the whole street?' I would ask. It seemed that whenever we walked north in Cyprus, the road would take us to barbed wire.
"I had so many questions as a child," he smiles. "But growing up, I started researching Cyprus and its history on my own, since I felt I was being taught one-sided propaganda at school, which made innocent and gullible children believe in such nonsense. But as I learnt the history of Cyprus, going against the brainwashing I had experienced in my youth, my understanding grew – and so did my desire for the dissolution of the borders. Then, when Tatar was elected as the leader of the Turkish Cypriot community, I felt that everything was over for the Cyprus problem; I felt I'd lost all my hopes for peace…"
Fortunately, the disillusionment didn't last. "I realised we'd lost a battle, not the war!" says Chris. "There was still hope, and I knew I could be part of that." Inspired by @dudewithsign – who "goes out onto the streets of New York holding a piece of cardboard on which he's written a few words about an issue that concerns him and, in a very short time, Instagram is filled with reposts of his photos" – Chris launched @cypriotwithsign, and set about sending out his message of hope, peace, and reunification.
"I thought that if I did something similar to Dude, there might be a good response from Cypriots. Of course I adapted it to the issues concerning the two main communities of the island. And it worked!"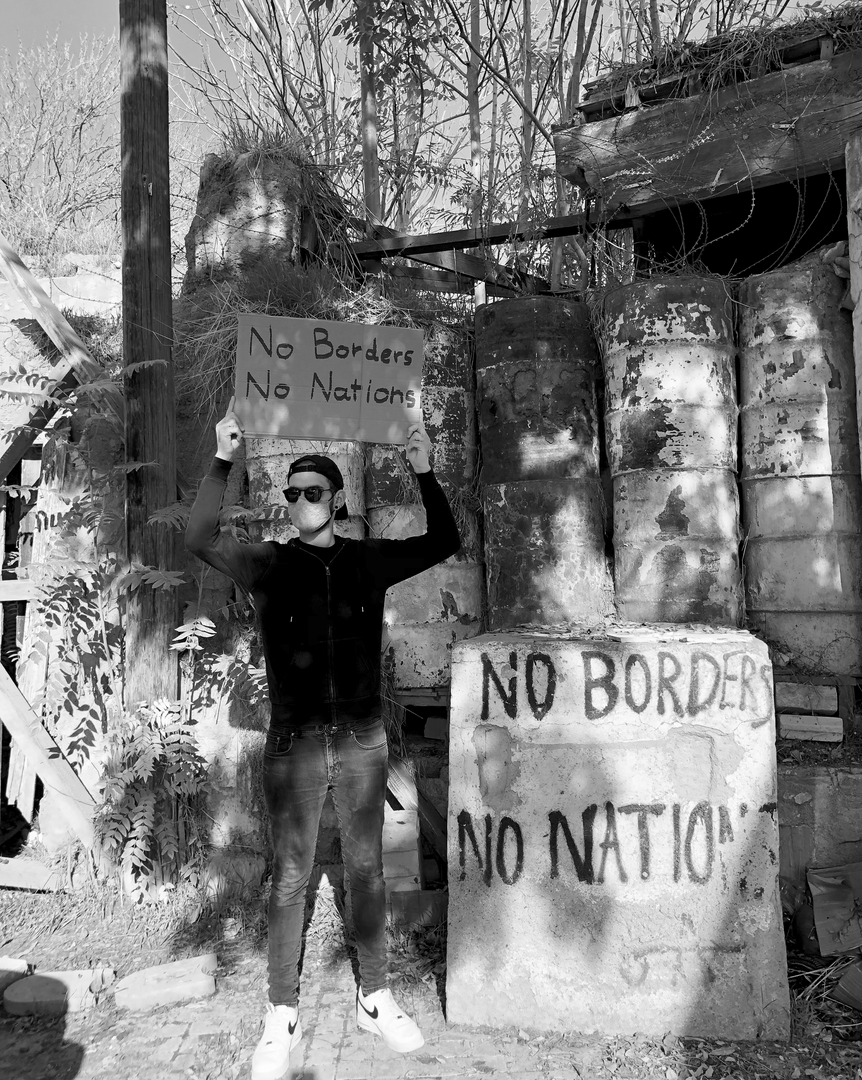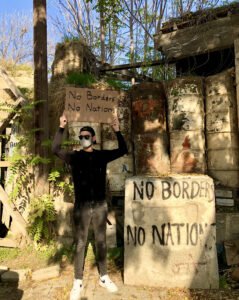 Posting roughly twice a week, Chris decides on location and message according to inspiration. "Sometimes I'm inspired by reading articles about Cyprus or its communities, and comments come to mind; things I would like to say to the author of an article. I turn these comments into slogans that I write on the cardboard. Others I'm inspired by include @thecypriotstory, who posts the shared customs and traditions of Cyprus: its common dances, food, and words."
"Some photos," he continues, "do not need a specific location to clarify the message I want to convey. In such cases, I choose a picturesque place at the city centre of Nicosia or somewhere else. But there are others in which I need to be in a specific location to make the message clear. For instance, the message in which I say 'Cypriots speak both Greek and Turkish', was taken outside the Ministry of Tourism; a place whose name is clearly stated on its sign in the three official languages of the Republic of Cyprus."
To date, Chris' favourite message has been 'Is Your Capital City Centre Divided Too?', posted on November 11 at a barbed-wire laced crossing point in Nicosia. "I think the message is very clear and requires no explanation," he admits. "I believe every Cypriot, whatever language they speak, should think about why this situation remains to this day."
Chris – who is currently a Music Studies student at the European university of Cyprus, and working as a part-time sound engineer – admits he looks forward to posting bi-weekly, and to "the future and what that may bring. I'm receiving so many encouraging messages," he smiles, "from both Greek- and Turkish-speaking Cypriots. I've been particularly surprised by several positive messages I received from Turkish adults and young people who expressed their thanks and congratulations on my work, adding that Cyprus (on both sides of the Green Line) has long needed someone to tell the truth in public.
"With @cypriotwithsign I'm trying to encourage those who have not already considered the Cyprus problem to think about it. Perhaps many people do not understand that most of the problems that exist on both sides of the divide start from the Cyprus problem. These include energy issues, corruption issues, traffic issues, other constitutional issues, security issues and so on. If the people, and specifically the younger generation, do not worry about these issues, then who will? The messages I'm passing on are merely my thoughts on the future of our country. And I'm hopeful."
For more information, visit the Instagram account '@cypriotwithsign'