A boxful of goodies could just be the treat you need right now. ALIX NORMAN discovers the Cyprus-based companies thinking inside the box – and packing it with goodies
 MOMMY BOX
Launched in 2018, Mommy Box is based on the simple idea that mums need love too! "When you give birth, everyone wants to see the baby, and to give it gifts," smiles founder Andria Karaolia. "But when a baby is born, so is a mum! I know from personal experience that mums can feel a bit lost – when I had my second baby, I knew I wasn't taking good care of myself and that other women in a similar situation felt the same. So I decided to do something about it. Because mums should be valued too, and they should feel special…"
Initially created for women in pregnancy and postpartum, Mommy Box has expanded over the years to include "boxes sent to a friend to say 'I love you', groups of mums gifting a subscription to another mother, and mums in general who could use the support," says Andria. "It's being used in different ways according to how people give love."
The subscription service includes a choice of monthly boxes for three or six months, or there's also the choice to send a one-off box as a gift. The products in the former are generally a surprise, while the latter's contents can be, if one wishes, chosen from the website. "But everything we include," says Andria, "is natural and organic. One of the first things I determined when I launched Mommy Box was that all products should be safe for both baby and mum, so we don't include highly-fragranced products, and everything is compatible with the raging hormones of pregnancy and birth."
Female-led, local ventures are Andria's preferred source (brands include Gaia Olea, Hermann Gourmet Cosmetics, and Jules Dort, Mamie Tricot), and "you might find creams, lip scrubs, pacifiers, a jade roller, special soaps, and jewellery in the box; we include at least five to six products in every box – the majority of which are for the mum – and the total value of the products tends to be about €80."
The box itself costs €40 for one month, or decreasing amounts for the subscription service, and delivery is €2 by courier service, or €4 for home delivery. "Subscription boxes are still fairly new to Cyprus," Andria concludes, "but with the pandemic, and so much online purchasing, they're taking off. Here at Mommy Box we're growing slowly but surely, and enjoying every moment of helping mums."
Visit https://mommybox.com.cy/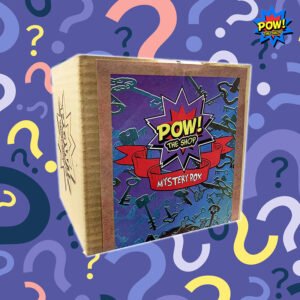 POW MYSTERY BOX
Launched at the third Cyprus Comic Con, the POW Mystery Box is packed with surprises. You'll know the store itself as a repository of all things geek (hello Hogwarts umbrellas, Jedi Academy mugs, and Pacman lamps!). Since its founding by Stelios Stylianides in 2016, it's leapt from strength to strength, with outlets opening islandwide. It wasn't until 2019 (and CCC3) however, that the Mystery Box appeared…
"The original idea was to create something by which visitors could remember Comic Con," Stelios reveals. "It sort of reflected the ideal purchase cost – the amount of money someone could spend. Everyone could afford this Mystery Box…"
Such was its initial success, the POW Mystery Box has continued well beyond Comic Con. Currently available online from the shop and the website (but not all the time! Two box sales occur annually, and the current sale lasts till the end of February), every single box is packed with different items – and never knowing quite what you might find inside is half the fun! It's an idea that's been tried abroad, but the difference is that at POW, the contents are carefully curated – overstock items are never used; instead you get a choice of quality products chosen by hand…
Inside, you might well find a Funko Pop figurine – a global phenomenon and the most popular item in the shop. You could discover branded glassware (a GoT water bottle, Super Mario bowl, or Batman cup), a board game, and a keyring. Among your surprises, there might be a notebook, pencils, and a pencil cases, along with a Tshirt, and a toy. "It's all quality merchandise," says Stelios. "And the value of the items within will be at least double the price you pay for the box.
Each Mystery Box costs €20, and delivery is €4 island wide – though if your total purchase comes to over €30, delivery is free. And each also contains a sort of 'golden ticket' explains Stelios, which entitles the recipient to a chance at an even bigger present: "We've given away longboards before now, and a PlayStation5," he notes. "I think not knowing quite what you'll find inside is definitely half the fun!"
Visit https://pow.shop/
CYPRUS BEAUTY BOX
Launched in October 2020, the Cyprus Beauty Box is the creation of Larnaca-based Alexandra Poliakova. "It's not a subscription box," explains the founder, beauty guru and journalist. "It comes out each month and you can decide whether or not you want to buy it."
Filled with "beauty-related goodies", the products are specially curated each month, and each is revealed on Instagram before the launch. "Each month we have new packaging, new companies, and new products, so that customers can try as many brands as possible," explains Alexandra. "Many of the brands are from Cyprus, others from Russia or Greece or the US, and we include a mix of 50 per cent full size and 50 per cent miniatures, testers and samples."
A typical box might include everything from hair accessories, to make up, brushes, face creams, shampoos, and home spa treatments including masks, exfoliators, and body lotions. "We always show exactly what's in the box – every product – before it's launched," says Alexandra. And the usage and ingredients of each product are described in detail on  Instagram too" Along with the products (from brands such as Kypwell, Dermalogica, L'Oreal, Missha, Natura Siberica, Davines, and Kedma), recipients also find a number of discount vouchers inside, for procedures at Cyprus-based salons, or online purchases from local shops or brands.
Containing up to 10 products, the Cyprus Beauty Box comes in at a cost of €35. "Sometimes a little less depending on whether we have a special edition," says Alexandra. "For instance, our February Beauty Box will include products for both him and her – so if a woman orders it, she'll have a few little gifts for her male partner." The full value of the products is always, however, closer to €200, says Alexandra. "That's the price of one good beauty product alone, and you're getting up to 10!" Delivery is door-to-door, and free countrywide; meaning that, at the first week of each month, boxes full of beauty treats are arriving on doorsteps all over the island!
Visit https://cyprusbeautybox.com/
Other local box services
THE FARMBOX PROJECT
Run by Stelios Nikolaou, The Farmbox Project is a subscription box service that collates and delivers veggies, fruit, eggs and even freshly-baked bread. Produce comes direct from the farmers to your door.
Call 96 025463 or visit the Facebook page The Farmbox Project
CYPRUS CANDLE CO BOX
Founder George Efesopoulous plans to launch Cyprus Candle Co by June latest, bringing subscribers a monthly organic candle; hand-poured and soy-based. Scents will mirror the season, and subscription (which starts at €18 per month) will be per three, six, or 12 months.
Visit https://cypruscandle.co/
BROWN BOX
A bespoke gifting company, The Brown Box is the brainchild of Evelyn Charalambous, who creates personalised gift boxes for lucky recipients. Boxes can be curated to any theme, including Harry Potter, a christening, or a beer box and cost from €20.
Call 99 093428 or visit the Facebook page The Brown Box
RESCUE BOX
Malvina Nicolaou collaborates with local farmers' cooperatives to 'rescue' fresh fruits and veggies. Repackaged in recyclable boxes, produce that has been rejected by supermarkets (and would otherwise end up in landfills) is delivered to your door.
Call 96 776476 or visit https://rescuedbox.com/