Turkish Cypriot traders don't know how long more they can hang on
A YEAR after the Ledra Street/Lokmaci crossing was closed there is still no sign that any time soon we'll go back to the pre-Covid-19 days of free movement between the two communities.
While generally both sides seemed to have learned to get by without regular shopping trips to Alpha Mega (Turkish Cypriots) or tanking up on cheaper petrol (Greek Cypriots), there are those for whom the open and undisrupted functioning of the crossings is a key to survival.
Nowhere is this more evident than in Arasta, the Turkish Cypriot shopping quarter in Nicosia's old town. For centuries, the narrow streets that lead to the Lusignan Ayia Sophia Cathedral — transformed with minarets in 1571 into a towering mosque — have been the beating heart of the old town's trade and commerce.
These days, the area's shop owners claim that never before, not even in the aftermath of 1974, have they been as customer-bereft as now.  "We are slowly dying here," says a despairing Hatice Yorgozlu, owner of a clothing boutique.
"People had some savings and were surviving on them but the money is finished now. We don't know what to do, how to pay rents, how to pay bank loans…If the Lokmaci crossing doesn't open soon we are finished."
Yorgozlu's shop Esposa opened last Monday after a month-long lockdown. She sells fashionable clothes imported from Italy, silk scarves and pashmina shawls. Before February last year, 60 per cent of her customers came from the south. The rest were tourists. But that all changed after the Greek Cypriot side pre-emptively closed the Ledra Street crossing.
"Since then, our business is dying. This week, we had maybe five customers."
Yorgozlu believes the Greek Cypriot side closed the Ledra street crossing for economic reasons.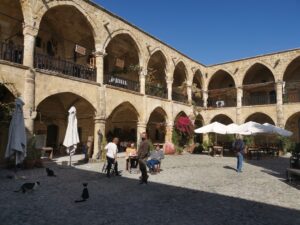 "They closed the crossing even before there were any cases of coronavirus on either side. Why? Because too many Greek Cypriots were doing their shopping in Arasta. They didn't like it."
The nearby Cyprus Corner Shop is also empty. Its shelves are full of colourful, traditional, hand-painted Turkish ceramics, evil eye amulets in various forms and sizes, silk scarves, pashminas and table clothes.
Like Esposa, the Cyprus Corner used to rely on the same 60/40 mix of clientele.
"Just before the closure of Ledra Street, I brought in new stock. My warehouse is full. The only hope is that come summer, maybe we will see some tourists," says its forelorn owner.
Sadullah, manager of Moda Italiana, which specialises in imitation designer handbags, doesn't hold much hope for a speedy re-opening of Ledra either. Even before the closure, Greek Cypriot customs had been preventing purchasers from bringing his handbags across the line. Seventy per cent of the store's core clientele was from the south.
"Arasta is very popular among Greek Cypriots. They come here to have their curtains and bed sheets made, and yes, to buy our handbags because they are well made and 10 times cheaper than originals. I really don't understand why it is wrong that we sell them here when a similar product is also sold freely in Ayia Napa or Paphos," he complains.
"If this crossing doesn't open very soon, many shops in this area will have to close. Our turnover is now 90 per cent down. How long can we survive?"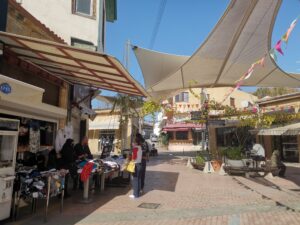 The crossing closures and restrictions have also proved a major setback for the trade across the Green Line generated since 2004. Izzet Adiloglu, the Turkish Cypriot Chamber of Commerce's Green Line trade expert, says trade worth 5.3 million euros in 2019, dropped to 4.6 million in 2020 due to Covid-19.
"Various restrictions have made personal contacts and further potential developments more difficult. Even when one can cross with a valid PCR test, not everyone is willing to do so."
But despite the difficulties, so- called "contactless Green Line trade" still takes place.
"Instead of delivering a product direct to the address in the south, a Turkish Cypriot trader brings it to the buffer zone either at the Metehan/Ayios Dometios crossing or the Beyarmudu/Pergamos crossing, and a Greek Cypriot buyer collects it from there, ensuring no direct contact with the seler," Adiloglu explains.
Two other groups that have been facing increasing problems due to the unpredictable crossing situation are Turkish Cypriots working in the south and Greek Cypriots employed in the north.
Gurcan Osmanbuba heads the newly established union that seeks to help the two sets of workers resolve the problems each has encountered. At the beginning of 2020, he says, there were 2,225 Turkish Cypriots crossing daily to workplaces in the south, representing annual income earnings of  2-3 million euros.
Nobody knows how many Greek Cypriots work in the north.
"The first lockdown last year wasn't a very big problem because both sides were in a similar situation so we couldn't go to work anyway," Osmanbuba recalls.
"However, the Turkish Cypriot decision to close the crossings again in mid-December without making proper allowances for our situation proved very difficut for us."
To retain their jobs, many Turkish Cypriots moved temporarily to the south. Over 200 opted for a quarantine arrangement. This meant that though allowed to cross to work, on returning to the north at the end of the work-day, rather than going home, they were confined to a hotel overnight before setting off next morning to repeat the whole cycle all over again.
"I have two small sons and because my husband lost his job due to the pandemic I am the sole breadwinner. I just had to do it. But the whole quarantine experience was awful. We were treated like lepers for just trying to help our families," says Teyfide Dolmaci, a 40-year-old teacher employed by the English School in the southern part of Nicosia.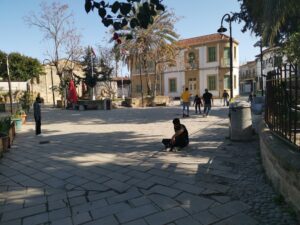 This regimen came to an end last Monday when the lockdown in the north of Cyprus was lifted. Now, Dolmaci can cross to the south daily, provided they have a valid PCR test.
However, Osmanbuba says that the pandemic situation resulted in about a quarter of the original Turkish Cypriot workforce in the south either quitting or losing their jobs. The situation will remain precarious as long as the north's administration fails to acknowledge that the worforce should be helped and not hampered from meeting their work obligations.
"Last year, after the first lockdown ended, [President] Nicos Anastasiades gave us his word that we would be able to cross regardless of any situation that might arise because of the pandemic. He has kept his word," Osmanbuba says. "Unfortunately, we don't have the same assurances from our own government."
Greek Cypriot actress and drama teacher Marilena, who teaches at an international school in the north, agrees. She feels lucky since schools in the north remain closed so currrently she conducts classes online. Yet she has no assurances as to what will happen once they reopen.
"Since October, when the Turkish Cypriot side started putting more restrictions on movement across the divide, crossing became more and more difficult. Even though my employer arranged all the papers for me, it seemed there was nothing stable in place on the Turkish Cypriot side to acknowledge my situation. Surprisingly, the Greek Cypriot side was much better prepared to deal with my permits," she comments.
Her Turkish Cypriot counterpart Dolmaci thinks there is an obvious solution that both sides should adopt.
"Turkish Cypriots and Greek Cypriots who work on opposite sides should be vaccinated as one of the priority groups," she says. "Please vaccinate us. Only then, we will be able to stop worrying. We don't want it because we want to travel or party. We need it to be able to work and provide for our children."