There's much to look forward to as days get longer
When I was at primary school I well remember writing in my exercise book "March brings breezes loud and shrill, to stir the dancing daffodil" and it always brings back happy memories of watching them tossing their heads in our breezy garden. Charles Dickens mentioned that "A March day is one when the sun shines hot and the wind blows cold".  Someone else likened March to the "Month of Expectation" and I think that is the best description of all. After the substantial rain and lower winter temperatures we have had very recently and more snow at higher elevations this year, it is always exciting to look forward to old favourites popping up through the earth and seeing new plants in the garden centres just waiting for you to buy them for your garden or veranda.
In my childhood Mothering Sunday was always in March and early daffodils would be sent up from Cornwall by train to our church where children would be given a little posy to give to their mothers on this day. It is not quite the fullness of spring in Northern Europe but in Cyprus, early March is regarded as such. We usually have winds around this time too and if you follow the Coptic Calendar then you will know that we may have at least three gales this month! This is caused by warm air starting to move towards any cold air still around. March can be warm or cold and I have even known it to hail, but with lengthening days and slightly higher temperatures there is no reason to stay indoors any longer when the garden is crying out for your attention! How can you not enjoy watching the buds start to break and bright green leaves begin to unfurl.
Some South African plants do well here in our spring gardens. Chasmanthe, throwing up great clumps of attractive slender leaves and delicate little orange bells dangling from its arching stems, is known as monbretia here, but that is an invalid name. If you have gardened before in Northern Europe you may think it is a crocosmia, but crocosmia blooms in late summer, whilst chasmanthe blooms in early spring. Freesias are also South African and delight us with their perfume now. Osteospermum came from the Cape area too and are sometimes known as Cape Marigolds. These plants make huge cushions of flowers lasting for ages. Osteospermum begin to flower as the winter weather is subsiding and carry right on until the heat causes them to rest their growth. Cut off their dying heads as their seeds germinate easily, whilst older plants can get very leggy and benefit from being cut back occasionally. There is so much to look forward to in March.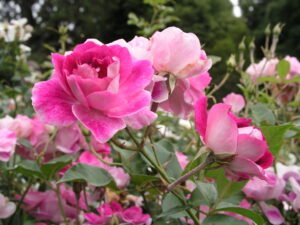 WHAT TO DO IN THE GARDEN THIS MONTH
Major pruning should have been done by now and it is always a good idea to feed the plants afterwards. There are lots of other jobs to be getting on with as well this month, including regular feeding of roses. There are various rose foods on the market (which you can also use on irises). Roses need a fertiliser something along the lines of 12.11.18. The letters on the packets (NPK) denote the strengths of Nitrogen, Phosphorous and Potassium that the plants need to grow well, but if you don't like using artificial fertilisers, you can always chop up banana skins and put them around the roots of the rose bushes – waste not, want not!  Other plants may need different strengths and this is usually printed on the packets or containers. Many fertilisers are available in a soluble form that can be watered on, or in granules which are forked in around the roots. For potted plants, Phostrogen or 'ONE' are both good liquid feeds and a capful in 10 litres of water will feed several pots. Usually though at this time of year a general fertiliser is best for garden plants, one with all the numbers the same, like 'Growmore' (7.7.7) if you can get it. I have found it difficult to buy slow release fertilisers this year – maybe the commercial growers don't like us to make our own potting composts! I do miss being able to get peat-based composts for pot plants. I am all for conservation and doing what we can to help the environment, but have you noticed that potting composts available for garden or pot use these days have lots of debris in them, such as bits of plastic, from bags and sometimes from plant pots! So remember my mantra of turning out bags of compost before use, which as well as breaking up all the lumps to get some air into it, will give you the chance to remove any offending bits of plastic and large twigs.
Annual seeds are usually scattered over the ground with a light covering of soil resulting in many seedlings clustered together, so thin them out in order that the remainder have room to grow. I am very choosy about what I spend time, effort and water on these days, so I rarely sow veggie seeds any more, other than broad beans. The season between sowing the seeds and them growing large enough to be able to prick them out is so short here that I have found buying plugs a much better way of ensuring that they come to harvest sooner. There are many different vegetable plugs which take the hit-and-miss out of sowing seeds. If you use the same area for veggies rotate your crops so that you don't grow the same things in the same spot every season. The break between seasons is a good time to dig in the contents of your compost bins as well, as it is much better for you and your family than using artificial fertilisers.
Fruit and nut trees are other plants to check on now. Pecans and figs may need a dose of zinc chelate at this time. The dosage is 2 dessertspoons in 10 litres of water, watered into the ground about 30cm away from the trunk. Keep watching out for green flies, black flies and brown flies on new foliage. Spray with a soapy solution or run your fingers up and down the stems to get rid of them. Roses, as you know, also suffer from green flies and the same remedy can be used for them but watch out for the thorns! You may see those horrid little red and black beetles called Dionconotus neglectus in your garden this month as well. They start life as tiny black spots but grow alarmingly after gorging on your flower petals especially daffodils and irises, as they flit from flower to flower. The only way to get rid of them is to squash them in your fingers! They do not have a common name except 'pest' and hail from Europe westwards to Croatia!
It is always good to take cuttings of favourite plants for when they fail and you can't find any more in the garden centres. You should be able to pot on any cuttings that you took earlier from now on, after checking the bottom of the pots to see if there are any white fibrous roots appearing through the holes. This means that they are ready to move up a pot. Gradually introduce them to the outside world, as they are still quite vulnerable at this stage. And watch out for emerging snails!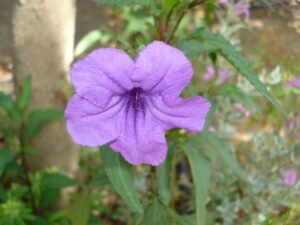 PLANT OF THE MONTH
Ruellia are herbaceous perennial plants that belong to the Acanthaceae family and are sometimes described as invasive plants, as they can wander away from their original planting spot, given half a chance! They are generally to be seen in older gardens here. Native to Mexico and South America, they were named for Jean Ruelle who was a herbalist and physician to Francis I of France. They have the common name of 'Mexican petunias' in some parts of the world, although they don't belong to that family.
These multi-stemmed ornamental plants, regarded in some areas as desert plants, may have tall or short stems, depending on their variety. They will quickly grow into quite large clumps but are easily divided by digging up around the root area and replanting elsewhere. Autumn or early springtime are the ideal times to do this. They are much visited by butterflies and moths that feed on their slender, dark evergreen leaves, but usually they are not bothered by other invasive insects. The flowers are a lovely shade of violet and rather papery to the touch, but they usually only last for one day. However, many more flowers will quickly follow on.
Generally they are drought tolerant, but in very hot gardens will fare better in a shadier spot or under trees, although they do need sun to bring out the flowers. An all-round fertiliser dug in around the roots in the springtime is usually enough for the season.
Patricia Jordan