Google has partnered with tens of international music labels, museums, and other private and non-profit entities to launch a new project within the sphere of culture and art aiming to educate people on the history of electronic music.
The online project, titled Music, Makers and Machines: A brief history of electronic music, serves as a sort of nesting doll of exhibits, links, clips and gateways to progressively more detailed material.
The vertically-arranged showcase includes an online tutorial on the history of the genre which combines images, text and audio samples; the ability to play a synthesizer in augmented reality; the impact of electronic sounds on everyday life; and historical sections on each aspect of the music, including the evolution of dance culture, the earliest electronic instruments, profiles on the most pivotal people who innovated within music to create the electronic genre, as well as the history of some of the most iconic production studios from around the world.
In total, the Music, Makers and Machines feature includes 22 virtual synthesizers that have been scanned into three-dimensional models, four options allowing the user to peruse a street view of a location or have a 360 degree tour of a virtual space, more than 200 curated online exhibits supported and facilitated by the aforementioned collaborating parties from 15 different countries, and more than 10,000 images and videos.
Some of the contributors to this project include the Moogseum in North Carolina, named after American engineering physicist and electronic music innovator Robert Moog, the United Kingdom's Museum of Youth Culture, British independent record label XL Recordings, a label known for working with such artists like Adele, Tyler the Creator, Jai Paul, Radiohead, The Prodigy, Sigur Ros, The White Stripes, Peaches and King Krule, among many others.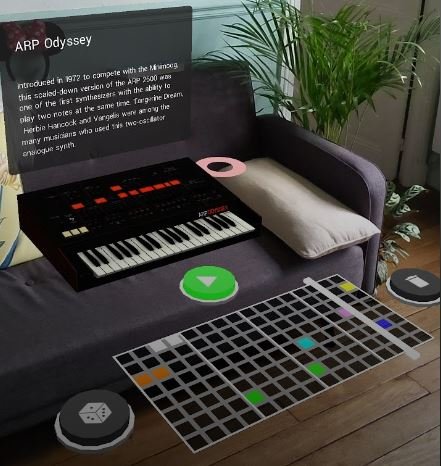 Augmented Reality studio
The online synthesizer in the augmented reality room is a particular highlight. Upon clicking through, the page greets you with a message to turn your home into an electronic music studio. Scrolling downward reveals the three-dimensional environment created and designed for this purpose.
Laid out before you are a number of electronic devices: a Moog Memorymoog synthesizer, the company's last before bankruptcy; an ARP Odyssey, a portable analogue synthesizer from the early 1970s; an Akai S900, a professional sample from the 1980s; and a Roland CompuRhythm CR-78, one of the earliest but most important electronic drum machines which allowed its users to programme and store custom-made drum patterns for later and repeated usage.
Behind them lies the most comprehensive and bulkier set of items in the room, the Fairlight CMI, which stands for Computer Musical Instrument. The Fairlight CMI combines a digital synthesizer, a sampler, and a digital audio workstation and turned out to be so successful and influential that in 2015 it was inducted into the National Film and Sound Archive's Sounds of Australia collection.
While on the augmented reality studio page, scrolling further downwards will gradually reveal information on each device mentioned above, including what it does and how you can use it on your own device. The augmented reality studio and the use of the synthesizers and samplers within it can only be used on mobile devices which support that functionality.
I presume that one of the reasons behind Google's electronic music initiative is to showcase its own phones and their ability to support such functions since both the Google Nexus and the Google Pixel support augmented reality applications. However, augmented reality is also supported by many Apple iPhone models, as well as a raft of phones from other Android phone makers such as LG, Huawei, Asus, Samsung, Motorola and more.
Once initiated on your device, you can proceed to scan your surroundings so that the room you're currently in is recognised by the application. Once this has been completed, the user can then drag and drop virtual instruments of their choice and begin experimenting with them. Any synthesizer or other device dropped into the environment can be controlled by a sequencer containing 16 steps. Users can create their own musical arrangements utilising a grid controller or can go through a collection of automatically generated musical arrangements.
The augmented reality electronic music studio can be viewed here: