By Lisa Salmon
There's no doubt that cuddling your dog can make you feel better – but it's not just a feeling. It's scientific fact that owning a dog can improve both your mental and physical health.
And we're not just talking about the obvious benefits of taking your dog for regular walks, or the mental comfort of having canine company. Several studies show you're at much less risk of dying from anything if you own dog. A 2019 University of Toronto study found dog owners have a 24 per cent lower chance of dying from any cause over a 10-year period, and people who lived with a dog after having a heart attack had a significantly lower risk of dying.
Further research from Uppsala University in Sweden looked at data on more than 3.4 million people, and found single dog owners had a 33 per cent reduction in risk of death from cardiovascular disease or other causes, and 11 per cent reduction in risk of heart attack compared to single non-owners.
If that's not enough to get you searching for your own furry friend, there's the astounding work done by medical detection dogs too, who can sniff out diseases ranging from Covid to cancer, and warn owners of impending attacks if they suffer from conditions like diabetes or severe allergies.
Dog lover Kate Leaver has just written a book – Good Dog – about the profound impact dogs can have on our health and lives, sparked by Leaver's shih tzu Bertie, who helped her through depression. "Bertie's support, comfort, physical affection and calming presence gave me what I needed to get through a hit of melancholy that severe," she says. "I had a theory he could smell depression on me – I asked a few canine behavioural experts and they agree it's possible."
Some of the dogs in her book are:
Pip the diabetic alert dog
Pip is a border collie who was trained by his diabetic owner Katie Gregson, now 18, to detect when her blood sugar is too high or low. She watched a YouTube video on how to train a dog as a diabetic alert dog, and learned to put samples of her saliva when she had high or low blood sugar into pots and freeze them. She took them out every day for six months to show them to Pip, and reward her when she showed any interest in them. She then began to hold the pots up to her mouth, so Pip would associate the smell with her.
"Over a period of about 18 months," says Leaver, "Pip learned to detect that smell, associate it with Katie, and alert someone when she smelled it. When she was ready, Katie got rid of the pots and knew she could rely on Pip to sniff out any change in blood sugar."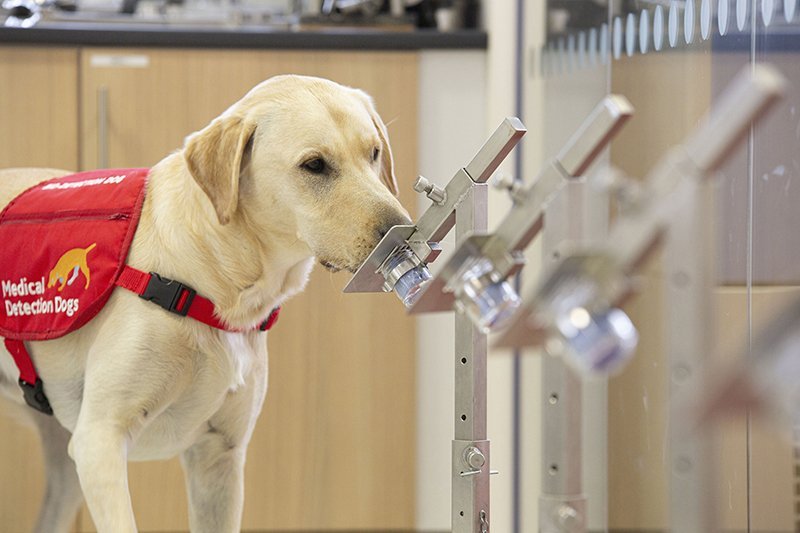 Storm the Covid detection dog
Storm is a big Labrador x golden retriever who's training to be a Covid-19 detection dog. He's learning the odour of the virus from tiny pieces of shirt, socks and face masks worn by people who tested positive. "Storm comes across big and brave but has a sweet, soft character," says Claire Guest, chief scientific officer and co-founder of the Medical Detection Dogs (MDD) charity.
Jobi the cancer detection dog
Beautiful and cheeky spaniel Jobi lives with the Medical Detection Dogs chair of trustees, Betsy Duncan-Smith. The playful pooch's work is the very serious business of cancer detection, and Jobi is specifically working on spotting prostate cancer in human samples. "When he finds the odour he's looking for, he stops in front of it, staring, so his trainer is absolutely clear," explains Guest. "He then gets a biscuit reward – and he does all of this wiggly spaniel style."
Noodle the dementia patient helper
Noodle is a cute grey schnoodle who works on a dementia care ward as a therapy dog, evoking long-buried memories in elderly patients. Leaver recounts how one elderly lady squealed with delight when the little dog jumped on her bed, and it prompted her to merrily chatter away about her own dog – to the amazement of her son, who hadn't heard his mother utter a single word for six weeks.
Henry the medical alert assistance dog
Labrador Henry alerts his owner Lizzie to her condition, postural orthostatic tachycardia syndrome (PoTS), which makes her faint, sometimes several times a day. Before having Henry, Lizzie was often hospitalised and repeatedly injured, but since his arrival this hasn't happened once. "Henry alerts Lizzie to her condition and gives her a few minutes warning when she's about to collapse," explains Guest.
Good Dog: Celebrating The Dogs Who Change, And Sometimes Even Save, Our lives, by Kate Leaver, is available now