"I remember when Cyprus banks didn't even want to open an account for companies operating on the Internet. They simply didn't understand this business. Nowadays, of course, everything is changing. Bank employees have been trained for online business. There's better financial infrastructure, as well as an understanding that IT can bring colossal investments to the country," notes Crello founder Dima Sergeev.
 "It's simple math: Each IT specialist creates three additional job positions. This is how the world works now.  The Tech sphere is seeing very robust development."
 Crello founder Dima Sergeev explains how he built the global business. 
The purpose of this interview is to talk about the development of Crello within the context of Cyprus online business (perhaps we can't yet call it the "Cyprus Web)?
I'm sure it's time to start calling it the Cyprus Web.
In my opinion, Cyprus, as a location for online business, is highly underestimated. A lot has already been done for the business climate here to change. But the most interesting is yet to come.
I know it for sure, as Crello is entirely a Cyprus online business, operating worldwide from here. By the way, among Crello's investors (through Depositphotos) is the EBRD.
Crello launched three years ago as the internal startup of Depositphoto's global photobank. We decided to integrate Crello in Cyprus. Now it's an independent project with offices all around the world.
My life has long been associated with Cyprus. For twenty years, I've been observing its development processes from within. I also promote the idea of ​​creating a strong IT community in Cyprus. I have witnessed the birth of such processes, and I can confidently say that the European online industry segment in Cyprus is growing. This is the very beginning of the journey, but much has already been done.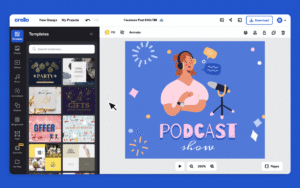 2. Cyprus is well past the initial stages, however, and now has a robust online community supported by solid infrastructure. Please start by putting Crello into this context. What did you do before starting Crello? Why did you start the company? Why start it in Cyprus?
There's a convenient place for doing business: let's begin with small distances, which means no two-hour traffic jams on your way to the office every morning; an acceptable level of bureaucracy, security, British Law, excellent climate, a family-friendly society, and actively developing fintech.
I came to Cyprus in 2002. I founded my first company here. We had been selling musical equipment worldwide and making our first steps in the online business. Then, we built a file-sharing service and became the world's leading company in the sphere. However, the market and the attitude towards file-sharing changed, so in 2010, I sold the business to launch Depositphotos.
I remember when Cyprus banks didn't even want to open an account for companies operating on the Internet. They simply didn't understand this business. Nowadays, of course, everything is changing. Bank employees became more competent. There's better financial infrastructure, as well as an understanding that IT can bring colossal investments to the country. Simple math: each IT specialist creates three additional job positions. This is how the world works now.  The Tech sphere is developing very actively.
By the way, the Russian-speaking IT community invests excellent efforts in developing online business infrastructure in Cyprus. Big IT market players open offices here, build real estate, rent large office spaces, and organize global projects.
Now that we are in the more mature stage, does this create a better market context for Crello?
As I said, it certainly creates a good market context for our company. Everyone we have the chance to work with within Cyprus has become more competent. Including government institutions (simplification of bureaucracy). For example, bank employees recognize and respect you because you are a promising IT business. they use your company's products, not only for the money on your accounts.
As a part of the EU, Cyprus allows the entire European part of any business to operate "at home" – and it's quite convenient. There are still misunderstandings in the Cyprus-USA link, but that can be changed. But, we need to work on it to improve Cyprus' business climate and reputation.
Thanks to simplified government regulation, Cyprus remains quite an attractive area for the relocation of irreplaceable employees from other countries, since the hiring procedure is quite clear. However, I would advise simplifying it even more for IT staff, especially for engineers and other highly qualified tech experts. It won't affect the domestic labor market at all or create any competition, but it will accelerate the country's economic development. Because of the enormous shortage of IT staff, relocated experts can give the necessary push to the native IT community's development, which will result in economic growth.
It is necessary to strengthen the fight against corruption as well. The passport scandal, for example, definitely doesn't reinforce the market context for Cypriot companies operating in the international arena. In such circumstances, the government needs to be very careful not to harm. Since no other industry is represented as widely in the world as IT. No other companies care so much about their reputation. To launch companies here, to create jobs here, to help other industries to develop here, the IT community needs a stable and welcoming business climate that doesn't affect their operations in the country, as well as their reputation outside its borders.
As an online company, Crello operates all over the world, we have ambitious plans, and we need support from Cyprus.
What is the market opportunity for Crello? How do you define your market? How do you reach potential clients?
Despite the pandemic (considering that our main clients are small and medium-sized businesses), Crello has grown by 150 per cent over the last year. Our expected growth for next year is over 200 per cent. We get 400 000 new users every month. And that's just the beginning of the journey.
The online editors market is one of the most attractive. Canva-editor, the main competitor of Crello, has been evaluated at $US15 billion in a new round of funding. In June of last year, it was evaluated at $6 billion. This is approximately x200 EBITDA or X30 annual turnover.
The market is growing. Canva – player number one, is a great team from Australia, the pioneers of the niche of online editors. Having six years of more market experience and excellent funding, they naturally managed to achieve more than Crello. However, we plan to compete with them in the global arena. I don't think that money decides a lot here. We have more experience in related fields such as photobank, for example.
We are dozens of times smaller than our main competitor, but we have a strong product and, in my opinion, we also have highly optimized development processes. So far, my strategy is to take the strong second position in the market, and then we'll see. We have tons of ideas on how to get ahead of the competition. I am proud of my team. Cyprus, by the way, helps us a lot in hiring the best engineers. We have a wonderful office with a sea view, which is an additional advantage, as it attracts the best professionals to our team.
How do you see the market for Crello evolving in the coming few years?
 Previously, there was only Adobe, a "monster" that takes a large part of the design tool market. By the way, a few years ago, Adobe entered the photo bank market by buying the second biggest player of this market – Fotolia – for 800 million. With this acquisition, Adobe pushed the microstock market into a plateau. For example, NYSE's Shutterstock evaluation (the main player in the microstock market) is X3 its annual turnover. For comparison, Canva's evaluation is fifteen times higher, and naturally, it highly drives all markets of design tools and related markets (including photo banks). This is a great advantage for us, as we are ahead of others here. We also have a huge photobank content base and ten years of experience in development. Simplifying and improving a user experience in advertising design is trending right now. A lot of such tools have appeared on the market, and I am confident that this market will continue to grow.
Do you work with AI? How is it involved?
AI and machine learning are trending, and there's a lot of buzz around it. In our case, AI is a routine need. We are investing 20 per cent ​​of our total budget in this area, and I plan to increase the investments. We have a separate AI division and our own multi-million content base to improve neural network learning. We already use our in-house technologies in Crello's background and object removal tool (by the way, Canva recently acquired the online background remover for a crazy amount of money), and animation maker. Also, we are conducting experiments in the field of generating images of people. This is a very actively developing area, with the potential to reduce the cost of most processes of creating unique content. A big part of our internal search is related to AI. The entire segment of similar images and clues depends on this technology. AI helps us to monitor UGC (user-generated content) for copyright violations. We also generate logos and offer users the best concepts based on AI analysis.
Does the infrastructure in Cyprus developed to support all this?
The infrastructure is good, but there is room for improvement. The main thing in any successful IT enterprise is the staff. It is vital to constantly improve the infrastructure to attract the smartest people from all over the world to the island. It's vital to work as an HR department in an IT corporation. Think like them. With such an approach, the internal labor market will flourish. But we need to build the right foundation, accelerate most processes. Because in our fast-paced world, it's so easy for the country to miss out on opportunities. We need to rush to digitize as many bureaucratic processes as possible – by the way, that's exactly the task IT specialists can (and will be happy to) help with! It will allow fighting corruption, but at the same time, do it wisely, without scaring anyone or pushing away trusted investors. Cyprus needs to follow the best world practices and consider its own unique experience. To save the tolerance and kindness of  Cyprus natives is key here.
What about consumer behaviour? Has it evolved during the pandemic to much greater online shopping?
It's unclear how things would be without the pandemic. Last year, we grew as planned. Of course, lockdown and related restrictions accelerated the transition of businesses from offline to online, which increased the number of potential Crello users.
For example, the number of social media users (one of our main target audiences) increased by more than 10.5 per cent (over 376 million new users) between July 2019 and July 2020, reaching a total of 3.96 billion, more than a half of the world population. (Source: We are social)
The U.S. alone, according to McKinsey & Company, has leaped ten years forward in 90 days time, from physical channels to e-commerce. Other countries show a similar trend of online consumer activity skyrocketing.