In a theatre event that could be a symbol of things to come Melissa Hekkers found herself enjoying a stage show while glued to her phone. The two combined to show what is important in life
As for many of us perhaps, it had been a year since I'd been to the theatre. Until, that was, I was invited to SRSLYyours Theatre Ensemble's Cyprus premiere of Picture Perfect, presented in Limassol in late March.
The entire event felt somewhat surreal. The unfamiliar excitement I felt during the days leading up to the performance was almost as though I was preparing myself to become human again, gearing myself up for an adventure, another realm, a pause in the monotonous, online routine we had been enduring to varying extents for the past year. Yet I was wary about one thing. The performance's description included words like virtual butler, group-chat, partly live, digital wasteland, techno scientific… rediscovering a real human experience…
Once on location, I was asked to join a Whatsapp group to follow the performance. Needless to say that my thirst for an authentic theatrical experience was somewhat dampened. I didn't want to be watching something on a screen; I wanted to watch something physical, live. It was once the play began unfolding that I began to realise what the three protagonists were getting at by introducing me to a hybrid experience of theatre, entwined with technology and the uncomfortable reality that we are, and will perhaps forever, be attached to, not only our devices, but in our minds and in the way we go about our every day life.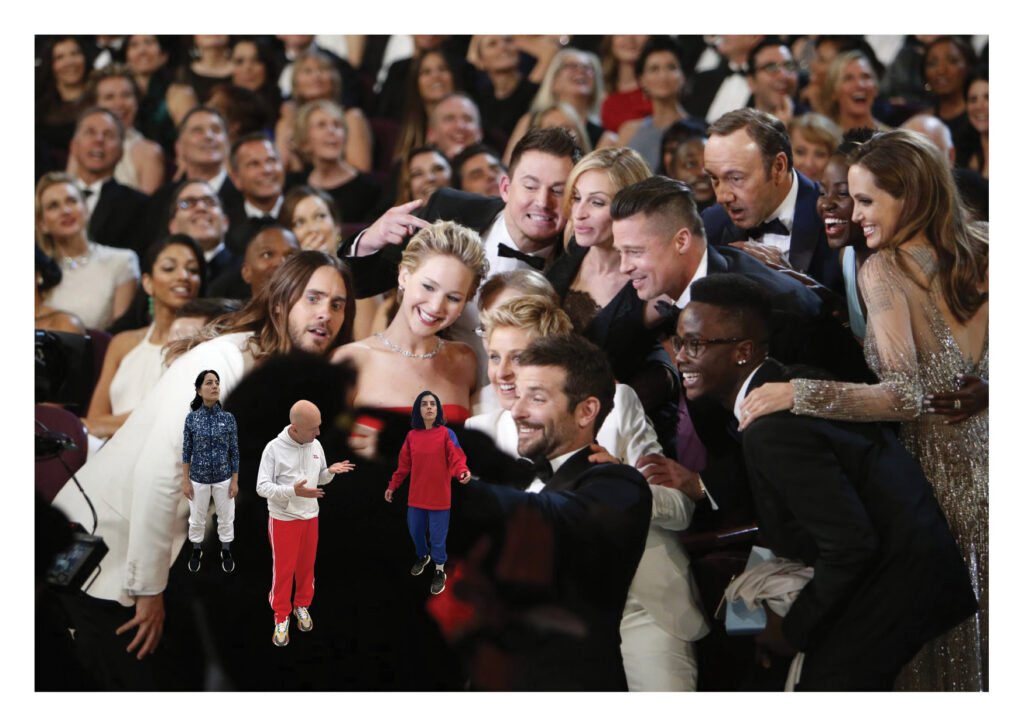 On stage, Lea, Max and Mia, the protagonists, strangely detached from themselves, began to engage in a curious activity; a game based on re-enacting iconic images from a large photographic archive as a way to understand their presence and connection to the world. "Our connection is now established," beeped my phone, and everyone else's in the audience, sent by a virtual butler who thankfully did make a physical appearance on stage at some point. While I followed the performance partly live, partly along the image-/text-based script on my phone, fragments (photos) of a broken history began to unfold along with short pieces of text: a photo of "president Obama and his security team watching the killing of Osama bin Laden taking place 7,179 miles away". Another photo taken the day after the Tiananmen Square Massacre depicting a man carrying shopping bags standing in front of the tanks. A photo of a bird called on the trio to anticipate its sound, a photo of the Kardashians posing at an event shined a light on the life of the famous, the photo of the little boy drowned on the shore of Lesvos reminded us of the atrocities of the migration crisis, a photo of Hiroshima, historical, key moments of war, of famine, the moon, of nature… a glimpse into the world we live in let's say…
"Our work is always based on some situation, some issue… about what goes on psychologically in people, what's on society's mind," says Director and Dramaturger of the SRSLYyours Ensemble. Indeed Achim Wieland. Over the years, their performances have dealt with issues such as fear and how populism uses fear, narcissism and the idea that we're better off alone and how the sense of community is slowly eroding, consumerism and the idea that we're still buying our products and live our lives off the back of people live in the third world countries, abusing the world's human resources to live our lifestyles.
In this instance, as the protagonists and thus the audience began to navigate through a digital wasteland, gradually engaging their voice, body, breath and tears, the trio discover a potential loophole to rise from the 'techno-scientific' obsession of simulated imagery towards rediscovering a real human experience. Indeed, it's as they transform from a sterile, awkward, at times uncomfortable sense of existence impeccably conveyed though the actors' movements and language, to more animated and communicative beings that I felt myself 'separating' from my device and therefore the imagery being thrown at me. I began to see the events depicted in the photos and how I related to them in a different light and it elegantly confirmed the importance of connecting to reality myself and the people that physically exist in it.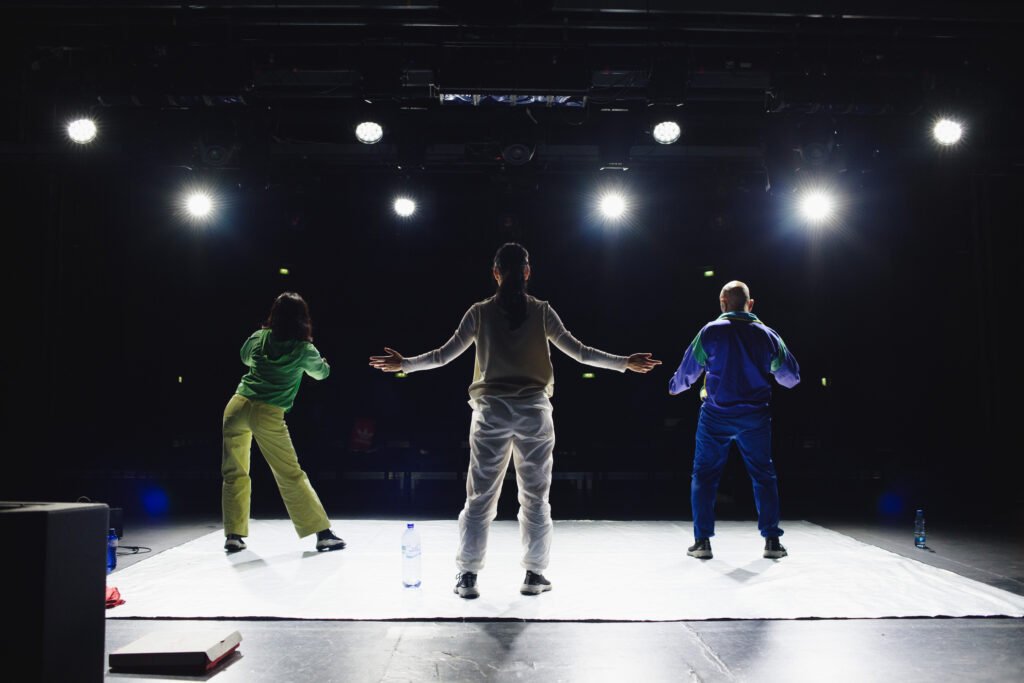 Wieland affirms this. "With this performance, it's not about an event as such, but the sense that our lives have become more remote through technological devices… photos and what they mean, what we see, what we include and the way we edit photos," he explains.
Co-dramaturger and one of the protagonists Marios Ioannou, "it's also about what it means to be around (alive) today, what it takes to be human… I'm human and I'm seeing drowned children on my device and I press a sad face and move on to something else," he says. "We had this question: where does this information go? Do we digest it? Or does it become some kind of trauma that later on becomes something else?" he adds.
And so Picture Perfect provides an ample amount of underlying messages that, at times, infuriated my conscience, I was left with a bitter sweet understanding of the times we live in as well as a new perspective on how theatre and more specifically device theatre reaches its audience.
To this end, it was pertinent to discuss the art and future of theatre itself. "In the beginning I thought the idea (of this performance) was crazy: how do you do a performance about photos? Photos are a different medium, they communicate differently than theatre and theatre is something else," states Ioannou. "It's a challenge to compete with the two mediums and rhythm in order to remind ourselves the difference between seeing a screen and real life and what is really real or where are we investing more time," he adds.
Weiland thinks this kind of hybrid theatre is here to stay. "I'm a bit scared of having theatre on zoom and having things just on screen. That's why I was happy with the performance: you had to be there live as well as online, even when you're looking at the screen it's still a group experience," he notes.
"What we did with this performance is to actually celebrate life, not celebrate technology, technology was used in order to say that life is what these three characters were actually missing, they're numb, they don't have a memory, they don't even know what a nightingale is and the more they had to re-enact the images in this strange game, the more their body awakens; you're reminded that life is in your body," adds Ioannou.
It's also while the protagonists became more and more aware of their presence and while the photos, one by one, conveyed more and more hurt and poisoned our conscience further that a final image of the planet seen from space reminds us of how little we are in this cosmos and how insignificant this whole digital wasteland can be in comparison to the universe we live in.
The words of 'Smile though your heart is aching' accompany the last photo downloaded on the group chat. And indeed, my heart was aching but I was also hopeful about the power and essence of coming into contact with the stage, the protagonists, the journey to Limassol, the audience, the story and all the little things that make life what it is, beyond our little devices.