In a former bank employee who now runs a kebab shop, THEO PANAYIDES finds a bon viveur who is also bookish, a character who likes to drink and has a passion for WWII figures
Terrible timing, but what can you do? I'm fasting for Lent – gone vegan, basically – and also not drinking alcohol, making this the worst possible week to visit the Nicosia kebab shop run by Yiannos Georgiou. Then again it's not exactly a kebab shop, Yiannos and his good friend Giorgos having dined, for instance, on smoked salmon canapés with caviar (plus a slice of lemon) the previous Saturday – and indeed his name may not even be Yiannos Georgiou but Yiannos Pashi, 'pashis' meaning 'fat man' (though he's thin as a rake). His mum thought Pashi a crude name and changed it to Georgiou, but his brother in the village of Flasou sticks to the old name; that brother is also "regarded as the best butcher in Cyprus," claims Yiannos proudly. "By far," he adds.
But we digress. I arrive at 6pm to find Yiannos and Giorgos sipping tumblers of gin and tonic; I'm offered a drink, but explain my predicament and end up nursing a bottle of Souroti sparkling mineral water. By the time I leave, a couple of hours later, they've moved on to bottles of beer. Later it'll be zivania, he muses, then scotch, maybe brandy, then a single malt; Yiannos likes to drink, and says so repeatedly – and I'm sure he drinks a lot, yet he doesn't come across as a man with a drinking problem. For one thing, he only drinks when in company, and doesn't touch a drop on Sundays when the shop is closed – but it's also that he talks about his drinking so often that it starts to sound performative, as if done for effect. It's a bit like the old truism (is it really true? I don't know) that people who always say they're going to kill themselves never actually go through with it.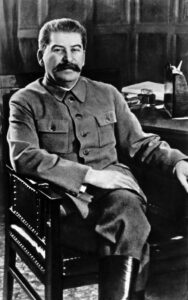 A lot of his pronouncements sound performative. He's an educated man – but also a character, a known entertainer; he likes to stir the pot, it keeps life from growing stale. It's Hitler's birthday in a couple of days, he notes apropos of nothing much, the Fuhrer turning out to be a subject of more than casual interest (more on this later). His face is slack, mutable, his body – like his conversation – in perpetual motion. This is probably the longest he's ever seen his friend sitting still, chuckles Giorgos as Yiannos interrupts our chat to get more beers or make some saganaki (pan-seared cheese) in the tiny kitchen behind us. "I like to move around," he tells me later. "When you get older, it's harder for Death to find you if you move around". He laughs: "If you stay in one place, he knows where to find you!" He himself turns 60 in September, but feels quite robust: "I'm doing pretty much the same things I did at 25".
That said, his life has changed significantly in the decades between then and now. The shop doesn't really have a name, but the awning reads 'Taste of Mayia' – a reminder that he started the business, in 2013, with a fellow named Marios (hence 'Mayia', Marios and Yiannos) who pulled out a few weeks later. (The awning stayed, because why not?) Marios had been one of his colleagues at Hellenic Bank – and Yiannos spent 25 years as a bank employee, mostly at Hellenic with a few years at Barclays, managing the bank's proprietary trading (i.e. taking care of its investments) then opting for voluntary retirement in the post-haircut scramble, by which time his two daughters were already at university and he felt he could pursue his long-held dream of opening a kebab shop.
Yes – but not exactly a kebab shop, more a nightly party with himself as host, chef and DJ. This is also his home, after all; Yiannos and his wife live upstairs, and also rent out the adjoining shops. That's why he can sit here drinking till the wee hours, he explains lightly – and also why money is presumably not a big issue, with hardly any staff and no rent to pay. The place is small, especially in winter, and the people who come are mostly "friends", he assures me. "We didn't do this to make money," he says, lapsing – for some reason – into the royal 'we'. "We did it so we could sit here with our friends having fun. If we wanted to work, we could've stayed at the bank and made good money".
There's a familiar, almost clichéd story here – office drone drops out of the nine-to-five, follows his heart, finds happiness – but it's not quite the right story. For a start, Yiannos was perfectly happy at the bank – mostly because he was "like a state within a state", allowed to trade as he liked within certain guidelines and largely exempt from corporate rules. He could (and sometimes did) go to work in shorts and sandals if he felt like it.
More importantly, though his daily routine is different now – and despite the purported contrast between working at the bank and 'having fun' here – the way he lives his life seems very similar. One might say there's an interesting paradox to his personality. He craves freedom and always did, even as a banker ("They let me do what I wanted. If I didn't do what I wanted, I was miserable"). At the same time, he thrives on structure – and always does, even now as a kebab-shop owner.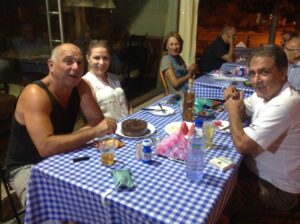 His life is extremely structured. Every day, or almost every day (11 times every two weeks, to be precise), he'll spend a couple of hours in the morning working out. He used to be a runner – as befits a man who 'likes to move around' – and a good one; he's run a marathon in two hours 43 minutes, and once won a race in Germany where the award was presented by the legendary Emil Zatopek himself. Now, in middle age, "I have a routine": two kilometres walking, then two kilometres jogging, then a total of 1.5 kilometres sprinting, followed by stretching and squats. The whole routine takes about 90 minutes, and it's non-negotiable: even if he stays up drinking till 5am, "two hours later I'll wake up and go". On the other hand, 11am to 4pm is "quiet time"; that's also non-negotiable. He'll either sleep, if he's very exhausted, or – more likely – nap for about an hour and spend the rest of the time reading, which he does voraciously. He usually has seven or eight books going at the same time, he explains; "I read about 600 pages every couple of days".
Even more intriguing is his choice of reading matter. Yiannos shows me his Kindle; to say he's a WWII buff would be an understatement – though in fact he's especially interested in those mirror-image monsters of the 20th century, Hitler and Stalin. The books he's been reading include one on quantum theory and a couple of guides on how to draw (he taught himself the rudiments of sketching during lockdown) – but most of them have titles like The Road to Berlin, A Century of Violence in Soviet Russia, Stalin and Stalinism, Hitler's Foreign Executioners. Check out Blood and Soil, a memoir by a member of the 1st SS Panzer Division. Here's Island of Fire, about the Barrikady gun factory in Stalingrad. Note that he devours books on both Hitler and Stalin, so "it's not an ideological interest, it's clearly historical" (he actually did a PhD in History, in the early 00s). Sure, I agree, spotting a biography of Genghis Khan among the titles – but what's with the interest in dictators?
"Excuse me!" he exclaims mock-indignantly. "They're historical figures!"
Maybe so, but I don't see many books about Gandhi there.
"No," he agrees with a sigh. "I'm not much of a pacifist."
Is he joking? It's hard to tell (a common conundrum when talking to Yiannos). Then again, he's not much of a dictator either. He dislikes telling people what to do, treating others as he'd like to be treated himself, and has always been very adaptable. Sent to Boston as a high-schooler, to stay with an aunt for a while after the invasion (his mum was afraid the Turks might attack again), it took him just a few weeks to make friends and start fitting in. He enjoys people, bantering and chatting with his sidekicks and drinking buddies – though his taste in people is specific, like his taste in books, and he's not the type to fake friendship when he doesn't get on with someone. Even here, there are customers he just doesn't click with. After all, "there's a protocol" involved if you want to have dinner at Yiannos' kebab shop.
What kind of protocol?
"Well," he replies with a twinkle, "say you come here, Mr. Theo – what would you like to drink? Souroti?! Get out of my sight! It's fine, it's your first time," he adds with a conciliatory air, as Giorgos roars with laughter, "you get a grace period. What would you like to eat? Chicken? We don't consider chicken to be a meat here". Their meat is actually very special, sourced from the excellent butcher brother in Flasou – and he's mostly kidding, but his regulars do tend to be a bit more discriminating than your average kebab crowd (they apparently include celebrity epidemiologist Zoe Dorothea Pana). There is indeed a protocol of sorts at Yiannos' place – if only in the sense of an order, a structure.
Every transition of booze is an event, new glasses produced with ceremony. The TV is tuned to Bloomberg financial news. There's a female cat, by the name of Constantinos – and the cat is extremely well trained, waiting patiently when a morsel of lamb is placed on the threshold (she's not allowed inside) and only lunging forward to eat when the meat gets moved to the outdoor area. "Let's have some music," announces Yiannos at one point, going to YouTube – but the music is very specific music, starting (as a joke) with the Red Army Choir, a bunch of strapping Soviet fellows, singing 'Polyushko Polye', then Luciano Pavarotti and Atzuko doing 'La Traviata', then Maria Callas and 'Habanera', then 'Sultans of Swing' by Dire Straits. Yiannos sings along with the last one, word-perfect; these, I presume, are songs that get played all the time here – part of the structure of the place, the routine, the nightly ritual.
The story of a banker who opens a kebab shop conjures up an image of a tubby suit-and-tie man, newly emancipated, hunched over a charcoal grill surrounded by salt-of-the-earth types, but that's not entirely what's going on here. Talk of drinking and carousing conjures up a sense of excess and decadence, but that's not quite right either. The most significant fact about Yiannos Georgiou (or Yiannos Pashi) is perhaps that he started out in computer programming, way back in the 80s – and he seems equal parts bon viveur and bookish, nerdy analyst, bringing order and precision to the art of living well.
Take that recent dinner, for instance: smoked salmon and caviar canapés matched with champagne, he reports with great satisfaction, then came a salad with rocket, orange slices, smoked salmon (again), sun-dried tomatoes and parmesan shavings, washed down with wine, then a fillet steak – wine again – then fruit and chocolate cake with a glass of single-malt whisky. He shows me photos from another recent evening at the restaurant, with lobster on the menu. Last night, he and Giorgos (a friend from his banking days, who appears to be part of the furniture) had cheese saganaki to start, then jumbo prawns with veggies, ouzo and wine to drink. His pleasure is evident, yet it's almost like he gets as much pleasure from recording these fine meals as he does from eating them. "This is how we roll here," he declares. "We're not your average place here… This is not about making money, it's about having fun."
Yiannos is full of contradictions. He's been married for years, yet advises single people to remain single; life's too short for all that fuss and bother, he sighs. He lives by strict, surprisingly rigid rules, but they have to be his own rules. Nothing in his life is relaxed or casual (his drinking prodigious, his reading voracious), yet he stands for a casual, relaxed philosophy of hanging out and having fun. Above all, he lives day by day – planning every hour, trying to make the most of every moment – yet his days, I point out, are all very similar. "Because they give me pleasure," he replies, and shrugs with the air of a man who's got it all figured out. "Because they give me pleasure". Sounds about right.