As a musical drama, a new film shot in Nicosia and set in the buffer zone tackles the masculinity of the island and how hard that can be to challenge finds MELISSA HEKKERS
Music's universality is at the core of film shot in and around Nicosia in the last few weeks which tells the story of two young gay soldiers across enemy lines. The film follows a Turkish Cypriot and a Greek Cypriot soldier who bond and find escape from their oppressive environments through their mutual taste in music.
"There's a universality to music that can bridge even the biggest of chasms," said London-based Cypriot writer and director Savvas Stavrou, who returned to the island to shoot the film, pushed back from October 2020 due to pandemic restrictions. "That's the main theme in our film – how can two people from opposing cultures and religions, two people who are meant to be enemies and don't speak the same language, connect and fall in love?" he added.
Affirming that love is all about communication, it's clear for Stavrou that music was thus the language of the film. "It (music) stands as a symbol throughout the film and a way in which our protagonist can communicate with the strange world he finds himself in… he doesn't belong in this hyper-masculine environment and he uses music as a means of escape and connection once he finds someone who knows and appreciates the same music as he does," he said.
Perhaps one of the first musical dramas to be filmed on the island and backed by the British Film Institute (BFI) and the SEE Cinema Network, Buffer Zone is not your usual music led film but "is melancholic and deals with toxic masculinity and being an outsider; the songs are internal and all sung acapella," Stavrou said. "In a way, the film acts as a bit of a thematic oxymoron as it's set in an army camp, a place where even the idea of a musical would likely be looked upon as effeminate," he adds.
This isn't the first time Stavrou has dealt with the LGBT theme and masculinity within the army as his first feature film was about gay conscripts. "As part of my research for my first feature, I discovered what a harsh, unforgiving environment it is and a melting pot of toxic masculinity that leads these young men to persecution and sometimes suicide. Cyprus' cultural hybridity, its deeply seeded Muslim and Christian Orthodox roots with mosques on one side and churches on the other has affected its perception of homosexuality, and LGBT rights are still something of a taboo on both sides of the fence," he added.
"I knew that I wanted to say something about the divide while exploring masculinity," reflects Stavrou. He grew up in Cyprus and the concept of 'what makes a man' has preoccupied him from a young age. "I guess I never really fit into our society's idea of 'masculinity' although eventually found ways to camouflage it," he reveals.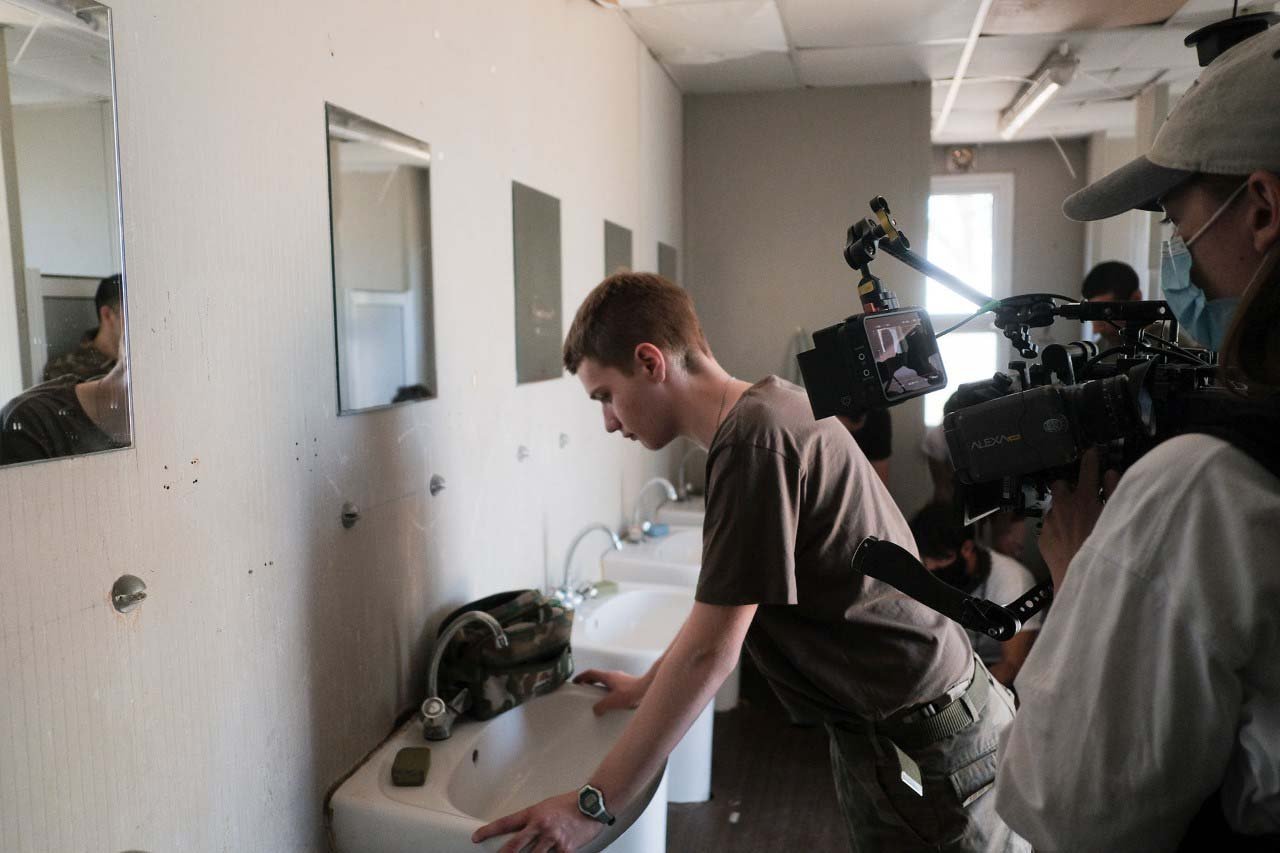 And the themes of patriarchy and masculinity feature heavily in the film. "Here you have two young men raised as enemies, who don't actually know each other, and they fall in love," Stavrou says. "It's probably a Cypriot man's worst nightmare! And when I say Cypriot, I mean both from the south and the north. What people are slowly starting to come to terms with though is that despite our cultural differences, we are all cut from the same cloth and I hope the film stands as a testament to this. Of course this isn't just specific to Cyprus. It's truly universal to any country with internal or political conflict, or even any place in the world where patriarchy rules over basic human rights," he adds.
Producer Peter Stephanou, who also deserves a nod for leads the way for creating a film among the challenges of a pandemic, is keen on embracing the project's vulnerabilities. "Of course, there's a sensitive political undercurrent because of the film's setting, but our intention isn't to upset or provoke. We're just presenting a situation as we see it and if that encourages positive discourse that can promote understanding and change, then all the better". The team's aim is also to initiate an artistic bi-communal collaboration between queer Turkish Cypriot and Greek Cypriot filmmakers in the spirit of practicing what is at the core of the film's story. "Involving both communities in key department roles of the production will contribute to the authenticity of their representation on screen and also build cultural bridges in our society that is physically divided by the buffer zone," he adds.
"From the beginning we wanted to practice the bi-communal spirit that's at the heart of the film and we were adamant that we cast Cypriots from the south and the north in the lead roles as well as the supporting ones," says Stavrou. "It was also important for us to cast as young as possible to reflect the tender age at which teenage boys are sent to the army. That's another theme of the film – they're all just boys who are trying to survive in this giant melting pot they're thrown into as an obligation to their country. None of them really know what they're doing," he adds. The Greek Cypriot lead Andreas Marcou has just turned 18 while his counterpart Adnan Mustafa is a rising star in the UK having starred in the Idris Elba film Yardie.
In terms of the music, the songs selected represent the characters' internal worlds and offer a kind of symbolism about the situations they find themselves in. "We're featuring songs by Radiohead, Bon Jovi and Kate Bush, all quite close to me, songs I grew up with and which I feel the characters will easily connect through – because if I was 18 years old and I felt alone and I met someone who listened to the same music as me, of course we'd be instant friends. It wouldn't matter where that person came from or who they were," says Stavrou. "We've got these incredible high-profile artists and we were so pleasantly surprised at how positive and supportive their response has been. It's with great pride that they're part of our storytelling in this film."
And so, the short musical drama, which is finally in a recorded form, will attempt to bring to light a reality and a film genre, which is rarely explored in local realms. It's here that Stavrou relies on his and his team's passion to tell a simple story about overcoming obstacles, both internal and external. "The important part is the film's message, and it goes out to all young men who might be going through something similar, in hope that they can see they're not as alone as they may feel," concludes Stavrou.