Greek Cypriot Kyriacos Tziambazis and Turkish Cypriot Untac Duzgun had not seen each other for over 460 days and wasted no time in meeting up once the crossings reopened on Friday.
"Well, I come from Fania, the mixed village, and so I have many friends that I came to see – it's been too long," Tziambazis said.
Just a few metres after having crossed into the north through the Ledra Street checkpoint, I met them as they walked through the old streets lined with market stalls selling clothes and bags – near the Buyuk Han, the medieval inn.
Crossings reopened islandwide at 6am, with the exception of Ledra Street which saw its first visitors at 8am.
"It's better for the crossings to be open so we can help each other, it was closed for 463 days – I've lost friends, lovely people, and I couldn't go to the funeral," Tziambazis added.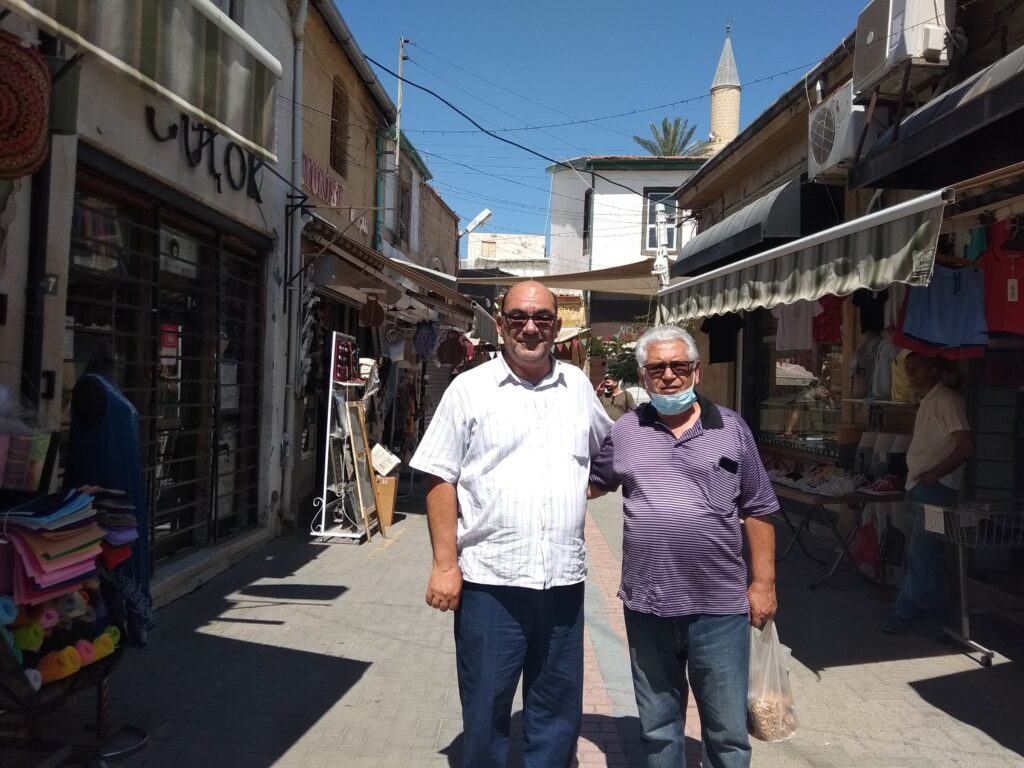 Tziambazis and Duzgun are now looking to future trips and gatherings – Larnaca was mentioned – as since the crossings first opened in 2003, the two men have met each other's younger family members and friends.
It was a sunny morning on Friday and regulars were catching up: from checkpoint officials chit-chatting with familiar faces to others passing by frequented shops.
And for those crossing over at Ledra Street into the north just after 8am, a red carpet was literally rolled out.
One shopkeeper, laughing, said: "Yes indeed, they had rolled out the red carpet but the mayor said that was a bit too much and it was later removed."
Even so, another shopkeeper held a welcome sign (in Greek, Turkish and English) along with a tray of loukoumades, greeting those coming over from the south.
Crossing over itself was smooth and efficient, as it had been pre-pandemic. But the process truly began about an hour earlier, at Eleftheria Square as people queued up for rapid tests – a few telling me they were doing so to cross over.
I met two Muslim women in their 20s, Iman and Nuir, who live in the government-controlled areas but were waiting to cross over to the north for breakfast.
"The food over there is great and it's familiar to us, we're very excited," Iman said.
But back in the north, another shopkeeper, near the Saint Sophia mosque said the surrounding neighbourhoods had been a "dead zone".
"We're hoping now that it brings more life back into the area, as old friends come back and more people come to visit," he said.
And one of those likely to bring life back into the area is 72-year-old Panayiotis Menelaou, who told me he was crossing over for a walk – as he had done pre-pandemic.
"I would often come over just to stroll around and later meet up with some friends for a coffee," he said, highlighting the casual nature of the process for many who cross over regularly.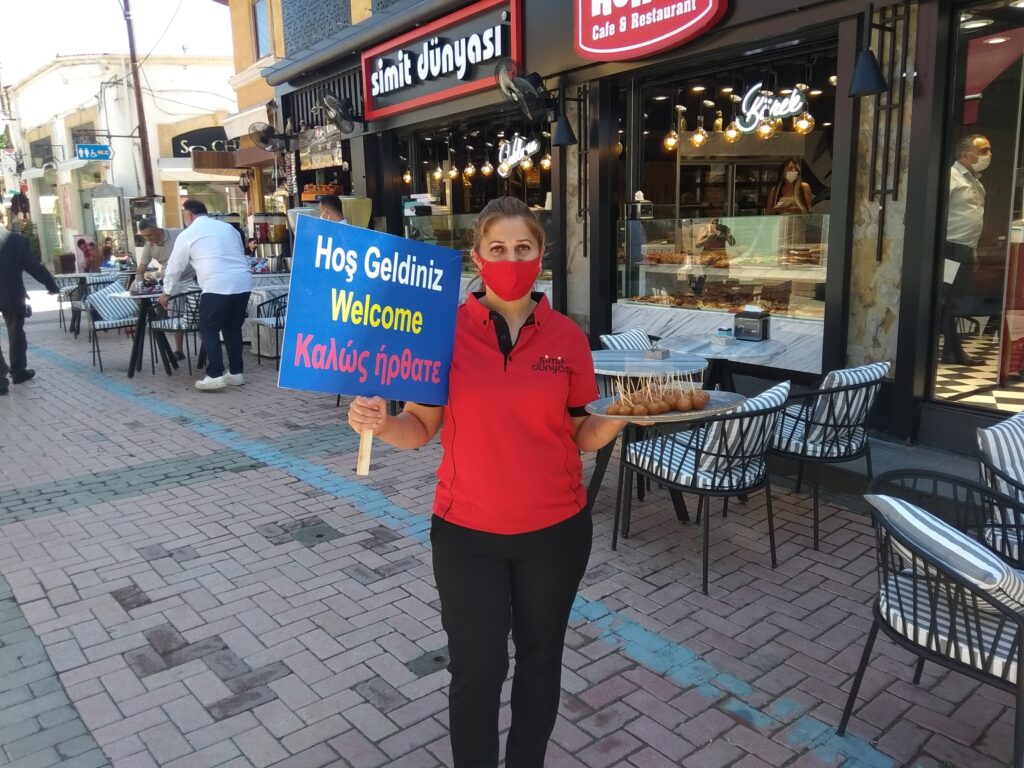 But despite the buzz and excitement, familiar stories of suspicion and mistrust between the two communities arose.
Duzgun recalls being introduced by a friend to other Greek Cypriots who upon hearing his name, Untac, remarked: "He's a Turk!"
Laughing, Duzgun replied "Είμαι Παφίτης!" (I'm from Paphos).
And so, while Covid-19 has transformed the world in many ways, fundamental aspects of life – in Ledra street at least – are firmly familiar.
Slightly further afield however is a fresh and new sight to behold, for the Turkish Cypriots at least, in the form of a new Eleftheria Square.
The underground areas were only unveiled in December, meaning it was effectively off-limits to those from the north.
And that was first on the list for a 20-year-old Turkish Cypriot who crossed over with his camera to snap shots of the long-awaited revamp of the square.
He told local media that he was to later meet up with his Greek Cypriot friends for coffee, friends whom he had not seen for 15 months.