Inclusive clothing really is a niche product but Alix Norman meets a woman in Cyprus creating easy to wear and fashionable clothing for the differently abled
Pain in the back? You're not alone. According to the World Health Organisation, 70 per cent of people will suffer from a lower back condition at some point in their lives. Alongside the usual fractured wrists and broken ankles, it's a pretty common affliction, and makes life so much more difficult. Suddenly, standing up, walking, even opening doors can be a challenge.
But what if your disability were lifelong? Millions of differently-abled people live with incapacitation and pain every day of their lives. And whether the condition is visible (such as certain forms of motor-neuron disease, stroke, arthritis) or invisible (which might include MS, fibromyalgia, or chronic fatigue) it can make the very simplest of everyday tasks – getting dressed and undressed – an almost overwhelming challenge. Which is why 28-year-old Vasiliki Charitonos has launched an inclusive clothing brand catering to the differently abled.
"When was the last time you saw a clothing ad featuring someone in a wheelchair, or with a cane?" asks Vasiliki. "The media bombards us with images of happy, healthy people. Even our favourite TV shows and influencers only portray people with disabilities if their journey, their struggle, is the focus. But there are millions upon millions who are differently abled; those who have to find new ways of doing things, different approaches to tasks that, for most people, are second nature. And that includes putting on and taking off your clothes each day."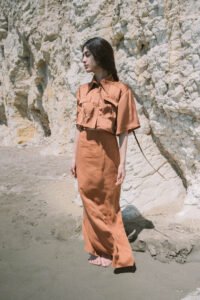 Inspired by a family member with a disability, Vasiliki launched her clothing brand in August 2020, designing and producing a small collection of inclusive pieces for those who are differently abled. Created to be easily donned and removed, and made from comfortable, breathable fabrics, her clothes are ideal for anyone who's ever struggled to dress.
"Have you ever thought about how hard buttons or zippers might be if you have a weakness in the hands, or lacking movement in the legs?" she asks. "Consider the difficulty of pulling on a tight pair of trousers, or a fitted top. And what about if you're in a wheelchair all day? You're not going to want to wear a sweaty, sticky fabric!"
Instead, Vasilki cleverly substitutes Velcro, cuts her clothes for ease of dressing, and chooses materials that are light, airy and breathable so each piece can be worn by those who may not enjoy ease of movement. "It's all about finding a way to design clothes that are accessible for the differently abled," she explains. "And that takes a lot of research."
Vasiliki has been aware of the struggle from an early age, and began sketching clothes for the differently abled in her early teens. "I was always drawing," she reveals, "always looking at ways to make clothing more accessible to everyone. And though I studied law at London Metropolitan, when I returned to Cyprus, I decided that I wanted to have a career that made a difference… something that not only played to my creative strengths, but would also help people."
Months of research followed. "I spoke to hundreds of differently abled people, reaching out to friends and family and through the internet," she reveals. "Social media has been a boon in this respect – there's a huge community of differently-abled people on Instagram and TikTok who are always willing to help, to explain the misconceptions we have about disability, and to suggest a better sartorial approach."
Vasiliki also took on five interns last summer who were able to help with the research process. "Together, we delved into the fashion industry – looking at how we could raise awareness of this topic, and which designers were creating inclusive clothing lines. The results," she adds, "were quite disappointing. There's a huge community of differently-abled people around the world, people who love fashion and care about what they wear. But hardly any designers are actually making clothing for this market. Of the big names, only Tommy Hilfiger has released an inclusive clothing line. And yet if high-street names took the time to create inclusive collections, it would hugely raise awareness of this issue, and others would follow."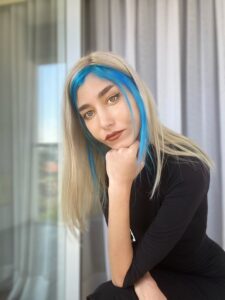 It's this glaring gap in the fashion industry which Vasiliki is addressing, creating collections which can be purchased globally online. "This is the very beginning for me," she explains, "but I'm already seeing sales across Cyprus and Greece and I hope, in time, to expand the even further."
Working closely with a pattern cutter and seamstress, Vasilki has produced two collections to date: each consisting of roughly 12 different designs. Among her spring/summer 2021 collection are the Genie Pants (loose and flowing with an easy elasticated waist, and made from 100 per cent linen), the Lia Skirt (pull on, with a tie top for ease of access and multiple styling options), and the Adonis shirt (constructed from a soft, breathable satin and complete with Velcro closures at the front).
"Each piece takes about a week to make," she continues, "and is designed to be not only easy to wear, but also fashionable. Just because you can't walk or move in the same way as other people doesn't mean you shouldn't care about what you wear; that's too common a misconception!
"The goal is to create designs that are easy to wear and yet fashionable," she adds. "Vasiliki Clothing is all about making people feel beautiful in what they wear. You could just as easily be able-bodied – more than a few of my customers are able bodied and purchase the pieces because they're unique and on trend – as differently abled, and still enjoy the designs.
"At Vasiliki Clothing," she concludes, "each piece is created with love and care to ensure we're catering to everyone, no matter their abilities. And that's what inclusive clothing is really about. I think we'll be seeing a lot more of it in the future!"
To see the Vasiliki Clothing collection, visit https://www.vasilikiclothing.com/, or vasiliki_clothing