As of May, the Seychelles claimed to be the 'most-vaccinated country', with fewer than 8,200 confirmed cases. And then, a whole load of residents caught Covid. Strange, but true…. and much in keeping with these exotic islands, where nothing is ever quite what it seems!
Granted, the 115 islands of the Seychelles are a tropical nirvana: a haven of coastal calm and coconut palms. But the country's history is much darker than one imagines: once upon a time, this was the ultimate pirate hideout!
Even today, Somali pirates often ply their trade from the Seychelles. There's a secret 'pirates' prison' hidden away high in the hills, a world away from the golden beaches where tourists enjoy white sands, azure seas, and unique flora and fauna.
The locals suggest you ensure your return to paradise by consuming breadfruit. Yes, apparently legend has it that anyone who enjoys a little of this tasty treat will someday come back to the Seychelles. And with breadfruit available everywhere (boiled, fried, blanched, or steamed), that's a lot of repeat custom!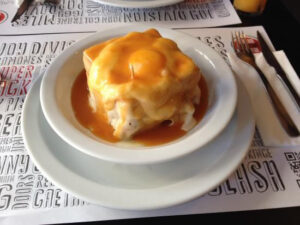 Seafood is, of course, a staple on the islands. Shark chutney is a particular favourite: boiled, skinned shark meat is finely mashed, cooked in bilimbi and lime juice, and mixed with onion, pepper, salt and turmeric to create a sauce with bite! And, thanks to the abundance of sea life, fish curries abound.
Ladob is another fishy favourite. An iconic local dish that can be served hot or cold, it consists of cooked, salted fish, mixed with plantain, cassava and breadfruit. Though, just to confound your culinary expectations, ladob also comes in a sweet version: ripe plantain, sweet potatoes and cassava boiled in coconut milk, sugar, nutmeg and vanilla.
Fresh fruit and veg abound here, along with all sorts of delicious nuts, including the world-famous coco de mer, said to taste like everything from bananas to breast milk! But even fruit-picking isn't quite as easy as it seems: the coco de mer may be the island's most iconic species, but every branch of every tree is tagged by local authorities, and anyone caught illegally picking or buying the nuts faces imprisonment!