Preloved clothes get a new look from one local artist who paints and embroiders on them to present a new look. Alix Norman learns more
Love films? Passionate about books? Now you can actually wear your best-loved scenes and characters!
It's all thanks to the creative genius of Dorita Christoforou, who paints and embroiders enchanting moments from your favourite stories on denim. "The idea began," says the 25-year-old, "with a scene from Rick and Morty. In case you don't know the show," she explains, "it's a mind-blowing cartoon for adults – great fun and very iconic. It's one of my favourites, and about a year ago I suddenly thought to myself 'hey, I could paint that; I could paint it on a denim jacket and wear my favourite characters'!"
Since then, Dorita has gone on to paint and embroider scenes from many similar shows on both jeans and jackets, as well as simple illustrations of her own devising. There's a 'one-line' series of faces and flowers sewn into pre-loved jeans; several pieces depicting scenes from well-known anime on worn-in denim; and a particularly gorgeous scene from Miyazaki's best-loved anime Spirited Away detailed across the back of an old denim jacket.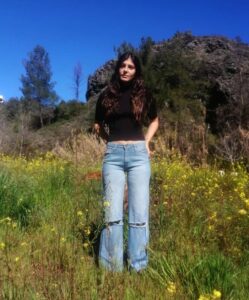 "I think I'm the first person in Cyprus to do this," says Dorita. "There are artists all over the world who are decorating pre-loved and vintage denim, but I haven't come across anyone here on the island who's working on the same idea. And yet, it's the perfect way to upcycle clothing you really love!"
Dorita's unique pieces are for sale and, despite the fact she's been at this for less than a year, there's already been a huge amount of interest. She regularly posts her finished pieces on Facebook and Instagram, and – providing you're the right size – it's a case of first come, first served.
Given that each piece takes between a few days and a month to complete, it's worth following her accounts closely to snap up a one-of-a-kind. Although there is another option – Dorita takes commissions, and will happily work to your budget to create a one-of-a-kind piece you'll adore forever…
"I've done a few commissioned pieces for friends so far," she reveals. "And I'm perfectly happy to work with a customer to design and execute exactly what they want: I set a deal with the client from the outset, working to what they can afford – be it 30 or 40 or 70 euros – so we're both happy, and there are no hidden costs. You can bring me your jeans or jacket or denim and I'll transform the piece into something unique, something you really love."
Currently, Dorita works only with denim, though she's planning to diversify into other fabrics in the future – "something on which I'm sure the design will last. But for the moment, it's just denim; it's a very robust, lasting material. You can wear the same pair of jeans for 10 years and they'll still be fine. Plus it's a good fabric on which to paint or embroider…"
Dorita uses fabric paints from local art shops, and embroidery thread from Zako – "and also from my mother's stash! She was always fixing our clothes when we were little" – in her designs, which are inspired by "things I watch, my mood, something I've seen online. And by the cut of the fabric too," she adds. "You have to think about what will work well on the specific piece."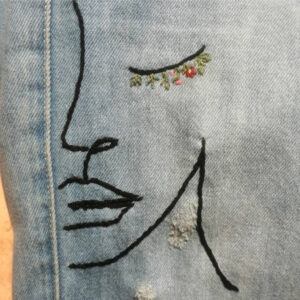 She cites Pinterest as her main inspiration: "It's my application," she laughs, "the best app for creatives. You can see what other artistic people are making around the world, and get so many ideas. There are loads of people decorating and posting their denim art in other countries; lots of painting from the States, incredible embroidery coming out of China and Japan… I may not be at quite that level yet, but I'm working on it. I'm totally self-taught, so any comments on how to improve my work are always highly welcome!"
Originally a nanny (and before that, a veterinary student), Dorita has always loved everything artistic – "anything to do with dexterity, working with my hands," she reveals. But the recent Covid crisis, combined with her passion for sustainable living, saw the young creatrice moving out of the city and up to the hills to pursue a more creative, environmental existence…
"I'm vegan, I practise permaculture, and I'm very into living a sustainable life," she explains. "And so I moved from Limassol to Ayios Mamas to get away from the noise and pollution, the chaos of the stimulant-based lifestyle; everyone relying on caffeine or nicotine or alcohol. The air up here," she continues, "is so much clearer. You can sleep properly, there's a much slower pace of life. You can grow your own food, build your own home, compost your waste. I'm a vegan, and grow my own vegetables and fruit trees, and I'm part of a permaculture group that's looking into buying land to create a sustainable community.
"It's not easy to be eco-friendly," she acknowledges. "There are many difficult choices to make and many things to give up. But every little decision counts: what we eat, the cosmetics we use. And, with so much clothes wastage in the world, even the clothes we wear…"
Over the past year, Dorita has been able to marry her two passions of art and the environment, and is now in the process of launching her own Etsy shop. "Before Covid, I would go to the markets and sell my pieces," she explains. "Of course it all stopped during the lockdowns. But that gave me time and space to increase my skills and build my inspiration, to create one-off pieces that bring happiness and, at the same time, help reduce the clothing wastage that's so bad for our planet.
"A year ago," she concludes, "I was living in a chaotic city, caught in the daily grind. Today, I'm an artistic freelancer: supporting sustainable living, giving new life to old clothing, and – I hope – bringing a little more happiness into the world!"
For more information, visit the Facebook page 'Dorita Christoforou' or the Instagram account @doritart_