By Katie Wright
Matte lipstick takes a back seat this season as the pandemic era trend for all things fresh and dewy continues, with a glut of new glosses vying for a place in your make-up bag.
You can still pack a punch, however, with highly-pigmented formulas that deliver rich colour and shine.
From barely-there to brilliantly bold, here's our pick of the best new lip glosses to perk up your pout…
Glossier Ultralip Villa
Trust Glossier to come up with the ideal gloss-meets-balm hybrid, with a hint of colour too. Ultralip (which is in bullet rather than liquid form) comes in nine subtly shiny shades – Villa is the perfect 'your lips but better' mauvy-pink.
Sensai Total Lip Gloss in Shinonome Coral
Part of its summer collection, Sensai's popular Total Lip Gloss is now available in three watercolour hues inspired by sunrise skies – coral, black cherry and red.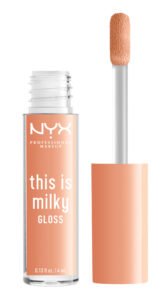 NYX This Is Milky Gloss Lip Gloss Milk & Hunny
Want opaque pastel shine? NYX has got your covered with This is Milky Gloss, which is infused with vegan milk and comes in nine shades from palest peach to milk chocolatey brown.
KVD Beauty XO Vegan Lip Gloss Petunia
Designed to convert even the most ardent matte-aholic, Kat Von D's XO Lip Gloss is super-soft and offers medium-coverage colour. Choose from seven juicy shades including deep berry and bright pink tones.
The Body Shop Speak Up Vinyl Lip Gloss Bite Back
For full-coverage colour with a high-shine finish, dress your pout with The Body Shop's Speak Up Vinyl Lip Gloss, which comes in four bold hues including Bite Back, a bright, confidence-boosting red.