Just 120 kilometres square, Nantucket may be served by the second busiest airport in the state but most people arrive by ferry. Because, at just over 50km from the Massachusetts mainland (the name 'Nantucket' is said to derive from a Wampanoag word meaning 'far away island') this is a place that's all about the sea…
The centrepiece of Melville's Moby Dick, Nantucket was once the whaling capital of the world: in the early 19th century, fleets hundreds strong plied their grisly trade from these shore. But by the 1850s the silting of the harbour and a decline in whaling led to a dwindling population. Until, that is, the enterprising developers of the mid-20th century rediscovered the island and set about promoting it to the wealthy.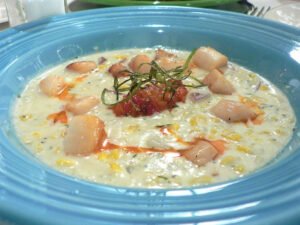 Perhaps the most famous dish here is Nantucket Bay Scallops. A local delicacy, Nantucket Bays are a real treat, collected on the local coastline and enjoyed pan seared, wrapped in bacon, or grilled.
Clams appear on the menu in many forms. There's clam chowder (an iconic New England dish made with fresh clams, onions, cream and potatoes), boiled clams, and baked clams, along with fried clams – bought fresh from the fisherman, and then drenched in buttermilk, fried in oil and covered with cornflour, before being served with homemade tartar sauce, malt vinegar, or rémoulade.
Bluefish is another traditional seafood, often bought fresh off the boat, and baked, lightly grilled, made into the infamous local bluefish pâté (cream cheese, lemon, parsley, smoked bluefish), and enjoyed in sandwiches. Then there's the lobster. Here in Nantucket, it's a staple, and you'll find fresh lobster, lobster salad, and lobster chowder at every restaurant, and lobster rolls (bite-sized chunks of lobster mixed with mayonnaise, lemon zest and juice, topped with tarragon, chives, and celery leaves, and served on hot, buttered buns – yum!) in every snack bar.