EU official sees significant improvements, but challenges remain
By Evie Andreou
Cyprus' main challenge as regards migration is the growing numbers of asylum applicants, an EU official has said, while praising Nicosia's progress in expediting applications and improving reception conditions.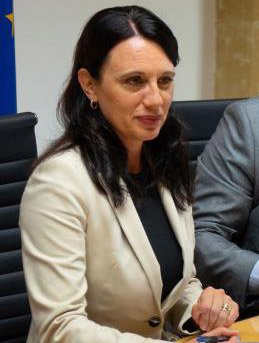 Nina Gregori, executive director of the European Asylum Support Office (EASO), was in Cyprus last week for contacts with Cypriot authorities and review the results of EASO's operational and technical assistance plan for 2020.
The EASO director confirmed that in recent years Cyprus has ranked either top or second in the ratio of asylum applications per capita.
"According to your population the number of asylum seekers has been really high," Gregori told the Cyprus Mail.
Cyprus is fighting quite a big backlog. "But we are really, really proud to say, even due to the Covid situation, which was something unprecedented, we still managed to work on asylum cases."
Cyprus' asylum service, with the assistance of EASO that opened its own new offices in Nicosia in recent weeks, processed a record number of asylum applications in the first few months of 2021, and issued 3,470 decisions.
At the end of 2020, Cyprus had 19,590 cases pending which was reduced to around 16,000 by the end of May. According to data by EASO, last year Cyprus received 7,440 asylum applicants with the top country of origin being Syria followed by India, Congo, Cameroon and Nigeria. It granted refugee status to 150 people, one fifth of them Palestinians, and offered subsidiary protection at first instance to 1,530 applicants, most of them, 93 per cent, from Syria. It also rejected 1,695 applications at first instance. Most of the rejected applications, almost one third, were submitted by people from Pakistan.
Gregori said EASO helped with expediting procedures through the deployment of 157 personnel.
"We significantly supported the asylum authorities in Cyprus, and we have cooperation with the newly-established international protection administrative court," she said. The court examines appeals by asylum seekers whose application for international protection was rejected.
"I think this process is important because once you start clearing the backlog of the first instance, because people have the right to appeal, the second instance, the administrative court is also burdened," she said.
EASO's research assistants help the court by providing information on the applicants' country of origin, they prepare information that is needed for the file, for the judge to decide on each individual case. Its personnel also support the registration of applications, conduct interviews and help improve reception conditions in both the Kofinou and Pournara facilities.
"It's enormous improvement and I really need to praise the government and (Interior Minister) Mr Nouris because they are really trying to expedite the procedures but also try to put an effort to (improve) the reception conditions," she said, as per the EASO standards.
But the numbers keep growing, she says.
"There are two challenges, I would say from 2019 to-date: first, Covid because it was unprecedented, they (Cypriot authorities) did well, and second, the number of arrivals. It stopped for a while but now we see that in Cyprus the numbers really went up again," Gregori said.
She said many reasons contribute to Cyprus attracting such big numbers, both practical and political. "But the main one is that Cyprus is an EU country which is already a big reason why people want to come." The biggest group of arrivals are Syrian nationals, she added, because there is now a Syrian diaspora in Cyprus.
Some members states, including Cyprus, have issued their own list of safe countries of origin, whose nationals do not face prosecution, torture, or war.
Gregori said this helps trigger an accelerated procedure for applicants coming from 'safe' countries but stressed the importance of a common European list.
"This would truly help in building our common European asylum system because there is an issue of convergence," she said, adding that the recognition rate of nationals of each third country might differ very much among EU member states. "This should not happen, we are a common space of protection so the decision-making process was according to the EU acquis so the end decisions should be comparable."
She said persons coming from a safe country may still claim asylum if they, as individuals fulfil the criteria based on the Geneva Conventions.
"We need to give as Europe a clearer signal as to who is truly eligible for international protection, what it really means," she said. She explained that people from poor countries will travel to Europe because they need to survive and support their families, and they file for asylum protection because that will regulate their status.
"But that's not the reason for international protection," she said.
She stressed that EASO, that has trained more than 50,000 asylum experts across Europe, supports Cyprus in the preparation of the files, first and second instance, but never decides. "This is always in the hands of national authorities," she said.
EASO has been providing support to Cyprus since 2014 but technical and operational assistance was expanded in early 2019 due to increased pressure on the asylum and reception systems.
She said that as an agency, they offer the know-how and very practical tools to equip researchers or asylum experts with knowledge on procedures, the EU legislation, but also training and professional development.
Gregori also welcomed as a "very important" development the bloc's decision some two weeks ago to establish the European Union Agency of Asylum (EUAA), which would mean upgrading EASO to make the EU's asylum procedures more efficient and uniform.