Eleni Charitonos loved her heavy spacesuit so much during her simulation astronaut mission that she wished she could sleep in it
An aspiring Cypriot astronaut who saw her dreams coming true during a recent simulation astronaut mission at the LunAres Research Station in Poland has been accepted to take part in another mission in Hawaii.
At a time when most young adults in Cyprus do not leave their parental home before they turn 26, Eleni Charitonos, 21, has already learned how to survive 'in space', with limited water and dry food.
Now, she feels even more confident attending her second analogue mission at the Hawaii Space Exploration Analog and Simulation (HI-SEAS).
"I was literally living my dream – I know it sounds cliché but it's true," Charitonos told the Sunday Mail in an interview about her experience in Poland.
Together with four Polish crew members, Adam Małagowski, Jakub Bręczewski, Witold Krafczyk, Dobrochina Fryc and Ireland's Jessica Dino, Charitonos completed her first mission under the name Hyperion between June 8 until she returned to Cyprus on June 29. The Greek name, which was suggested by Charitonos is after the titan, the father of Selene, Helios and Eos in Greek mythology, Charitonos explained.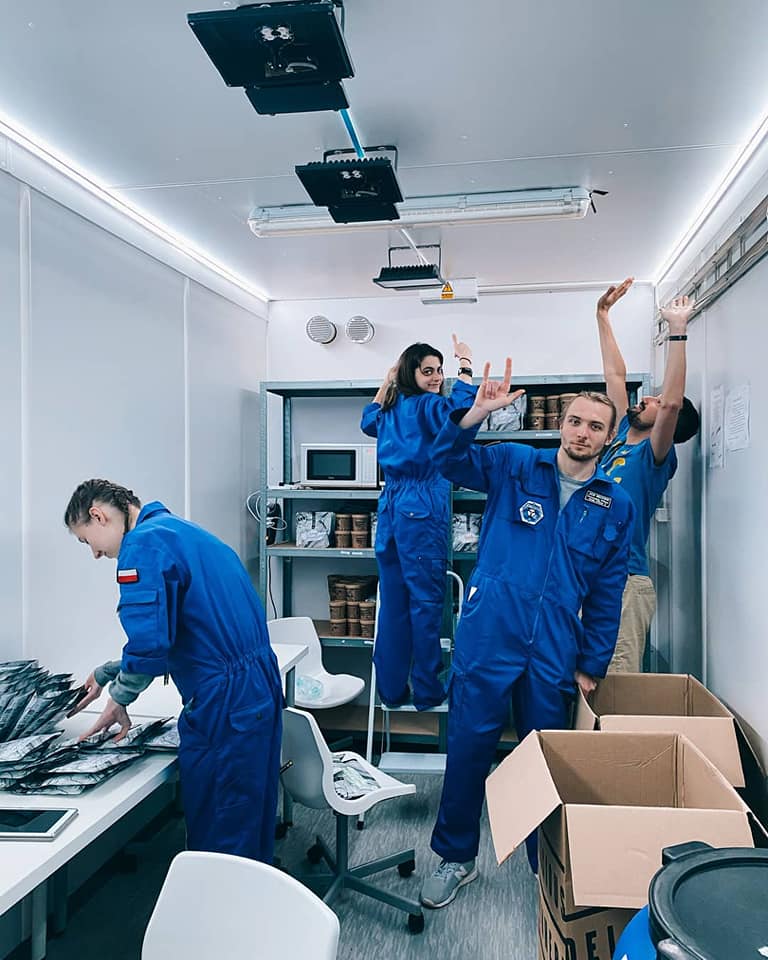 "In general, the living conditions were difficult," admitted the Cyprus' female analogue astronaut, but because of her love for space Charitonos said she even "enjoyed being tired".
A typical day in space (simulation) began with a medical check at about 7.30am to "monitor blood pressure, weight, heartbeat etc". Then, there was breakfast – but not your regular cereal – just dehydrated foods that the crew prepared by adding boiling water.
"The first time I tried it, it was shocking. I wasn't ready to put that type of texture in my mouth," said the second-year-maths student at Glasgow university. But people can get used to anything, and so despite the challenges, Charitonos said she ended up "looking forward to the meals".
After breakfast, followed the habitat check, which included monitoring their available water levels. The habitat included three water tanks: clean drinkable water, grey water for shower, which then ended up in a third tank, for use by the six crew members to flush the toilet.
"We were the first people at the centre that managed to survive without an additional water supply," Charitonos said proudly. "It was very difficult."
With their habitat's conditions properly monitored, every crew member proceeded on to their own jobs. Apart from collecting data for her own research about pandemics in space, Charitonos also contributed to two other projects. "I was the data officer, which meant all the reports carried out were passing through me to check them, and I was also the bio lab officer."
In simpler words, the 21-year-old processed male and female urine by using specific solutions to add nutrients in a successful attempt to grow plants without clean water. She also used some water from the grey tank.
This was usually interrupted by lunch time, before they all returned to their jobs. "You don't have time to sit down, you are working constantly," she commented on the hectic schedule.
After dinner at around 8pm, when it was supposed to be their free time, Charitonos said that she was taking that time to prepare for the next day.
And all that, while she was also trying to learn Polish.
During her 14 days in the habitat, Charitonos also got the chance to wear a proper astronaut's uniform inside a depressurisation module. She said that it was "the heaviest thing I ever worn in my life, but also the most perfect thing I ever worn".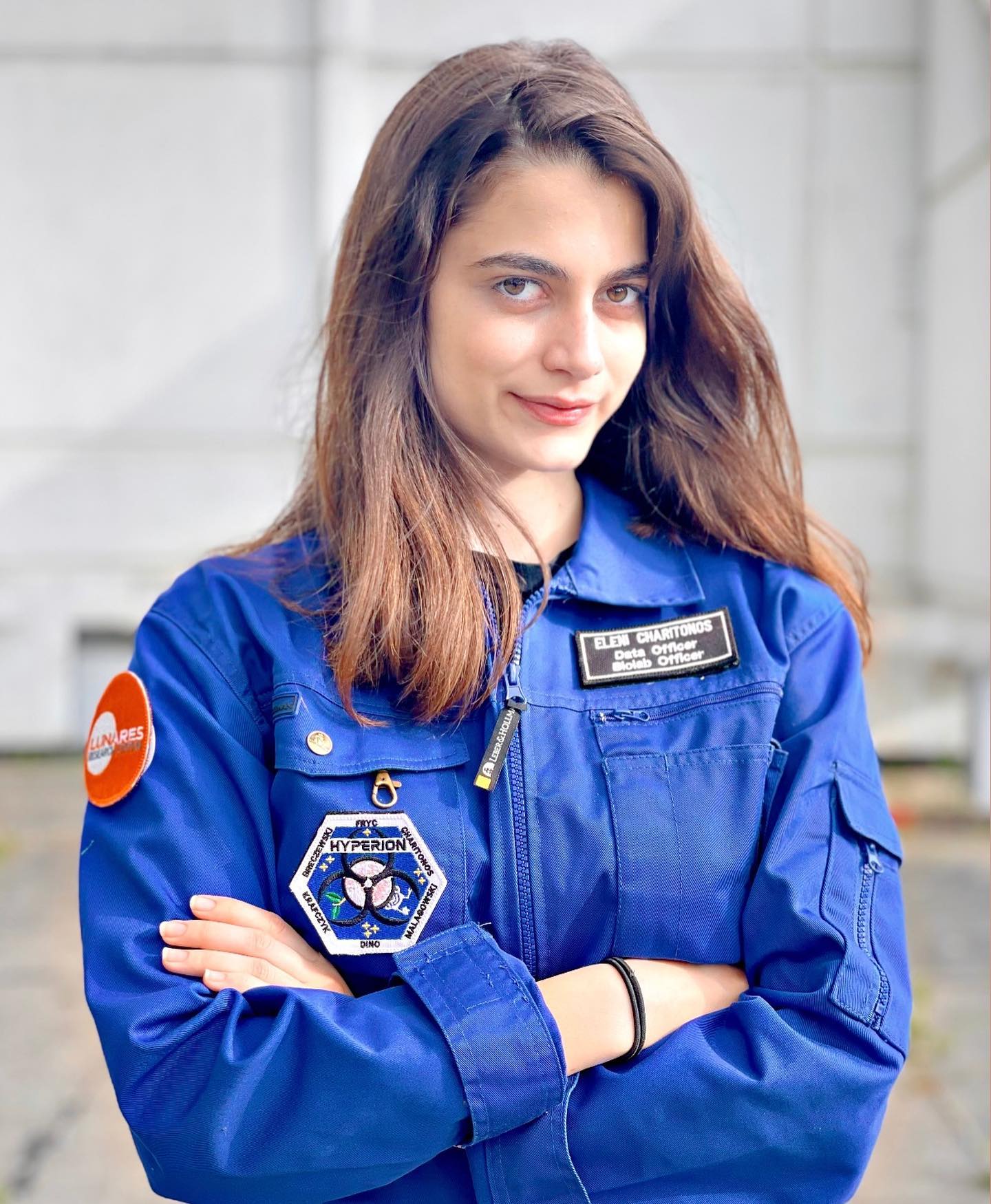 It might have been difficult for her to move her arms, but when she eventually had to take it off, she refused and instead insisted that "I can sleep with it".
"The mission was a confirmation for me that I am on the right path," she said.
On the day before her mission, Charitonos gave one of the most stressful online interviews of her life, for HI-SEAS, a long duration Mars and Moon exploration analogue research station. Missions at HI-SEAS take place about 2.5 kilometres above sea level on the Mauna Loa side of the saddle area on the Big Island of Hawaii.
"To be honest, I wasn't expecting to get this mission," said the aspiring astronaut who is expected to fly to the US on August 6, for her second analogue mission on September 1. She is expected to return to Cyprus on October 3.
The 21-year-old might be taking steps towards her dream-job of being a real astronaut, but for that to happen Cyprus must show initiative as well.
Cyprus is a cooperating member state of the European Space Agency but this status expires in 2022 when it must be renewed.
"As far as I know there were some discussions and probably, we will become members," Charitonos said.
The Sunday Mail contacted the head of the Department of Electronic Communications of the Ministry of Research, Innovation and Digital Policy Giorgos Komodromou who said that "we have made great progress", but the renewal will depend on both parties.
He explained that the ESA is preparing a detailed report about Cyprus' progress in the industry over the last five years which will be the decisive factor.
"We all want to become members of ESA, but we must make sure the agreement will be efficient for the Cypriot market as well," Komodromou said. The ESA's report will be ready by autumn.
Cyprus is currently a cooperating member state of the agency, and pays about €2 million to the agency, sources within the deputy ministry told the Sunday Mail. However, 80 per cent of that money is allocated for relevant projects in Cyprus. The membership will increase to about €5 million if Cyprus goes for an upgraded contract, while local projects will be competitive with other countries, the source explained.
All this has an impact on Charitonos' dreams. ESA astronauts can only be selected from countries that are ESA member states or associated member states.
But there's nothing stopping Charitonos – except perhaps her wisdom teeth. They have been late coming out and the 21-year-old said she has to arrange an operation before her next trip.
"It is not an option for me to be in pain during the mission."