Limassol has become the base for the Royal Caribbean's cruise ship The Jewel of the Seas offering cruises to Greece and its islands. Katy Turner got to sample its luxurious wares
After 17 months of lockdowns, restrictions, decrees and generally going stir crazy, it is time for a new type of cabin fever thanks to Royal Caribbean cruise line. It's no longer about what you can't do but the opportunity to try something different.
With cruises launched to the Greek islands this month, a cruise offers a real chance to feel the wind in your hair, the sun on your face and the sanitiser on your hands. Royal Caribbean takes travelling during the times of corona very seriously. No adult is allowed on board unless two weeks have passed since completing their vaccination. And no-one is allowed on ship until a rapid test has been taken at the port. This successfully achieved, it was time for my son and I to head on board.
The Jewel of the Seas is 13 decks high, which makes it hard to see the top when standing on the jetty. With our bags already checked in we decided to walk to the seventh floor to find our stateroom although the first stop was a hand sanitising station on land and another on ship – we were not going to have to worry about clean hands!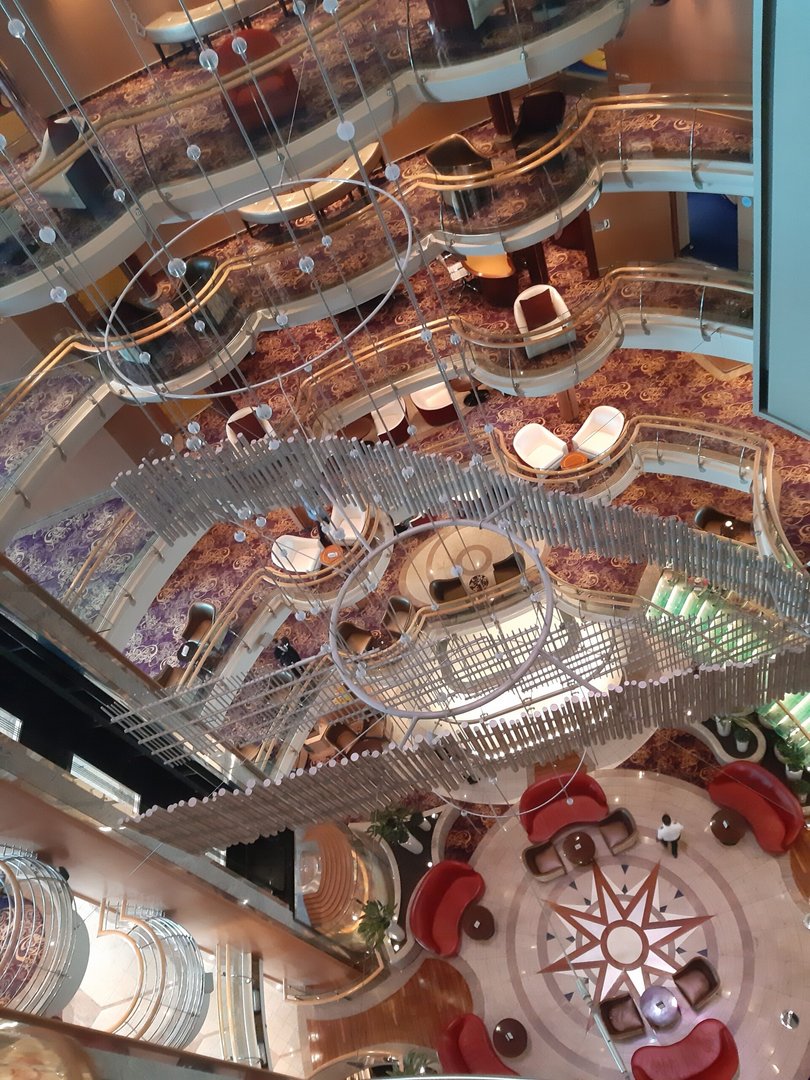 It can be quite daunting finding your way around a ship despite the friendly signs indicating you are aft (is that the front or the back?) designed to help. Before reaching our room we first found our way to the muster station (where you would get on a lifeboat in the extremely rare chance of an emergency) and in having done so completed our safety briefing. All lifeboats are on decks five and six, a member of staff explained. Let's hope I would remember that if I had to!
Having boarded at lunchtime there was nothing for it but to eat first. Of course there are a selection of eating options on board, but for the moment only the Windjammer buffet was available. No problem. Again Covid measures are given priority, many tables are left clear to provide social distancing and staff sanitise tables swiftly as soon as someone leaves. The buffet itself is not unaffected. Rather than pile your plate high with the quite frankly mind-blowing array of choices on offer yourself, a waiter does it for you. Want a potato? Two? A guy in front of the buffet table will help you to them.
Satisfied with the rare opportunity for a Brit living in Cyprus of pork pie and Branston pickle I sat back and watched my son move from pasta (better than mine) to pizza to veggie (he thought it was chicken) burger. Replete, all we had to do was find our way to the room.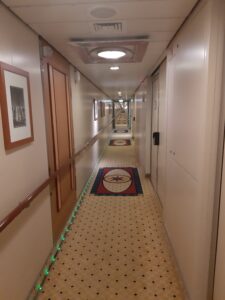 The corridors on this 962-foot long ship are, obviously, long, and thin. We managed to circumnavigate the floor before we found our room very close to where we had started. The Jewel of the Seas has 1,097 staterooms, which comfortably sleep two with onboard TV and balconies on more than half of them, including ours.
As with many of the Royal Caribbean ships, the Jewel of the Seas is equipped with a climbing wall, which was our next stop. The wall spans three decks and I am sure I was almost at two (my son said more like two feet) before my fear of heights kicked in and I was too scared to make it any further. I was, not surprisingly, shown up by my 13-year-old but even he didn't manage to ring the bell at the top.
Dinner is served in the main Tides dining room and offers a three course a la carte service. The menu reflects the international outlook of the company and even includes some Caribbean choices – we tried jerk pork chops and southern fried chicken. If you tire of large dining rooms there are specialty restaurants on board – Chops Grille, Giovanni's Table Italian and Izumi Japanese – but you do have to book. One night we went for a tour de force of Italian at Giovanni's where I was rewarded with my all-time favourite of tomato soup! Of course the rest of the menu was somewhat more adventurous.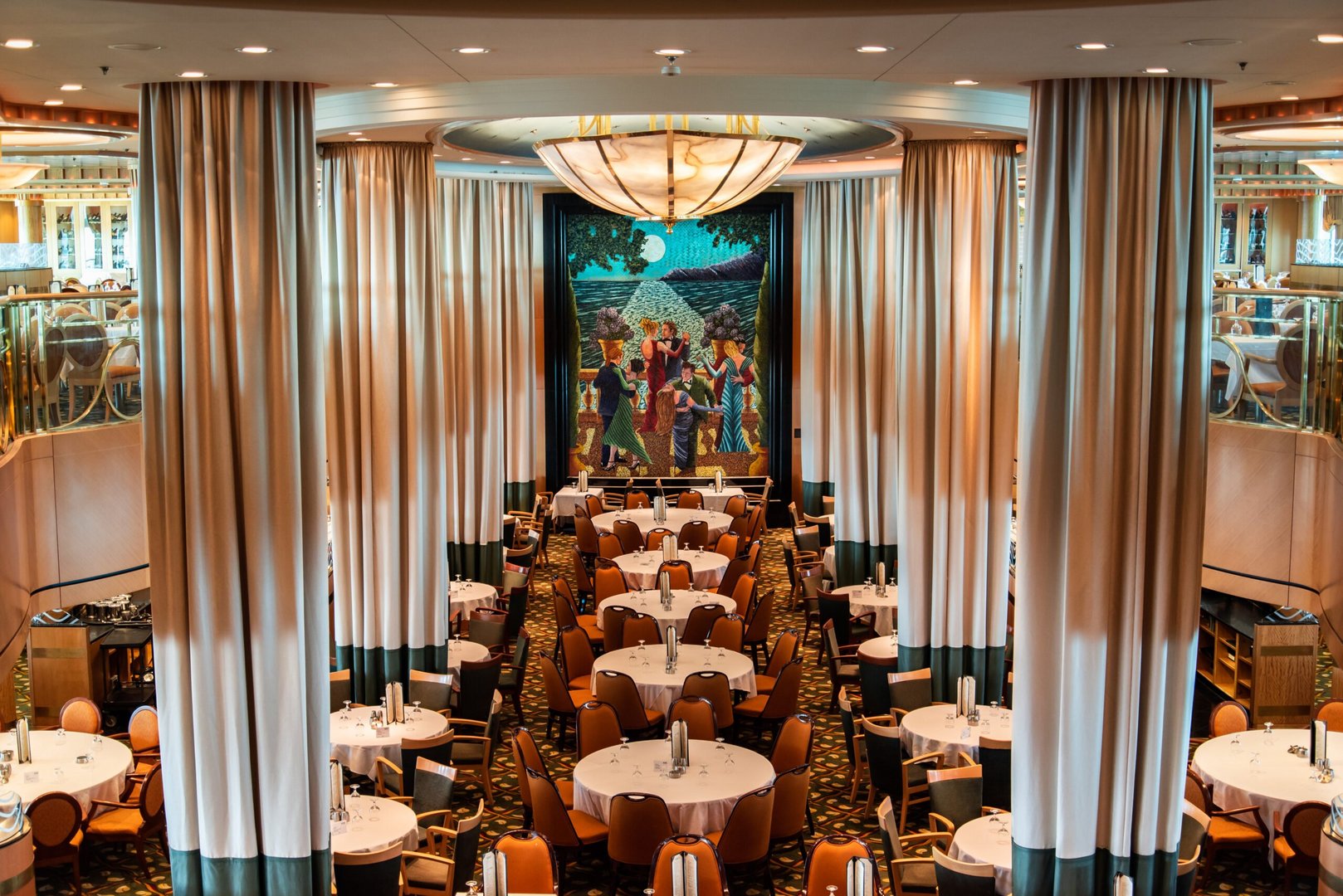 But it is not just us, the holidaying public, that has been in limbo for months and months. Each night the ship provides a headline show from different stage genres. The first night it was the circus antics of the Duo Bolshakov who met when competing on a circus acts reality TV show in Russia. Their gravity defying show included an outsize hula hoop and silk ropes hung from the ceiling. The next night it was the Barricade Boys direct from the West End, although they admitted they too had been stuck for the last 15 months far from a stage. With a rousing collection of songs mixing genres they came together after all having performed in Les Miserables.
Jewel of the Seas will run cruises this summer to the Greek islands out of Limassol with seven departures planned until October and taking in Athens, Mykonos, Santorini, Chania and Rhodes, with interested already expressed from people in Cyprus and overseas. The first of these was only 40 per cent full due to Covid measures but the numbers on board will increase as the summer goes on.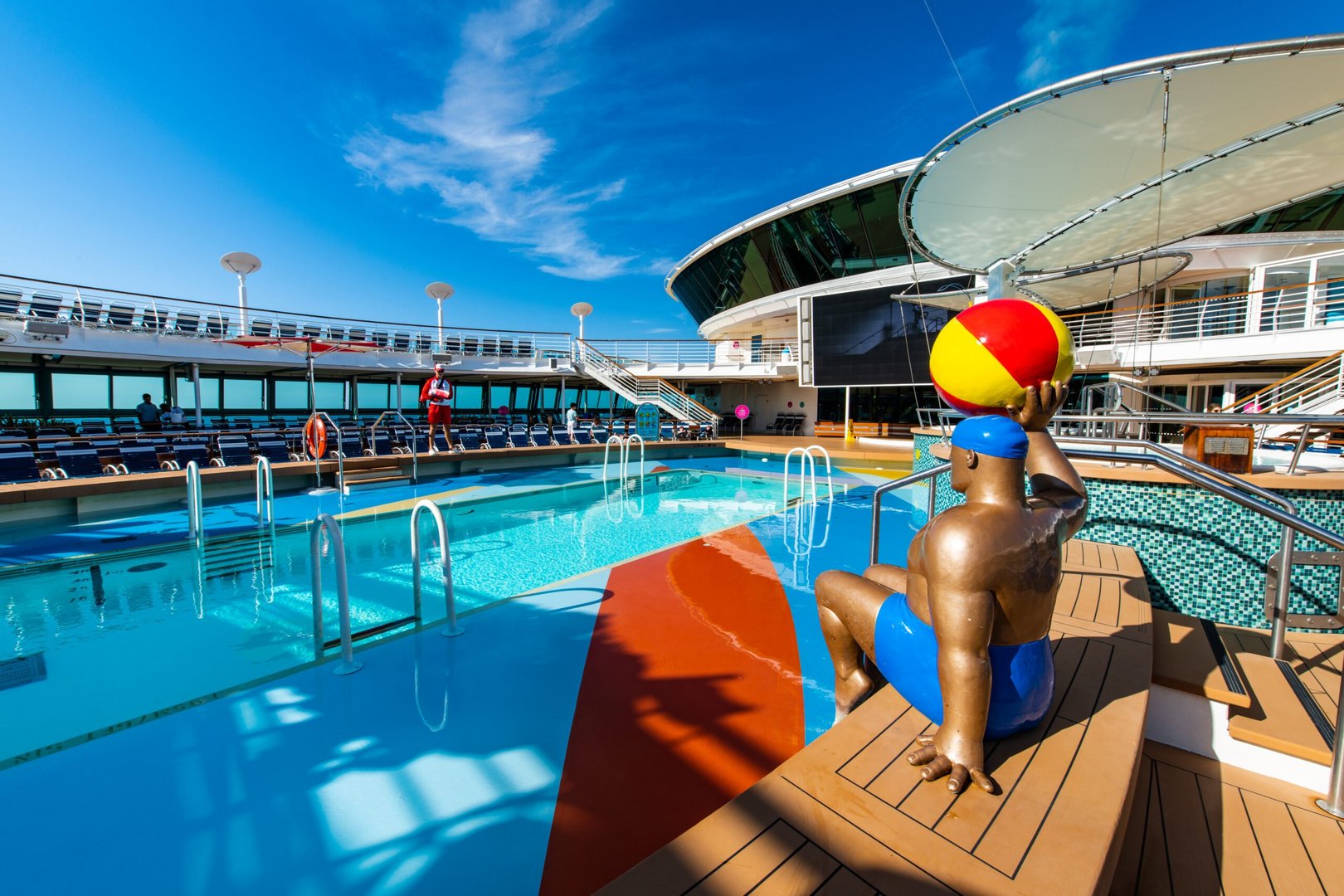 The Greek island cruise itinerary allows for time to be spent enjoying what the cruise ship has to offer. We started with a game of mini golf (managed to keep the balls on ship) and ping pong but the Mediterranean summer is nothing if not unrelenting, so it was to the pool, designed to allow you to wallow in shallow water while supping a drink. We managed a few strokes, and I quickly visited the next door adult only Solarium with a retractable roof although it was closed leaving the temperature of the room suitably cool and the water pleasantly warm.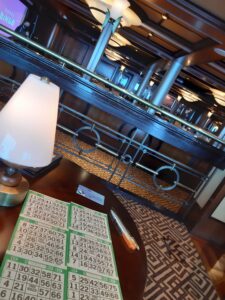 Before boarding I was under the impression that time at sea was spent doing jigsaw puzzles in the hushed atmosphere of a heavy wooded room. In this spirit we decided to play Bingo, one of the entertainment options laid on. We didn't win but there was wood paneling in the bar.
Having more than reached my phone's goal of how many footsteps to take each day just by wandering around the 90,000 tonne ship and been impressed by its size I was shocked to see a sister ship (the Harmony of the Seas) alongside us when we woke up in Limassol port on our return. One of the largest cruise ships in the world, it dwarfed us.
Its only Cyprus connection is that it overwintered in the sea off Limassol although Royal Caribbean officials on the island last week said another of the line's ships, the Rhapsody of the Seas, is looking at adding Cyprus to its itinerary for 2022.
Maybe next time I set foot on a cruise ship Caribbean will be a destination and not just the name of the shipping line.
for information on Royal Caribbean cruises contact your travel agent