Time to quit your job? Portugal's Algarve region repeatedly tops the list of best places to retire, thanks to its sunny climes, coastal scenery and developed standard of living. And, unlike Cyprus, it's got one huge advantage – it's cheap!
With practically the lowest cost of living in Western Europe you can retire to a little whitewashed house overlooking a sandy Atlantic bay and enjoy a life of quiet pursuits. Away from the tourist traps, you get pristine scenery, stunning nature reserves, and cool breezes year-round. And, rather than catering to the egg-and-chips crowd, the cuisine is tasty and traditional, rich in age-old spices…
Portuguese explorers were responsible for introducing a wealth of yumminess to Europe. Pepper, coriander, ginger, curry and paprika, along with staples such as tea, rice, peanuts, tomatoes and potatoes. Many of these still feature in recipes passed down through the generations, including chicken piri piri (grilled chicken coated with a hot, spicy sauce made with red chillies, garlic, smoked paprika, parsley, oregano, olive oil and lemon juice) and jardineira (a tender beef stew containing potatoes, carrots, onions, green beans and plenty of garlic).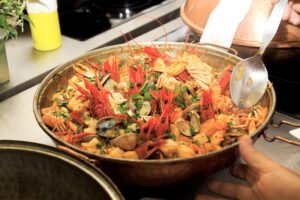 Being a coastal region, seafood is a staple. And the best way to enjoy the typical marine cuisine is cataplanas. Named for the hinged, copper pot in which it's cooked and served, this dish is often made with fish. But the most iconic local iteration is amêijoas na cataplana (clams in cataplana), a pork-shellfish combination that's said to have originated during the times of the Inquisition.
Garlic is huge here on the Algarve, and whole cloves are frequently combined with shellfish (camarão Portuguesa consists of prawns in the shell, fried in olive oil and butter with whole garlic, and served piping hot, with regional bread), to create flavoursome fare. Sardines are also a favourite: fresh-caught fish grilled to perfection and served with boiled potatoes and a salad of finely chopped tomatoes, onion and green peppers.
For dessert, it's tarte de alfarroba, a delicious cake made with sweet carob, dried figs and sweet almonds. Or possibly a few doces finos – small marzipan treats shaped to look like pineapples, strawberries or even carrots! And to drink, of course, it's wine all round.