Close to 72 per cent of the adult population (over 18) has received at least one dose of a Covid vaccine while 63.2 per cent have completed their vaccination, the health ministry said on Saturday.
Authorities estimate that 202,781 people over the age of 18 have not received a vaccine to date.
Paphos remains at the top with 80.7 per cent of its residents having received at least one dose of a vaccine, followed by Famagusta with 77.6 per cent, Nicosia at 72.3 per cent, and Limassol with 69.8 per cent.
Vaccination coverage in Larnaca remains low, with 66.1 per cent of the residents having received at least one dose.
Walk-in centres meanwhile have administered 5,877 jabs between July 15 and July 23.
In terms of age groups, the percentage of those vaccinated increases with age. Specifically, of 16-17 year olds, 24.7 per cent have been vaccinated, as have 37.9 per cent of 18 and 19-year-olds, 48.2 per cent of 20 to 29-year-olds, 62.5 per cent of 30 to 39-year-olds, 81.2 per cent of 40 to 49-year-olds, 78.1 per cent of 50 to 59-year-olds, 85.8 per cent of 60 to 69-year-olds, 94.1 per cent of 70 to 79-year-olds, and 94.6 per cent of those over 80.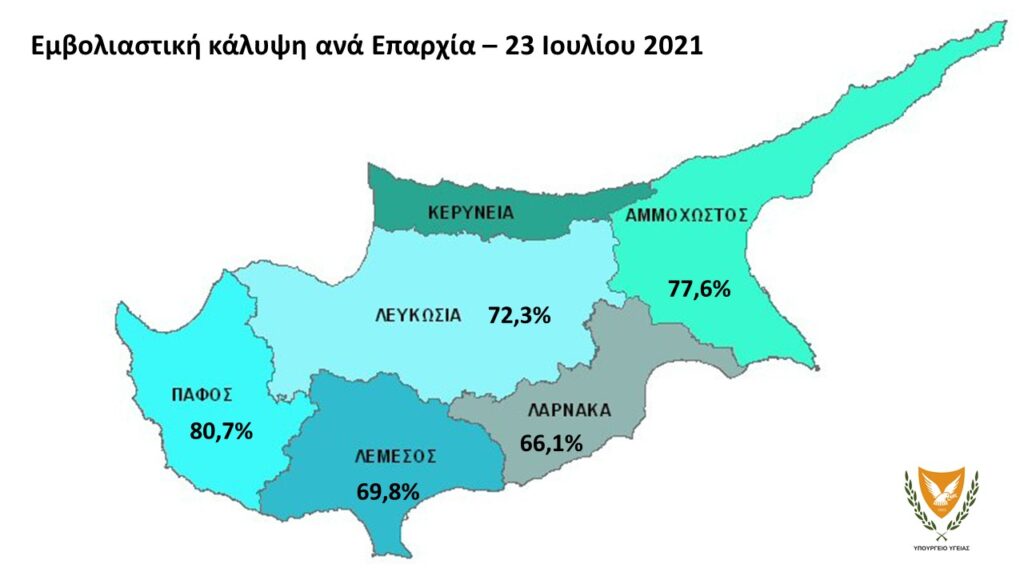 Health Minister Michalis Hadjipantelas urged people to vaccinate.
During a visit to a walk-in centre in Paphos on Saturday, the minister said, "we are very close to our target of getting a large proportion of the population vaccinated."
Health Ministry permanent secretary Christina Yiannaki said a large number of hotel staff have also received their jabs.
Paphos Bishop Georgios said the Church considered vaccines a blessing used to fight the pandemic.
He said God guided scientists and doctors to find the medicines and vaccines to overcome the difficulty.
Cyprus is in the middle of its fourth wave of the pandemic with daily infections fluctuating around the 1,000 mark. The biggest problem, however, is the rise in hospitalisations, which is putting immense pressure on the health system.
The minister said the problems were discussed during a marathon meeting on Friday and solutions were found.
Friday saw a drop in hospitalisations, 254 against Thursday's 264. But the number of those needing extra or intensive care was still high, despite the drop to 63 from 68.
Hadjipantelas said the Covid ward at Paphos hospital was expected to reopen by Wednesday.