The mountain village is known for its intricate lace work. ALIX NORMAN meets a woman who has transferred the art to cookies
Lefkaritika is one of Cyprus' oldest traditions – a cultural practice that dates back to the 14th century. Originally, the intricate embroidery was intended to be the centrepiece of a young woman's dowry. As its fame grew, the lace was traded by 'kentitarides', who travelled across Europe with their precious wares. In 2009, the craft was included in the Unesco list of Intangible Cultural Heritage. And now, thanks to artisan baker Afroditi Nikolaou it's taking totally new form: the Lefkara lace biscuit!
"I grew up in Lefkara, learning lace-making at my mother's knee," says 59-year-old Afroditi. "The village daughters, they sit with their mothers as soon as they are able, eight or nine years old, and they learn. It's an art you never forget," she adds. "And though I stopped for many years, I still remember what my mother taught me."
Despite years living abroad – "in England, where I went in the early 80s for a week's holiday and stayed for several years!" she smiles – Afroditi always remembered the intricate embroidery techniques she'd learnt at a young age. And when her children had flown the nest, she decided to move back to the village of her birth and launch an innovative Lefkaritika-based venture…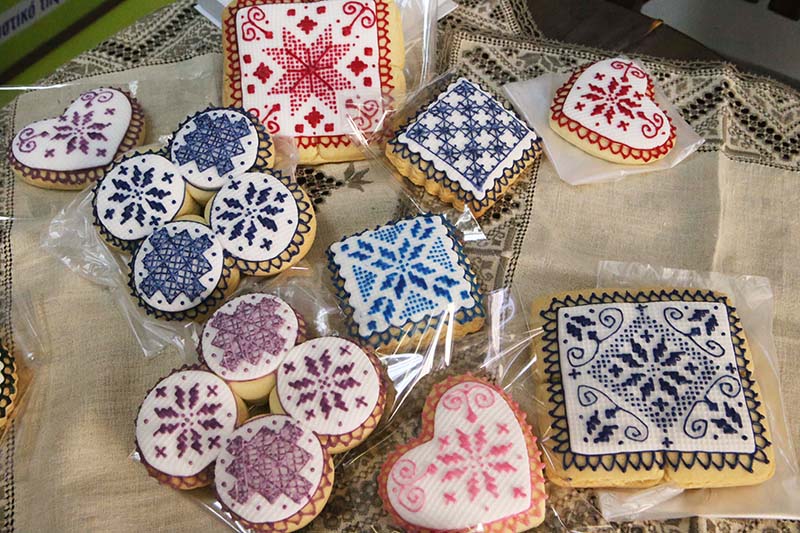 "The idea of creating cookies with the Lefkaritika designs had been in my mind for many years," she reveals. "I recall making a birthday cake for my son, not knowing how to decorate it, and piping the designs I recalled from my youth on the icing! And when I was in Serbia" – that time a week's holiday that turned into a three-and-a-half month stay – "the idea came to me again. I had the time, you see, to think. I had the time to plan what I wanted to do with my life…
"Many people," she adds, "told me to open a confectionary. They loved the cakes I made. But I didn't think I was at the age to do that. Then, one day, someone suggested I reopen the village souvenir shop I'd had when I was younger, and a plan took shape… This time, I wouldn't be selling mementos, but cookies – special, unique cookies decorated with the village's most important emblem!"
Combining her love for Lefkara and its crafts with her talent for making things beautiful – "I worked for many years in the luxury restaurant industry; even today, when people come to my home I make sure we have the right table linen, the perfect cutlery, the most beautiful place settings" – Afroditi opened her Lefkara Biscuit Café in late 2018.
"Everyone said I was crazy," she laughs. "'Nobody will buy those cookies!" they told me. But they couldn't imagine what I had in mind. And in 2018, I reopened the shop – first as a workshop and then later as a café – and began making my cookies…"
As per health and safety, Afroditi bakes and ices her butter biscuits in a small kitchen in the back of her shop. "But the decoration – that's something I like to do outside," she explains. "From the very beginning, people would stop and watch the process, fascinated. They'd buy the cookies and take them back to their country; a reminder of the lovely Lefkara experience. One day, some Israeli tourists stopped by. They returned home with cookies and a story, which appeared in the local newspapers. Then a camera crew flew to Cyprus and interviewed me. And suddenly, my cookies were famous!"
Today, Afroditi and her unique Lefkaritika biscuits have featured on many local channels, and been included in a number of foreign articles. "I get emails from people all over the world, asking if they can buy a box of my cookies. And I'm sad to have to say no to them," she says. "I only have two hands, and everything is handmade by me. Plus there is an expiry date of a month on the cookies as per the health directive."
Although Afroditi is sad not to be able to share the beauty of Lefkaritika further and wider, she's very happy with the acclaim her product brings to her village. "I sell the cookies from my shop," she explains. "And this means you get the whole wonderful experience of Lefkara along with your cookie! It is such a beautiful village, with such unique crafts," she adds, "and I'm so proud to be part of it. I didn't start this venture for money, but to do something good for the village. And also for me…
"I've had a very full life. I always say my sons are my priority, but my cookies are like my babies," she laughs. "Over the years, I've put so much research into each design, read so many books about the origins of Lefkara lace. I also work on the principles of mathematics – counting each row, making sure each design is absolutely precise. All my designs appear in one of six colours, and are based on the traditional motifs: the margarita design, kofti, finikoto, helios, korteno, karaolo, tramilo, examilo. I'm even working on a Leonardo da Vinci design, based on the Lefkara lace the inventor took back to Italy in the 15th century!"
With each of the biscuits taking approximately 20 minutes to hand decorate – half an hour for larger biscuits – Afroditi is certainly kept busy spreading her love of Lefkaritika. "I even create personalised cookies for weddings and christenings now," she adds. "I've opened up as a café as well, so you can have a coffee with your cookie, or with a slice of fresh apple pie or apricot tart – all things I bake myself.
"Maybe one day," she confides, "I'll open a bigger shop, a showroom. But for now, I'm just so proud to be creating something that shares the beauty of Lefkara and brings people to the village. Both cookies and lace," she concludes, "are made all over the world; everyone can make them if they try. But the Lefkara lace and the Lefkara cookies are unique," she smiles. "This is our island's heritage, our history. But with a twist!"
The Lefkara Biscuit Café is open every day except Monday, from 9am to 6pm