Perfectly maintained, individually named classic Volkswagen cars and campervans are available to hire for those seeking a taste of an easier time
Welcome to the 1970s, where past perfect overpowers the problems of the present! Life is free and easy here – there are flowers in your hair, Pink Floyd's on the radio, and golden rays wash the horizon as you cruise along in your VW Campervan, courtesy of Vintage Rides…
A small online platform that rents out classic vehicles, Vintage Rides currently has eight vehicles on its books – all well-loved, superbly maintained, and eminently trip-worthy. There's a 1978 bright lime VW Campervan known as 'Greenie', which seats seven and is billed as the ideal vehicle road trips, bachelor parties and birthdays. 'Sandy', a beige bay window VW campervan from 1972, which seats four and is most often booked for weddings and romantic photoshoots. The baby blue 'Celeste', another bay window VW campervan from the same year, often used in TV ads and brand spots, and a favourite at private events. 'Vanoullis', a '72 bay window VW Campervan in millennial mint, which seats five and comes complete with kitchen, bed and fridge, making it perfect for picnics and birthday parties. And lastly, a '75 orange bay window VW Campervan called 'Saucy', which is similarly equipped, and seats four.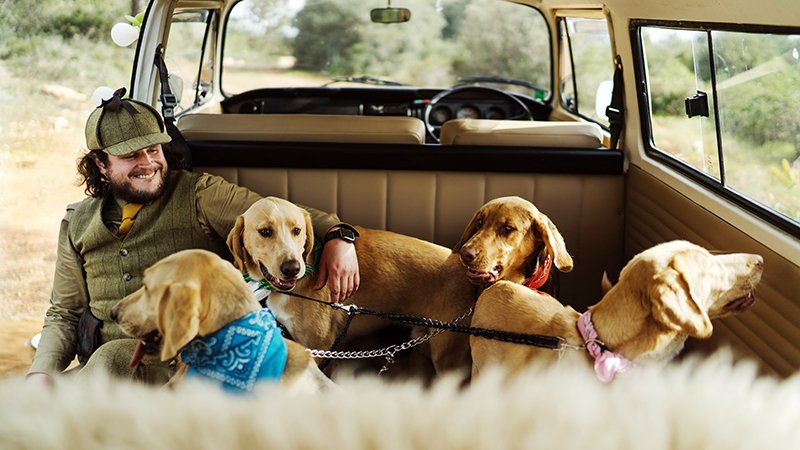 There's also a 1972 Beetle (a cream-coloured convertible) and at least one Royal Enfield motorcycle on the books. But it's the VW Campervans which are the main draw, perfect for anyone with a sense of adventure and a little nostalgia for freer times…
"The idea for Vintage Rides was originally inspired by my own childhood," reveals 30-year-old founder Marianna Charalambous. "As a child, I'd often enjoy going for rides in my grandfather's old white VW van. So I was distraught when he eventually sold it. Years later, when I was in my twenties, I tried to track down the van – but by then it was hopeless. Instead, I found myself becoming fascinated by the VW culture, and promised myself I would, one day, buy a van for myself…
"Fast forward to 2017, and I decided to book a friend's Campervan for my birthday. It was a day full of fun, photos, laughter and happiness; such a memorable experience that I knew I had to share this sort of experience with the world…"
As a content creation and communications professional, Marianna began promoting the van as a wonderful addition to parties and events. "And then, in 2019, I bought my own VW camper van. I restored it from top to bottom, started looking for more people who shared my interest, and Vintage Rides was born.
"The idea," she continues, "had actually been in the works for some time. Back in 2013 I'd pitched a similar concept to various investors, but nobody was interested; I guess maybe everyone was looking to the future, while I, as a hopeless romantic, dream of the past. So in 2019, with just the two camper vans on the books, I went for it…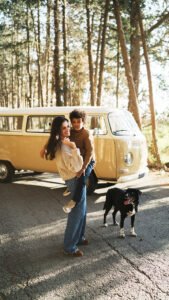 "It hasn't been easy," she adds. "As a single mother with a host of commitments, progress was slow at first. But it was such a novel idea that was so close to my heart that I knew I had to keep going."
Today, with eight different vehicles and more to come, Vintage Rides is, says Marianna, "the only platform of its type on the island in which you can choose from a host of classic vehicles. The market," she admits, "is small, and I'm pretty sure I'm the only person who really wants to do this; it's certainly a fuss to organise – ensuring clients get what they want, when they want for a good price, along with checking each new vehicle and organising a photoshoot to showcase its attributes – but it's a labour of love for me!"
Vintage Rides is all about spreading happiness, she adds. "Anyone who has ever enjoyed a vintage vehicle will tell you it's a unique experience: a journey back in time, which creates a memory for life. It's like taking a trip back to easier times – the 70s, perhaps, when simplicity ruled and music and arts were the jewels of the era!" And booking your trip into the past, she continues, couldn't be easier…
"Each customer has their own individual needs, and we cater to that as far as possible while respecting the vehicles' age and condition. Many of the vehicles will come with their own driver," she adds, "usually the owner, who will happily drive the clients wherever they want, or show up at their event. Thus far, we've been booked for weddings, christenings, private tours, road trips, advertisements, corporate events, and loads of birthday parties – including a party for dogs, which was a blast!
"We've sent Greenie the Campervan on a girls' road trip birthday celebration – the clients drove up to Xyliatos dam for a picnic, and said it was a magical day; Celeste has been a photo station at the Boho Film Festival Experience in Ayia Napa; and Sandy has appeared on TV, in an advertisement for LIDL!"
But though the camper vans draw most of the attention, all the vehicles, says Marianna, appeal to "lovers of the past who can appreciate the nostalgia, or the freewheeling skate and surf community who enjoy a unique adventure. It's the ideal service for those in search of calmer, slower life – if only for a few hours!"
In the coming months, Marianna is planning to add more vehicles, take part in several festivals, and generally bring the joys of the past into the present. "Nostalgia is huge right now, and Vintage Rides is all about creating memories that last a lifetime," she acknowledges. "Escaping into the past and creating future memories is the antidote to present-day problems!"
For more information on Vintage Rides, visit the Instagram account @vintageridecyprus, the Facebook page 'Vintage Ride', or the website
For bookings, email [email protected] or call 99 12 6420