The scenery is gorgeous, the culture unique, and the food divine. And yet Caracas is probably the last place on Earth you'd want to live. Venezuela's capital is consistently listed amongst the five most dangerous cities in the world. Nobody actually knows how many people live there due to the sprawling slums while robbery, kidnapping and worse are rife.
However, when they're not busy avoiding (or perpetrating) crime, locals tend to take the time out to enjoy well-cooked, simple foods. Corn, rice, plantains, yams, and beans are the staples, with the city's cuisine influenced by Spanish, Portuguese, Italian, French, West African, and Native American traditions. Arepa is the most common dish: a crispy cornbread that's a favourite across the entire region, and often comes stuffed. So, depending on your spending power, you might enjoy arepa filled with anything from beans, cheese, and avocado to shredded beef and onions. Or, if you're enjoying a few at breakfast (arepa are eaten at all times of the day), you might even pair yours with a cup of strong local coffee and thick chocolate sauce.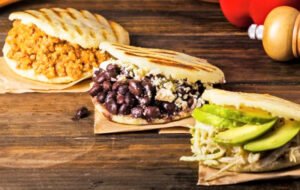 Cachapa is another corn-based dish, but this time in the form of pancakes. A popular street snack (should you dare to venture out) they're also best stuffed – this time with roasted shredded pork or one of the many fresh cheese for which the country is famed.
If you're a little more solvent, asado negro is popular local choice: the eye of round roast (muchacho redondo). braised for hours in rich red wine sauce, and served with rice and fried plantains, or mashed or baked potatoes. And Pabellon criollo is another favourite for those who can afford meat: a concoction of black beans, white rice, and slices of steak cooked with tomatoes. Caraotas negras (black beans and rice sans steak) is the poor man's version, usually served alongside casaba (a flat bread made from bitter cassava) or mandoca (deep fried cornmeal rings).
And dessert is often quesillo (similar to crème caramel), catalinas (super soft biscuits made with cloves and raw-cane sugar), or a nice glass of chicha – a cold milk and rice drink, usually topped with condensed milk or cinnamon.