Kyriacos Nicolaou catches up with two Premier League greats on the island recently to coach kids at summer camps at Limassol's Parklane hotel
 As the unrelenting August sun beat down on the thin canvas of the umbrellas providing us with shade, smiling parents watch on as their children received words of encouragement and warmly-delivered instructions from two Premier League greats.
"Five minutes left, guys!", calls out former West Ham United, Fulham and Brighton & Hove Albion forward Bobby Zamora, currently playing in goal for a team of young children. On the adjacent pitch, another former West Ham United player, Anton Ferdinand, feints away from a defender before delivering a cheeky through ball for a teenaged teammate, with his group of trainees being somewhat older.
The duo visited Cyprus as coaches of the Football Escapes programme, which provides football coaching to children at a number of high-end hotels and resorts around the world, with Limassol's Parklane, a Luxury Collection Resort & Spa resort, being the designated location in this instance. Both players expressed their delight to be in Cyprus, both for the opportunity to coach the children, and to enjoy their time on the island and the hotel.
"The summer's been very good for us and Football Escapes, especially with it being a growing business and travel restrictions being lifted in a few places. We're over the moon that Cyprus is one of those places," Zamora says, noting how the country has been at the forefront of wanting to get tourists in. "It's good for the economy and it makes sense to deal with that as best as you can as a country, so we're pleased to be back in Cyprus."
Zamora effuses about both Cyprus and the resort, with the programme combining coaching and a stay at Parklane being a win-win situation for both him and the other coaches as well as for the guests involved. "Been plenty of times to Cyprus, including a few times to Parklane as well so I know how good it is, how luxurious," Zamora says. "I'm always chomping at the bit to come back here. You've seen how it is today, how great the kids are, their parents sat by the pitch taking it all in."
Ferdinand echoes Zamora's thoughts, saying how the staff at the hotel went out of their way to make his son's birthday as special a time as possible. "It's my second time coming here", Ferdinand says. "When the Cyprus training course comes up I always ask 'when can I come?', because you know when you're coming here the weather's going to be great, the hotel's unbelievable, and so is the service".
Observing the two former professionals interacting with the children involved, guiding them through the session, fine-tuning the balance between instructions and having a good time was particularly intriguing. "Both myself and Anton have kids so we know what it's like," Zamora says. "Again, us coming through the ranks and being kids and knowing how to enjoy football and having the opportunity to come and play in these academies, it's very special".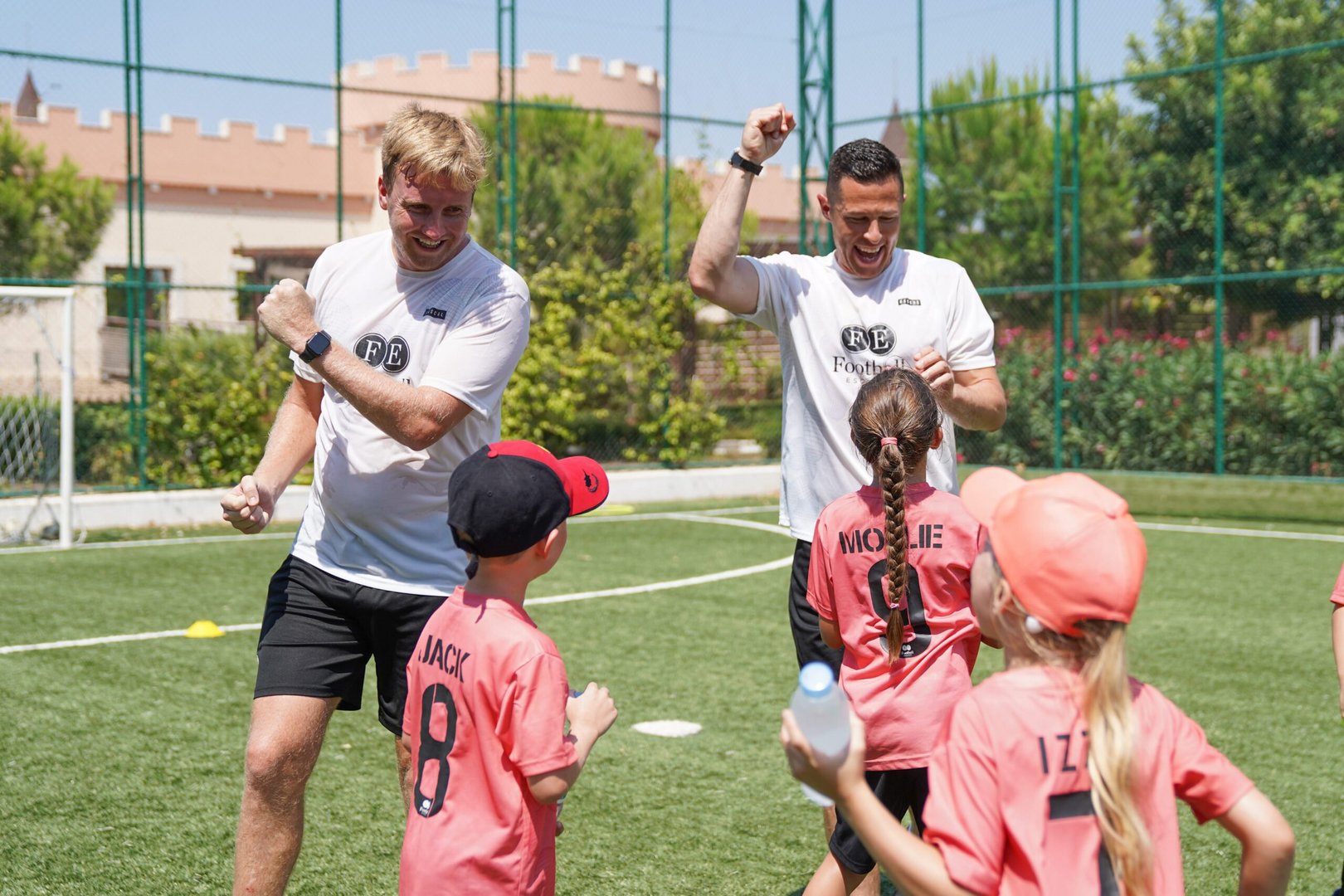 "A big thing for me is that I never had anything like this as a kid, so to be able to go away and experience football at the level of coaching you get at Football Escapes and at a five-star hotel like Parklane, I think it's great," adds Ferdinand. "As a parent you want to give your children everything that you possibly can and Football Escapes in partnership with Parklane gives you something that you didn't get to live by yourself but you can give to your children".
In terms of coaching young children, I ask Zamora about whether certain mental attributes such as anticipation, positional sense and the general ability to read the game are something a coach can impart to a young player or if they are more something that a player is inherently gifted with. "I think you have a certain ability but certainly listening to coaches and taking advice onboard is important," he says. "I remember myself as a kid, always had fun, had a laugh and a joke with my friends, but always had the ability to go 'okay, the coach is talking', take it all onboard, listen and absorb what he's saying", he adds, explaining that you can do the practice but you can also have a laugh and a joke with your friends. "I just think it's key to be able to take instructions onboard, process it and implement it into your game," the former forward says. "So yeah, it can be learned but also there's a level of understanding that you need to have in you as well".
And do the aspiring players ask questions about the game? "From time to time. The good thing about this, as I said, there's so many varying abilities among the children, with some kids here who are playing football for the first time while others are already playing academy football back home. So different children want different things from it, but like I said, we're here, we're enjoying it, we're happy to help anyone who's on this course."
Regarding modern youth coaching and its focus on creating more well-rounded players, I ask Ferdinand if that made it less likely for an academy to produce a player specialising in defensive attributes. "It's hard to find natural out-and-out defenders because now you have to be able to play first. When we were playing you had to be able to defend and how you play second, but now the first thought is how good you are on the ball and the second thought is if you can defend," he adds.
"With the kids we have here, it's about creating the footballer and then when they go to a professional club, if they make it, the professional club will identify what position they can play best," he explains, before saying he himself would be more suited to today's game and asking Zamora for his opinion. Zamora smiled and nodded in affirmation. "Yes, a ball-playing defender".
Not long after the Euros were over, I ask the two former England players at various levels what they thought.
"I thought they were fantastic," says Zamora. "It's great what England have been doing in terms of the process of those young kids coming through and Gareth is obviously looking after them," he adds noting how the players have been in tournaments from under 16 to the under 21 level and that they've had that experience of being in tournaments together.
"I think the way England have done youth integration has been spot-on and you see that now in the results," Zamora says. "Obviously to lose on penalties is gutting, but penalties are a lottery. But I think everyone in England are proud of what the team have achieved."
"I think the biggest thing that Gareth has sorted out is the issue of boredom during a tournament," Ferdinand adds, explaining how detrimental it can be. "Things used to be too regimented in the past, whereas in this tournament, the players had fun. They could relax, they could enjoy themselves and that's what we saw on and off the pitch with this England team."