By Sarah Coyne
Sometimes as a diner our heads can be turned with the opening of a new restaurant. We abandon our old favourites and go running to the latest addition. Even during 2021, Cyprus has seen several new eateries open for business. Unfortunately, due to the current circumstances, it has also seen some of these restaurants close. In Paphos, an excellent example of a restaurant that has managed to stay above water is Tweedie's, which celebrated 17 years in operation this year.
The central ethos at Tweedie's is to take fresh ingredients from the market to the dining table. It is the vision of business partners Craig Tweedie and Hilary Mossop. With Craig as the chef and Hilary front of house, they deliver exceptional food with outstanding service. At the end of the day, this is what all restaurants should be offering.
Craig was born in Cyprus when his father was stationed at RAF Akrotiri. He returned to Cyprus after working at several hotels in the UK and Majorca. He was offered the chance to be the face of a TV cookery series and recipe book. However, he declined to run his own kitchen; thus, Tweedie's was born in Kissonerga. He shares his passion for food with Hilary, as they both worked with many celebrity chefs at the BBC Good Food Shows before moving to Cyprus.
The restaurant offers a small indoor dining area and a gorgeous secret garden outside. It is tastefully furnished and housed in an old stone building. On the night we visited, we sat outside in a garden with a number of trees that offer shade and tables positioned far apart.
The menu is not long, which is always good to see. It changes daily and reflects the fresh ingredients available. When we visited, there was a choice of eight starters and nine main courses but we were all still tempted by a number of the options and found it difficult to decide. As we thought about it we were served some delectable Tempura King Prawns as a complimentary canapé with some in-house bread, Raisin and Honey Wholemeal Loaf.
The standout starter for us was the Smooth Duck Liver Paté served on a Toasted Brioche and accompanied by Homemade Apple Chutney. An exceptional example of this traditional entrée. The Crispy Tempura Mushrooms were beautifully dry and served with a very tasty Garden Herb Aioli. The dumplings were very authentic and beautifully presented in a traditional bamboo basket with a trio of spicy dips.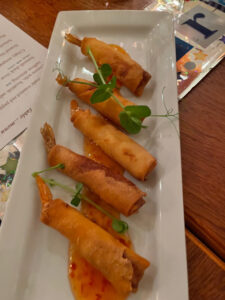 Our main courses were served with divine Crispy Jacket Wedges and a generous selection of seasonal vegetables. Seared Calf's Liver is not something you often see on a restaurant menu these days but the Tweedie's version went down very well, as it was served with a delectable Onion and Sage Sauce with Pancetta Crisps. The Aged Fillet Steak, which we also enjoyed, was accompanied by a Red Wine and Shallot Sauce. The final option of Corn Fed Chicken came stuffed with Halloumi and Spinach and was served with a rich Plum Tomato Sauce.
Having devoured the canapés, bread and two courses, we were sensible and elected to share just two desserts, from the four available, as they just had to be tried! This is where Craig's Scottish ancestry came through with an ice cream option inspired by the traditional Scottish dessert Cranachan, which is made with raspberries, toasted oat flakes and whisky. The other we indulged in was the Apple Crumble with an oaty crunchy topping and served with vanilla ice cream which was delicious.
We then finished our meal with a glass of their homemade Limoncello.
VITAL STATISTICS
SPECIALTY International.
WHERE Tweedie's, 1, Spyrou Kyprianou, Kissonerga, Paphos
WHEN Thursday – Sunday from 6pm. Opening for Sunday lunch in November
CONTACT 99 126590
HOW MUCH Starters €5.50-9, Mains €15-22