For the first time, the endemic Cyprus soapwort is being used to make soap. ALIX NORMAN finds out how a small plant is the source of a truly natural product
Almost three years in the making, Cyprus' very first completely locally-made soap is soon to launch. Called Natcy (for 'natural' and 'Cyprus'), its creation stems from two very different fields, one academic and one inspired by nature. But what makes this product entirely unique is its main ingredient: an unassuming little plant which grows right here on the island…
"The vast majority of soaps that are marketed as 'natural' and 'local' actually utilise a host of ingredients from abroad," explains Miranda Tsingis, owner and founder of Cyherbia Botanical Park in Avgorou, and a key figure in the development of the soap. "NatCy Soap is different. The main ingredient is Saponaria Cypria, the Cyprus soapwort – a miraculous little plant that's endemic to the forests of Troodos.
"I'll never forget," she smiles, "digging up the plant for the first time and discovering the size of its roots! Such a small, unassuming, humble-looking plant and yet its roots – which are incredibly rich in naturally occurring saponins – so disproportionately large; I felt as if Mother Nature was showing us where her magic was to be found!"
Often used in soaps, saponins are complex, water-soluble glucosides bound to oil-soluble sapogenins. "This oil and water mix," Miranda explains, "is what helps to make saponins naturally foamy and cleansing, properties which make for a wonderful soap with a neutral pH."
While other species of the Saponaria genus have been used in soap making, this is the first time the endemic Cyprus soapwort has been so thoroughly researched. "The concentrated saponin-rich extract we're producing is unique in the local and international market," says Miranda. "And, compared with other products, it's vastly more natural – most soaps marketed as 'natural' or 'organic' still contain chemicals and harmful substances. But NatCy is totally free from any chemicals or additives; it's the pure extract of the Cyprus soapwort plus essential oil distilled from Cyherbia's own gardens."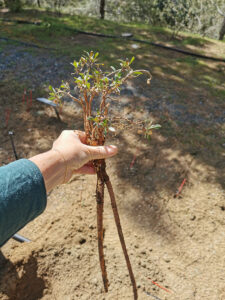 Developed in collaboration with the Frederik Research Centre (part of Frederick University), NatCy has been years in the making. Mostly, because there's a lot of trial and error involved in growing the endemic plants in a controlled environment.
"The first thing that needed to be done," reveals Dr Despina Charalambous, Researcher at Frederick Research Center, and a Lecturer in the University's Department of Pharmacy, "was the seed germination of the Saponaria officinalis and Saponaria cypria species in the lab. Then we need to produce saplings of the two species, which were planted for growth in the field under the same environmental conditions. The saponins were later extracted by macerating powder root in different solvents, following separation methods and filtering procedures in the laboratory."
"It was quite a time-consuming process," Miranda acknowledges. "This is a plant which grows quite happily on the slopes of Troodos; it can be a different matter to get it to propagate within laboratory conditions! Nevertheless, it was a joy to work with the brilliant minds at the University," she continues. "I love being challenged to do things that stretch my abilities and the bounds of knowledge."
A qualified herbalist who writes, presents, and teaches in her spare time, Miranda was approached by Frederick University in the spring of 2019. "Research programmes like this are always conducted in cooperation with a company in the private sector, in order for the research to eventually lead to new products being put on the market," she explains. "And NatCy is the result of our academic/herbology collaboration: a soap which has taken 12 researchers and myself almost two-and-a-half-years to develop.
"The situation with Covid set the process back a few months," Miranda admits, "but we're now in the final stages of the research: finishing stability tests, and choosing the various aromas we will add to the soap, made from organically-grown lavender and geranium. Then we'll be wrapping up our marketing plan, adding to our website and, within a couple of years, the soap will be on the market."
Initially, the product will be sold at CyHerbia (and via the website cyherbia.com), as well as at select pharmacies across the island, and will be in the form of a foamy liquid, says Miranda. "And though it can be used by anyone, it will be particularly suitable for those with sensitive skin, allergies or skin problems, as well as babies, because it contains only natural ingredients."
Non-toxic, anti-bacterial, and ideal for delicate areas of the face and body, NatCy "cleanses the skin deeply, while still leaving it soft and supple," Miranda divulges. "And that's the beauty of Saponaria Cypria: it's a truly natural cleanser straight from our own land. I've seen time and time again how our local ecology fulfils our physical, mental and spiritual needs," she adds. "The Cyprus soapwort is just one of our island's unique offerings."
Co-financed by the European Regional Development Fund and the Republic of Cyprus through the Research and Innovation Foundation under the RESTART 2016-2020 programmes, the 'Development of a natural soap from saponaria species' project has been a long time in the making. And there's still more to do, Miranda acknowledges.
"In time, we plan to propagate our raw materials in a totally sustainable fashion," she reveals. "Couple that with ingredients sourced from within 50 miles, a local production process, and recyclable packaging, and we're having a minimal impact on the environment. So our customers," she concludes, "can rest assured they're buying a 100 per cent natural, entirely locally-produced soap. And all thanks to the wonders of Cyprus' own little Saponaria Cypria!"
For more information on NatCy Soap, visit https://www.natcysoap.com/